The Wonders of Sicily - Explore the Spectacular History, Arts and the Sicilians
The Wonders of Sicily - start your journey here, and share your passion by following us on Twitter and Facebook.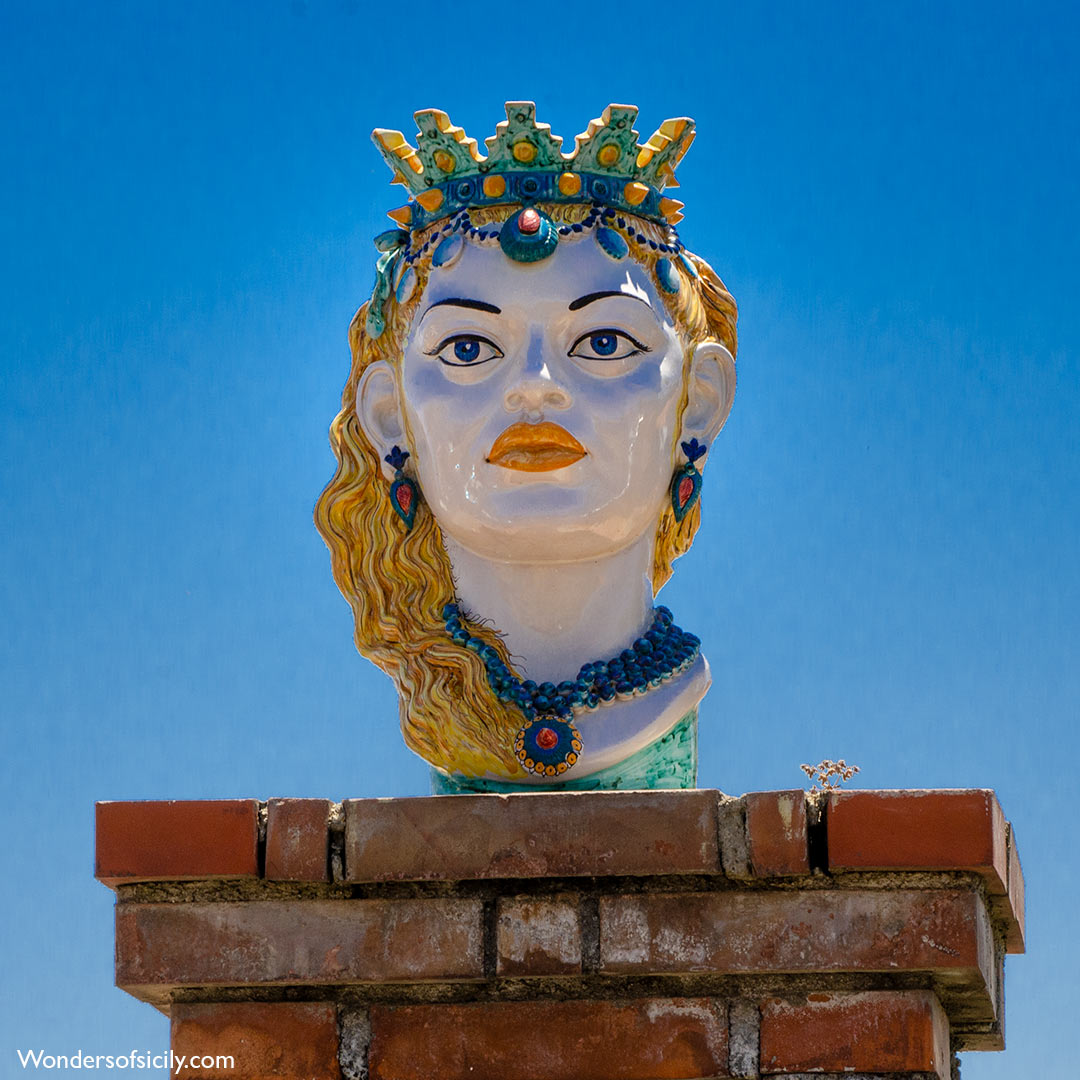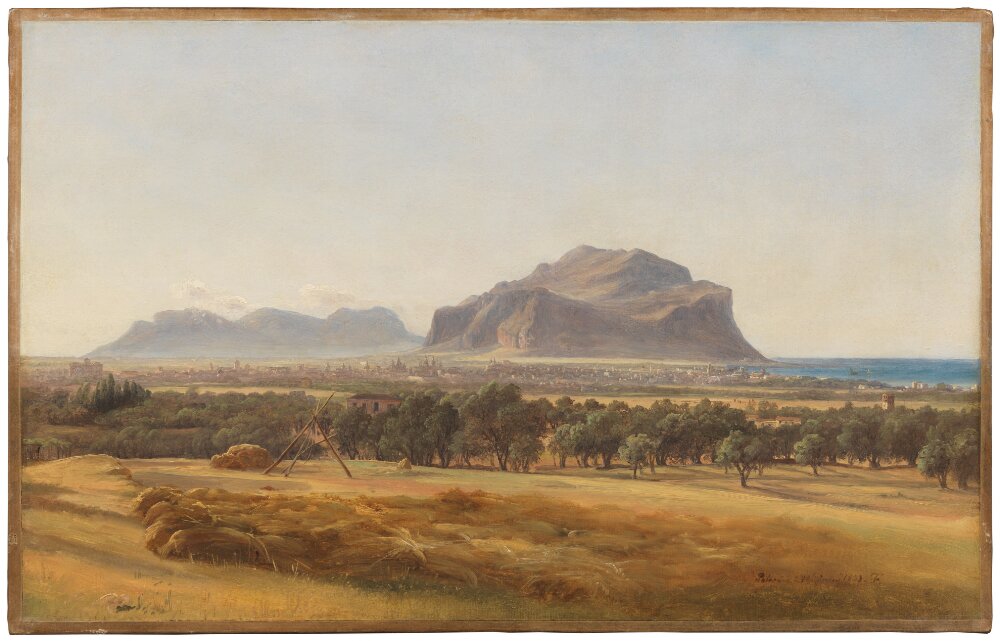 Sicily in art: The Norwegian painter Thomas Fearnley (1802-1842) visited Sicily in 1833. Here is his painting of Palermo and Monte Pellegrino. Public Domain. Photo: Cecilia Heisser / Nationalmuseum, Stockholm. See more here …
"For over twenty-five centuries we've been bearing the weight of superb and heterogeneous civilisations, all from outside, none made by ourselves, none that we could call our own. We're as white as you are, Chevalley, and as the Queen of England; and yet for two thousand five hundred years we've been a colony. I don't say that in complaint; it's our fault. But even so we're worn out and exhausted."
Giuseppe Tomasi Di Lampedusa: The Leopard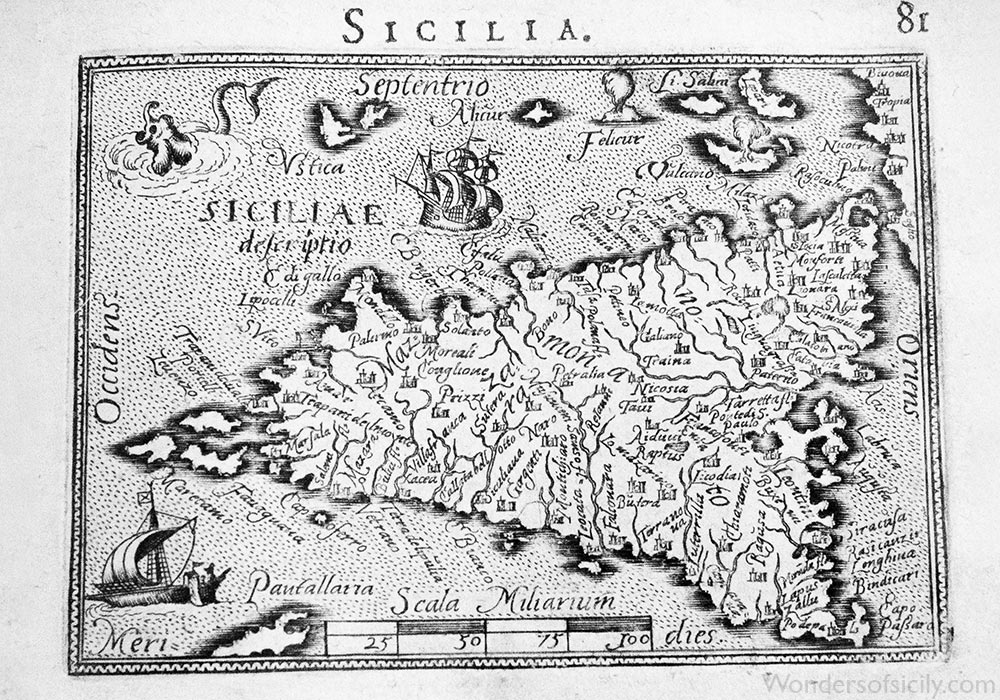 Map of Sicily from 1589.
Trinacria Poems and A Sicilian Mosaic by Rochelle Del Borrello
Read more …
John Julius Norwich - Sicily: An Island at the Crossroads of History
John Julius Norwich: "Sicily: An Island at the Crossroads of History", February 2016 (Paul Mellon Lecture)
Sicilian Sites on UNESCO's World Heritage List
Agrigento: Archaeological Area of Agrigento (UNESCO)
Aeolian Islands: Isole Eolie. The group consists of seven islands (Lipari, Vulcano, Salina, Stromboli, Filicudi, Alicudi and Panarea) and five small islets (Basiluzzo, Dattilo, Lisca Nera, Bottaro and Lisca Bianca) in the vicinity of Panarea. (UNESCO)
Caltagirone (UNESCO)
Catania (UNESCO)
Militello Val di Catania (UNESCO)
Modica (UNESCO)
Mount Etna (UNESCO)
Noto (UNESCO)
Palermo: Palazzo dei Normanni (The Norman Palace)
Palermo: Cappella Palatina (The Palatine Chapel in the Norman Palace)
Palermo: Church of San Giovanni degli Eremiti
Palermo: Church of Santa Maria dell'Ammiraglio (also known as the Martorana)
Palermo: Church of San Cataldo
Palermo: Cathedral of Palermo
Palermo: The Zisa Palace (La Zisa)
Palermo: The Cuba Palace (La Cuba)
Palazzolo Acreide (UNESCO)
Ragusa (UNESCO)
Scicli (UNESCO)
Syracuse and the Rocky Necropolis of Pantalica (UNESCO)
Facts about Sicily
Sicily is the largest island in the Mediterranean.
Sicily is the largest region in Italy.
The terrain in Sicily is hilly. Plains and plateaus make up only 14% of the total land area.
It is hard to believe for anyone having visited Sicily that the island once was well wooded. By the 17th century, there was not enough timber for local consumption. A lot of the forests disappeared during the long Roman Empire era (about 6 centuries). Sicily was the first grain supplier of the empire and the Romans deforested almost the entire island in order to enlarge the wheat crops.
The Nobel Prize winner Luigi Pirandello was born near Agrigento.
Boccaccio's Decameron Fifth Day - Novel VI takes place in the Cuba, Palermo (commissioned in 1180 by William II)
Lemons, oranges, pistachio and sugar cane were brought to Sicily by the Arabs.
Sicily's greatest film director, Giuseppe Tornatore, was born, in Bagheria. His most famous film is Nuovo Cinema Paradiso.
We recommend