Cefalù
Cefalù is one of the major tourist attractions in Sicily. It is a charming small city on the north coast of Sicily, about 70 kilometres east of Palermo. It has a medieval character, and the unfinished Norman cathedral, begun by Roger II in 1131, is impressive inside and outside. The rock called Rocca di Cefalù forms a dramatic backdrop to the cathedral and the old city; climbing the rock is very rewarding. The name Cefalù is derived from the Greek 'Kephaloidion' comes from the head-like shape of the rock which towers above the town.
Cefalù was founded at the end of the 5th or early 4th century BC. In the beginning, it was probably just a fortress belonging to the Himeraeans. The area may have been first peopled by refugees after the destruction of Himera. Its name first appears in history at the time of the Carthaginian expedition under Himilco, 396 BC, when that general concluded a treaty with the Himeraeans and the inhabitants of Cephaloedium.
Agathocles of Syracuse conquered Cefalù in 307 BC.
The Arabs took the town in 857.
In 1063 the Normans conquered the Arabs and later rebuilt the town.
Cefalù was for some years in the 1920s the home of the necromancer Aleister Crowley and his more or less disturbed followers. His Temple of Thelema (near the football stadium) now lies in ruins (see photos here). Crowley was eventually arrested, found guilty of immoral behaviour (sex with goats was not considered OK at the time), and expelled from Italy.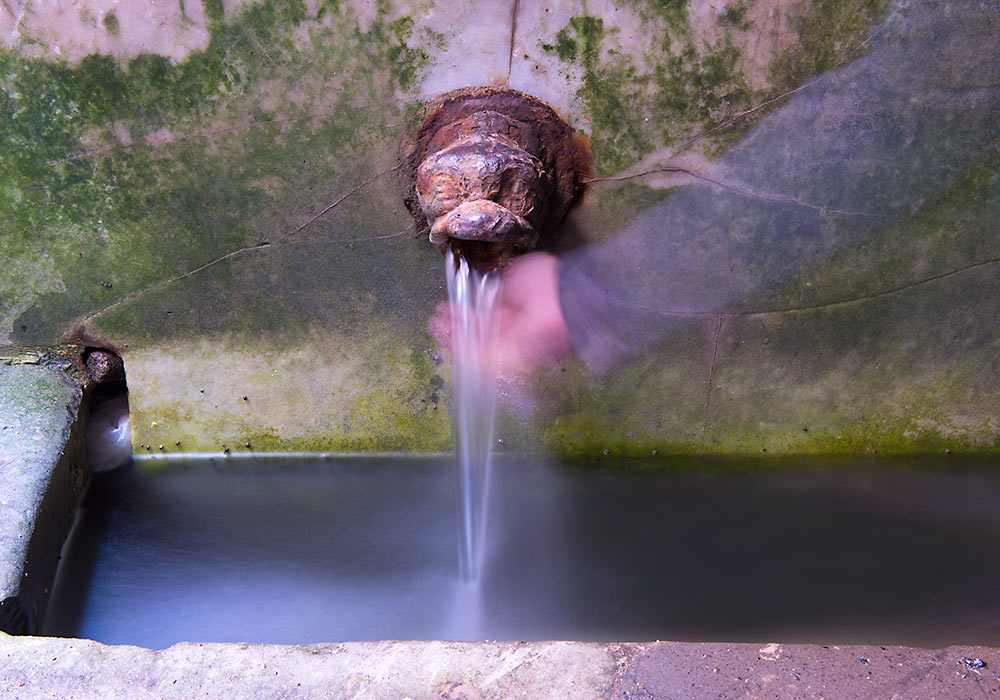 The Lavatoio is a picturesque medieval wash-house made during the Arab occupation of Sicily (827-1090).
Photo: Per-Erik Skramstad / Wonders of Sicily (ISO 100, f16, 30sec)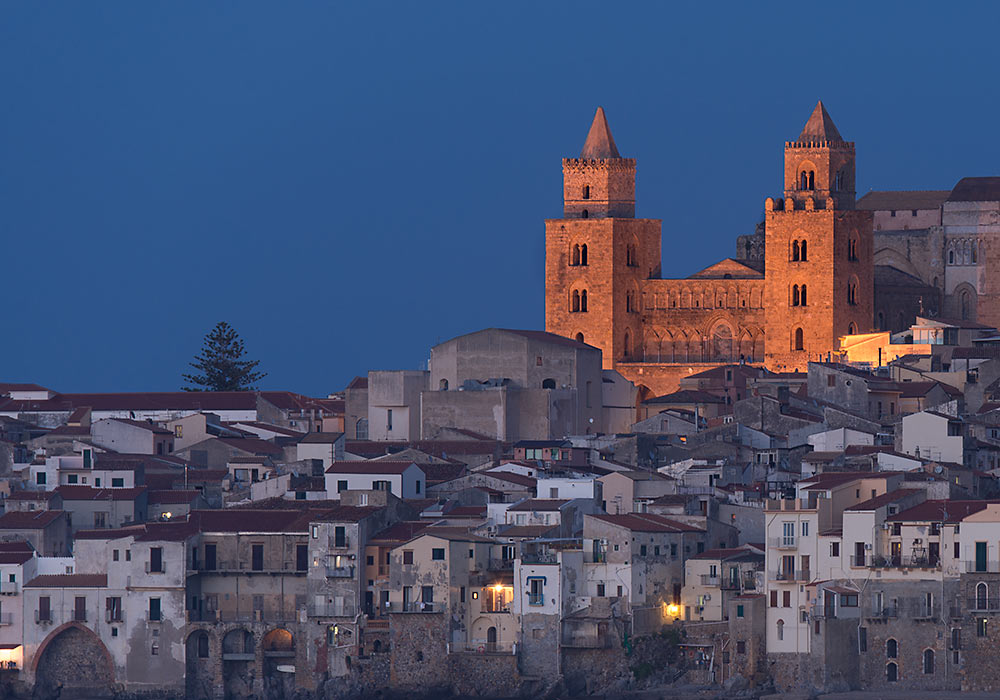 Cefalù with its magnificent cathedral one March evening. (ISO 100, f10, 6 sec)
See photos of the Norman Cathedral in Cefalù here!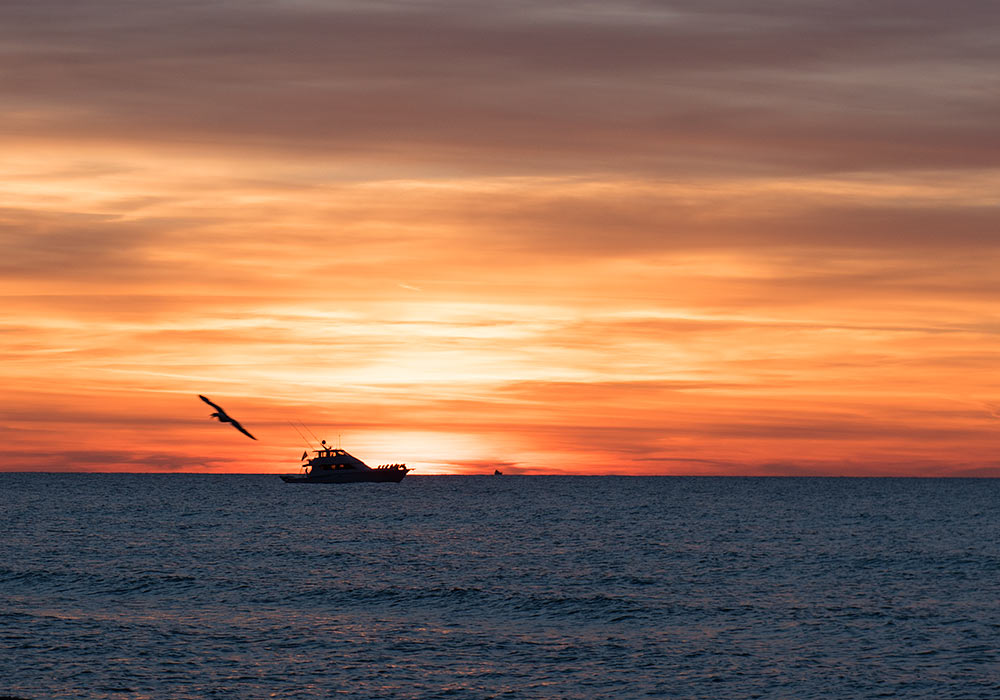 Sunset in May.
Here are some tips for taking stunning photographs of sunsets in Sicily:
Be patient, and plan your photo sessions.
Find a good location with an nice view of the horizon, such as a port, beach, rooftop, cliff, or hilltop.
Details to create contrasts will add to the quality of the photo. This can be elements in the foreground to create depth, or buildings, ships, trees, mountains etc. Don't be afraid of failing! Experiment with different compositions: Try framing the sunset in different ways, such as including foreground elements like trees or buildings, or shooting from different angles.
Scattered clouds can make for beautiful sunset photos.
Consider using a tripod: A tripod is a good investment if you want to take your photography to the next level. It will help you keep your camera steady and so you can capture sharper photos.
Use a polarizing filter (also known as a "polarizer"): A polarizing filter can help reduce reflections in the water etc.
Always shoot in Raw image format: Shooting in RAW will give you more flexibility to adjust your photos in post-processing, allowing you to bring out the colors and details of the sunset.
Many cameras have pre-defined programs for shooting sunsets. Try it!
Using manual settings: Experiment! Adjust aperture, shutter speed, and ISO to see how it affects the look of your photos. You wil probably need to take many (a lot!) photos to get the perfect sunset photo.
Edit your photos in Adobe Photoshop, Lightroom, GIMP og your other favourite photo editing software to adjust the colors and contrast of your sunset photos to make them really stunning.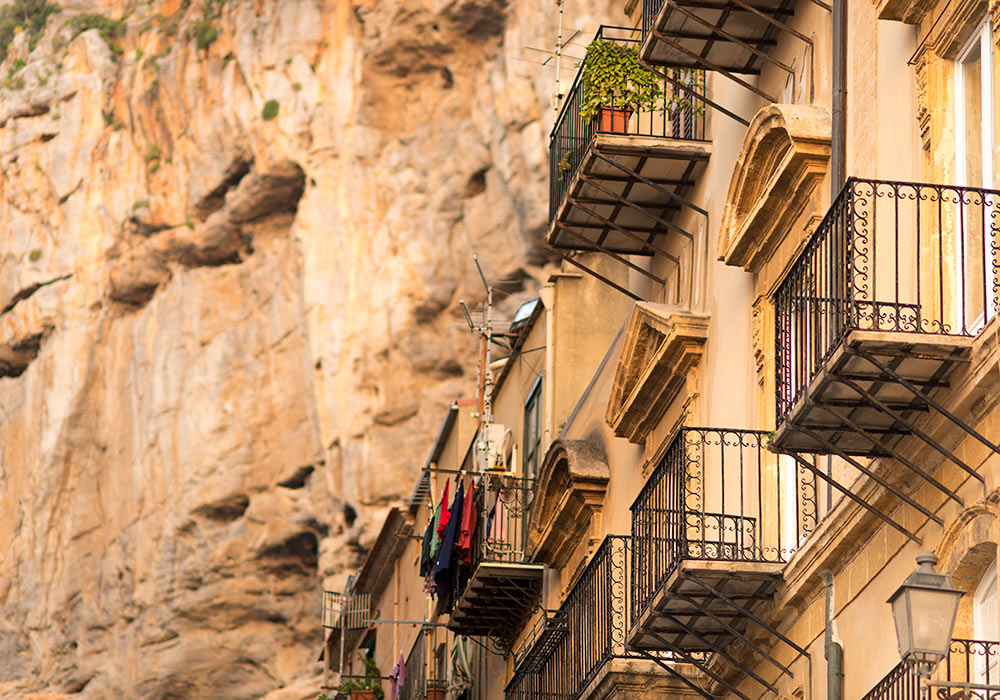 Sunset at the Piazza del Duomo, Cefalù.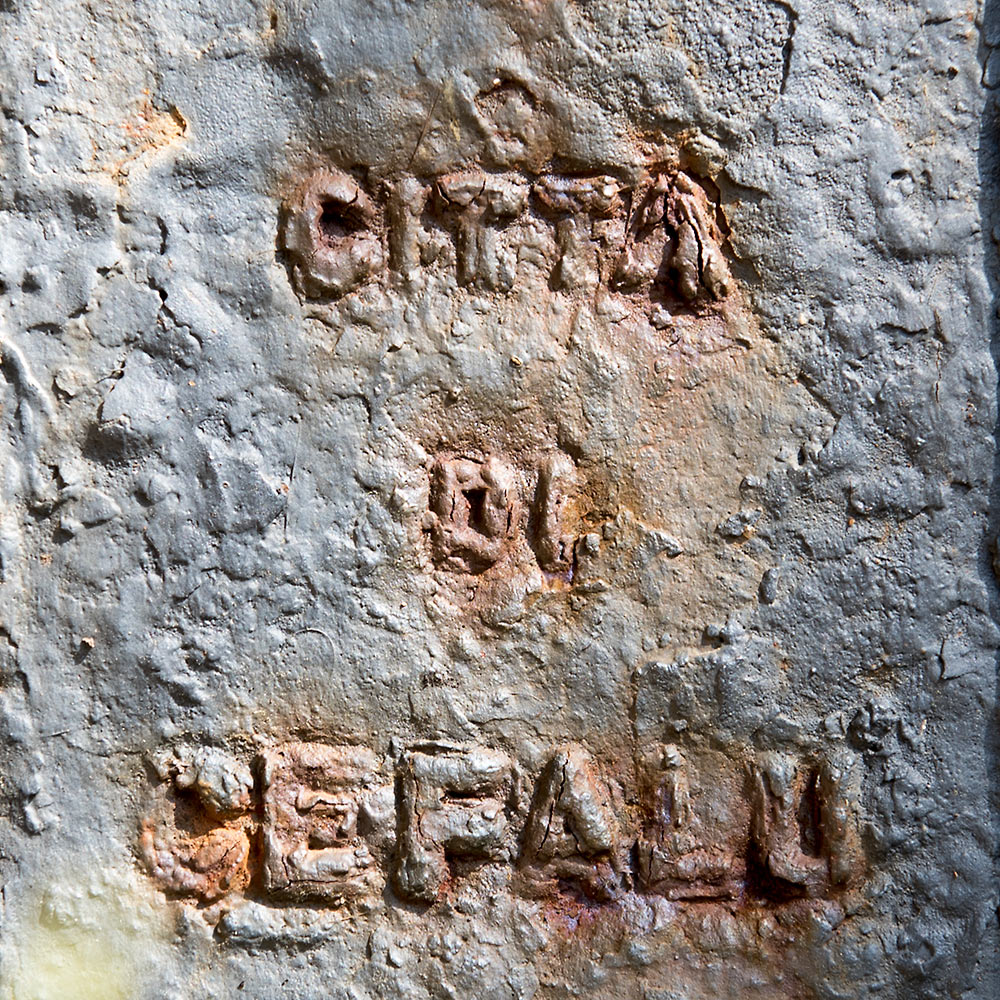 Time has left its stamp on Cefalù.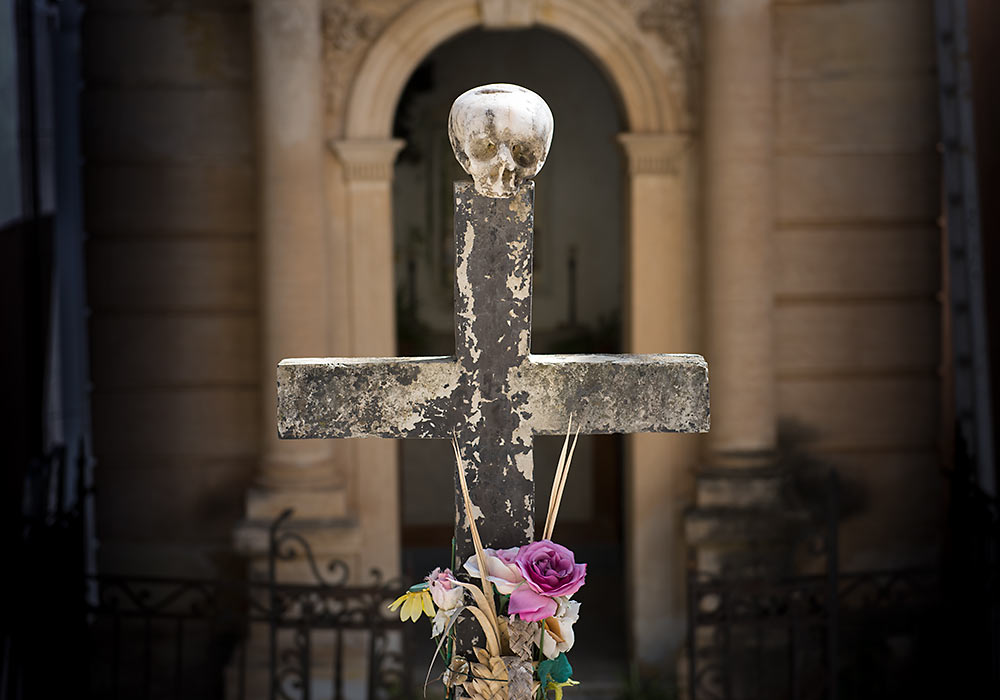 Death in Cefalù. A cross with a skull on top on a grave in the local cemetery.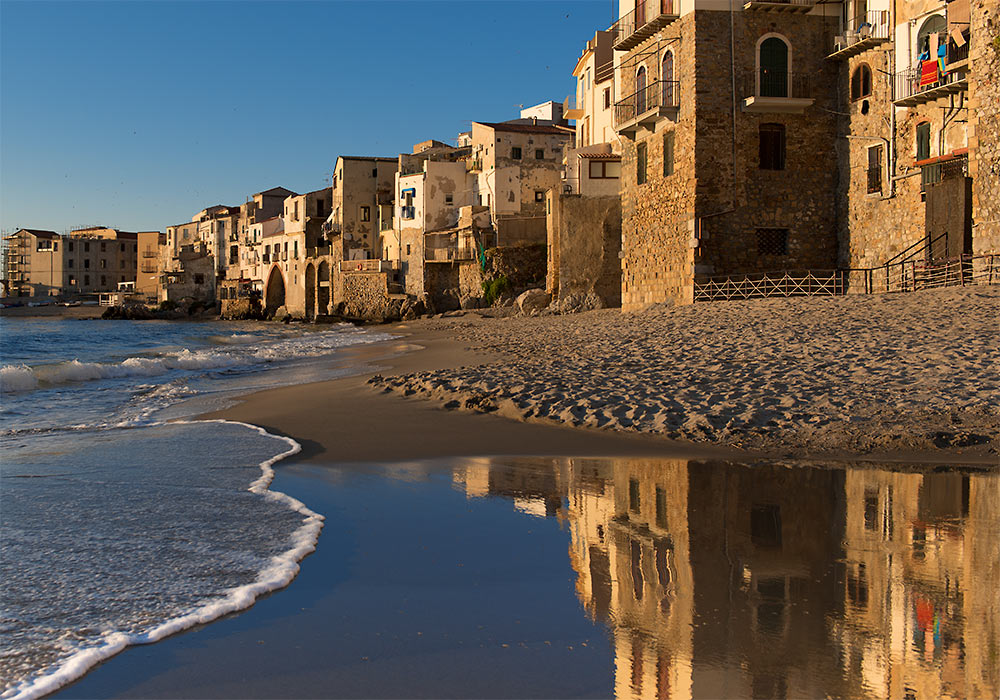 Cefalù beach: The old fishermen's houses.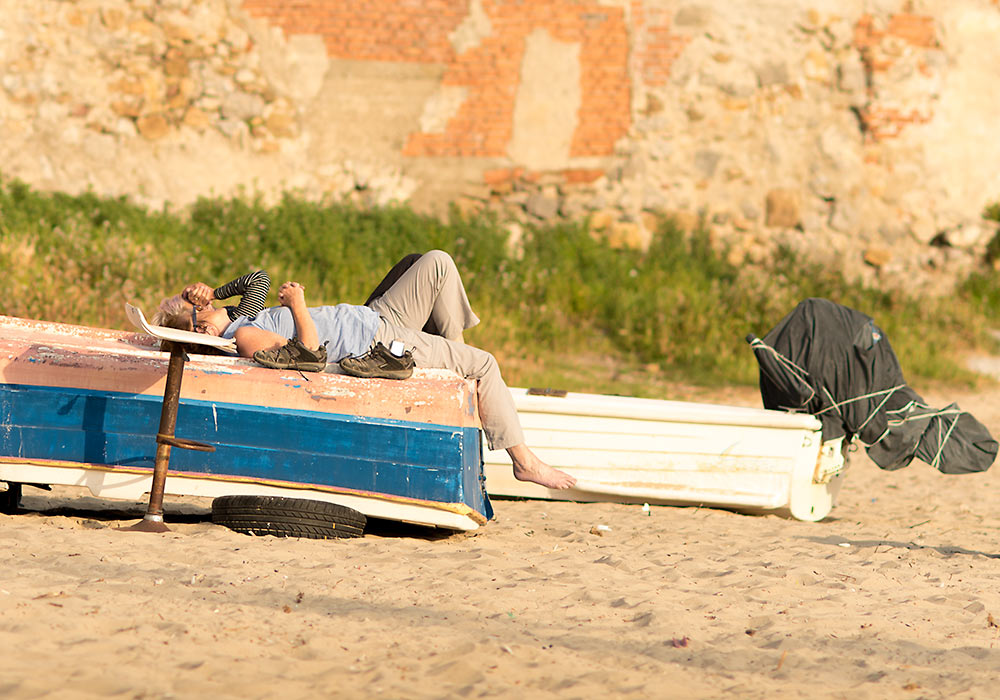 Easy living in Cefalù.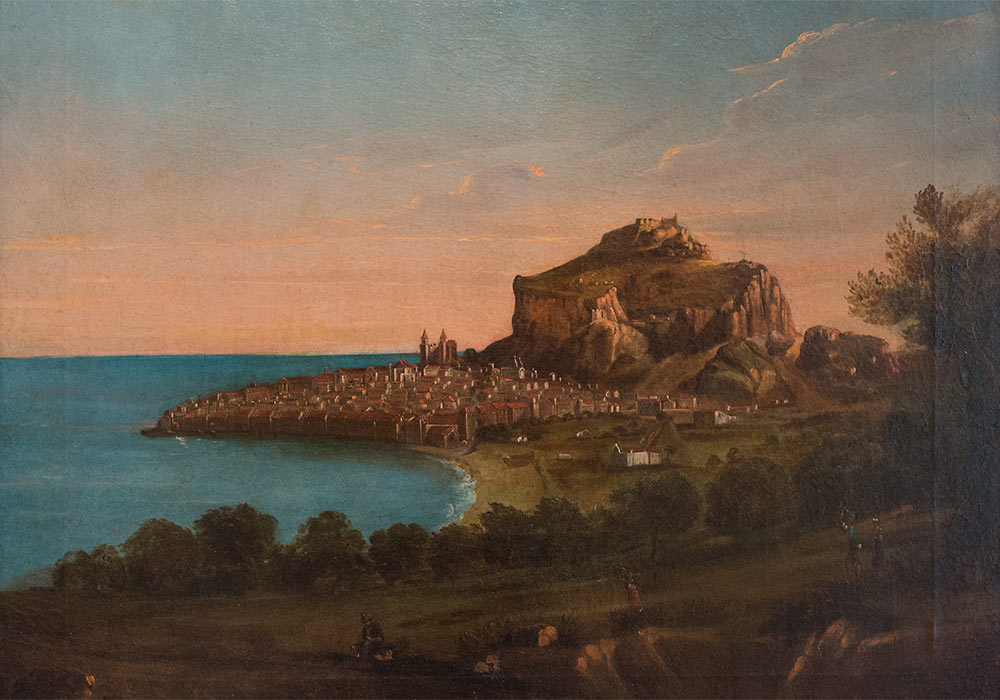 Cefalù certainly was a beautiful city even in the mid 1800's. Here a detail of a painting hanging in the Museo Mandralisca in Cefalù. It was painted by Francesco Tenuta Bevelacqua (1814-1858).
The distance between Cefalù and some other cities in Sicily
Cefalù-Palermo 69 km
Cefalù-Siracusa 249 km
Cefalù-Agrigento 134 km
Cefalù-Noto 275 km
Cefalù-Taormina 207 km
Cefalù-Catania 199 km
Cefalù-Trapani 169 km
Cefalù-Corleone 104 km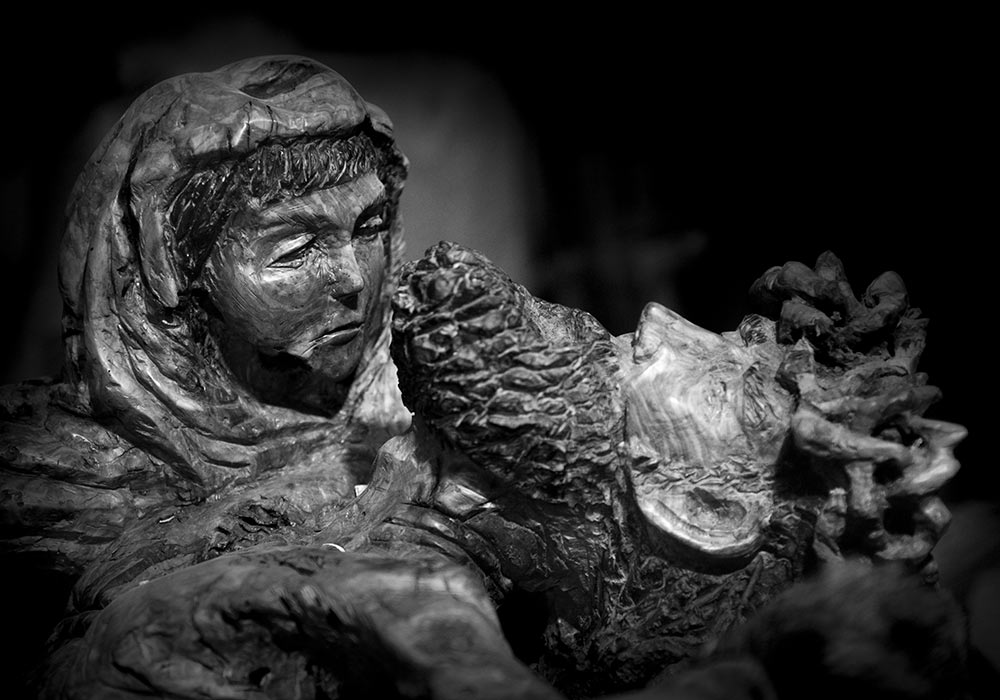 Pieta. Sculpture by Roberto Giacchino, Cefalù. Olive wood carving.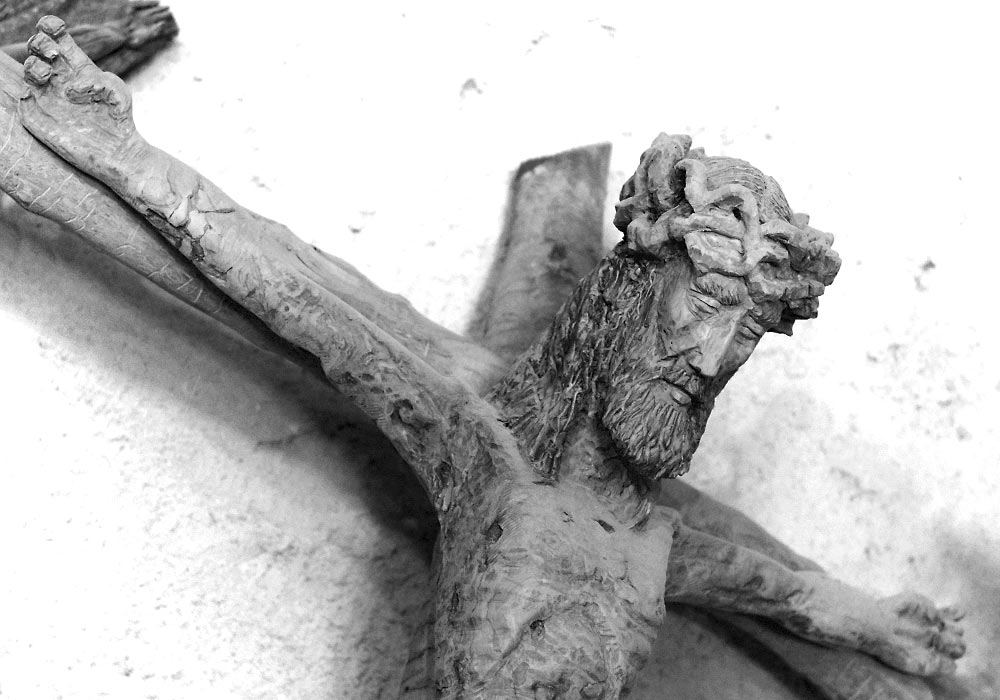 Crucifix by Roberto Giacchino, Cefalù. Olive wood carving. Roberto's workshop is in Via XXV Novembre, not far from the Norman Cathedral.
Woman with a masculine face (Museo Mandralisca, Cefalù)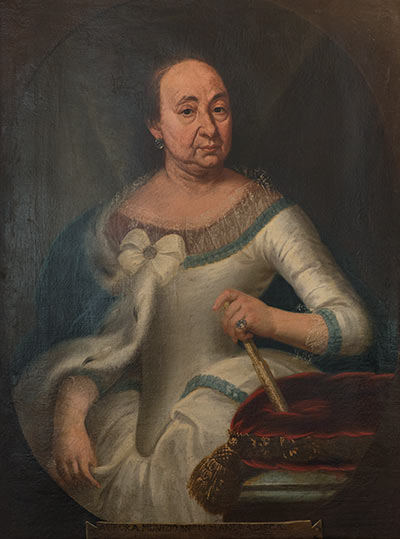 Woman with a masculine face. Painting in Museo Mandralisca, Cefalù.
Antonello da Messina: Portrait of an unknown man (1465)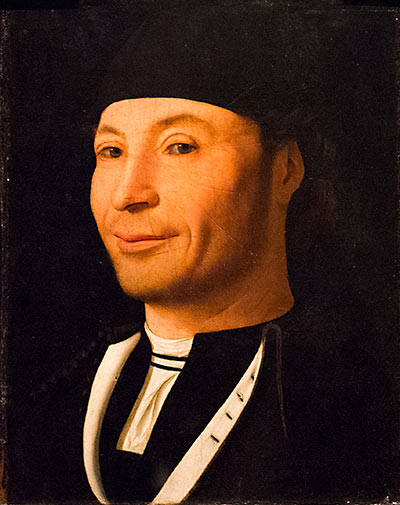 Museo Mandralisca: Ritratto di un Uomo Ignoto (Portrait of an unknown man) by Antonello da Messina, painted in 1465. This is the museum's jewel.
It is the items collected by baron Enrico Piraino di Mandralisca (1809-1864) that is exhibited in the museum.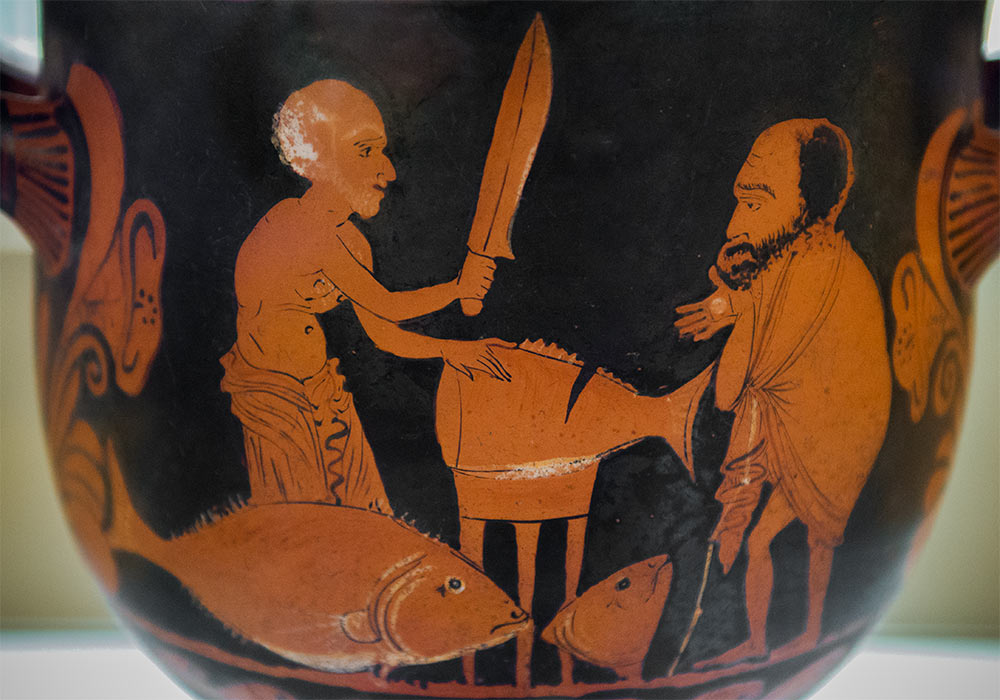 Tuna fish salesman (Mandralisca Museum, Cefalù).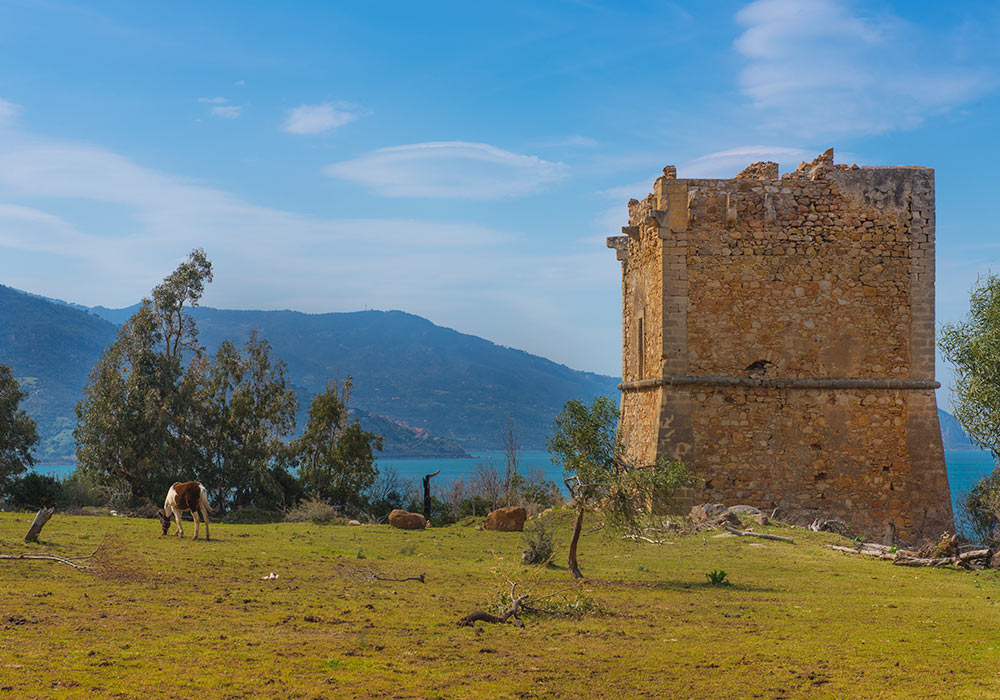 Watch tower, probably 16th century, on SS113 some kilometres from Cefalù (in the direction of Messina). The towers that surround the coasts of Sicily brings us back at a time of red alert in the entire Christian world, Jean Paul Barreaud explains in his TV series Sicilia svelata. Emperor Charles V built many defensive walls. In 1535 Charles V beat the Turks in a battle in the Bay of Tunis. Later, in 1571, his son Don Juan of Austria gathered soldiers of the Christian world in Messina ent to Greece to win the Battle of Lepanto against the Muslims.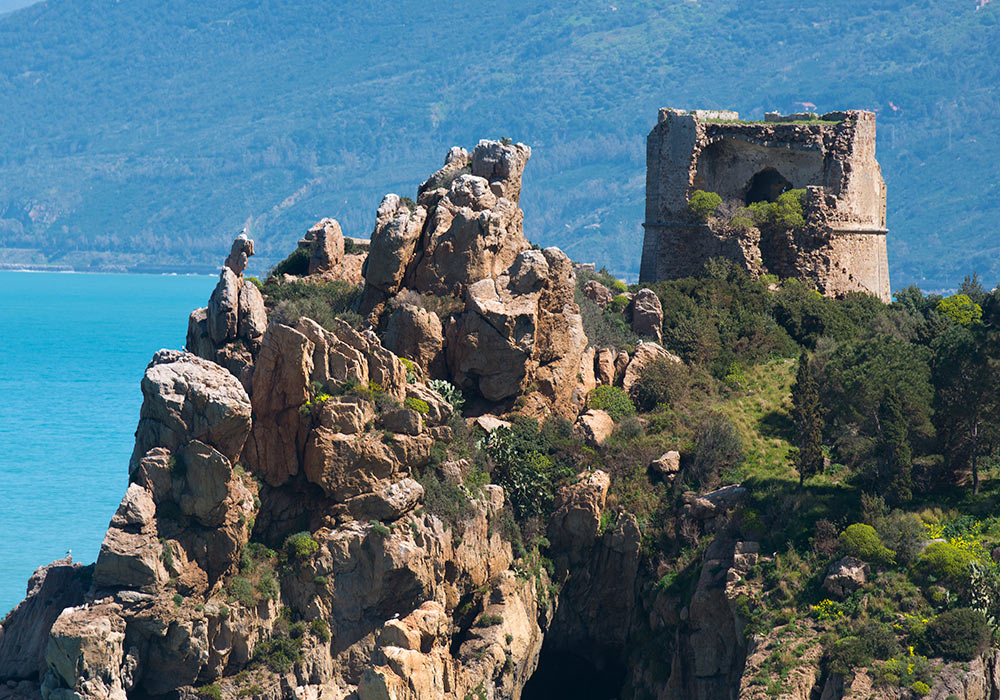 Another watch tower, just above the port in Cefalù.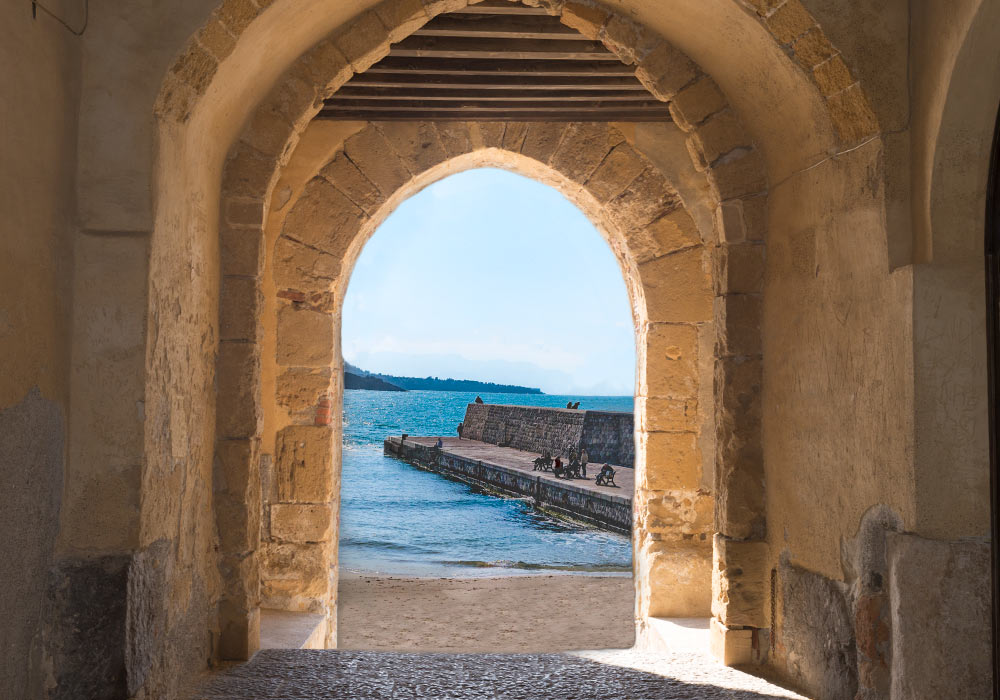 This is where Portia (Haley Lu Richardson) and Jack (Leo Woodall) were having a conversation in episode 6 of The White Lotus season 2 series during their stay in Cefalù.
CLICK HERE to see more photos from Cefalù!
For information about guided tours in Sicily, please contact Jean Paul Barreaud by email: siciliasvelata@gmail.com
CLICK HERE to see more photos from Cefalù!
Hotels / accommodation in Cefalù