The Viking Heritage: Normans in Sicily
The Spectacular Sicilian Cart
Sicily: The Wonder of the Mediterranean (BBC documentary)
Presented by Prof. Michael Scott.
Terra nostra (SiculDrone)
Monte Pellegrino (Palermo) seen from the sky (SiculDrone)
Follow SicilDrone on Facebook: facebook.com/siculdrone
La Favorita (Palermo) - made by SiculDrone
Agrigento Festival (1957)
Sicilian Carts (archive footage from c. 1949)
Sicily (1961) - British Paté
Taormina (archive footage from 1961)
Tunny Season Opens In Sicily (1949)
Spectacular tuna fishing (1932)
Source: British Pathé
Religious festival in Caltagirone (archive footage, 1935): Meeting of the Madonna with the Christ Resurrected
Source: British Pathé Gazette
Queen Juliana of the Netherlands in Taormina For Holiday (1956)
Juliana visits Taormina, Sicily in 1956. She was Queen of the Kingdom of the Netherlands between 1948 and 1980, and the only child of Queen Wilhelmina and Prince Henry.
Climbing Mount Etna In A Car (funny archive footage from 1938)
Mount Etna Erupts (1960)
Mount Etna, Sicily. Cut story with Italian commentary. (British Pathé)
Mount Etna Disaster - Sicily (1923)
British Pathé item title reads: The Etna disaster. Avalanche of molten lava destroys everything in its path, rendering 100,000 people homeless. Sicily.
Etna In Eruption (1928) - long version
Etna in eruption (1928). Pictures that portray the agony of the fertile countryside and village homes destroyed before ever advancing gulf of molten lava.
Etna In Eruption (1928) - short version
Eruption Of Etna (1950)
Unused footage. Source British Pathé
Mount Etna Eruption Again (1964)
Aerial Views Of Messina (1949)
Source: British Pathé
Winston Churchill visits Syracuse in 1955
Sir Winston Churchill On Holiday (1955)
Island of Lipari (1961)
Stromboli Bursts Into Violent Activity (1932)
"The Lipari Islands. Stromboli bursts into violent activity. Nature - in one of her grandest & most awful moods, as molten lava, slowly but inexorably, destroys all in its path." (British Pathé)
Cave Men Of Sicily (1935)
Chaos (Kaos)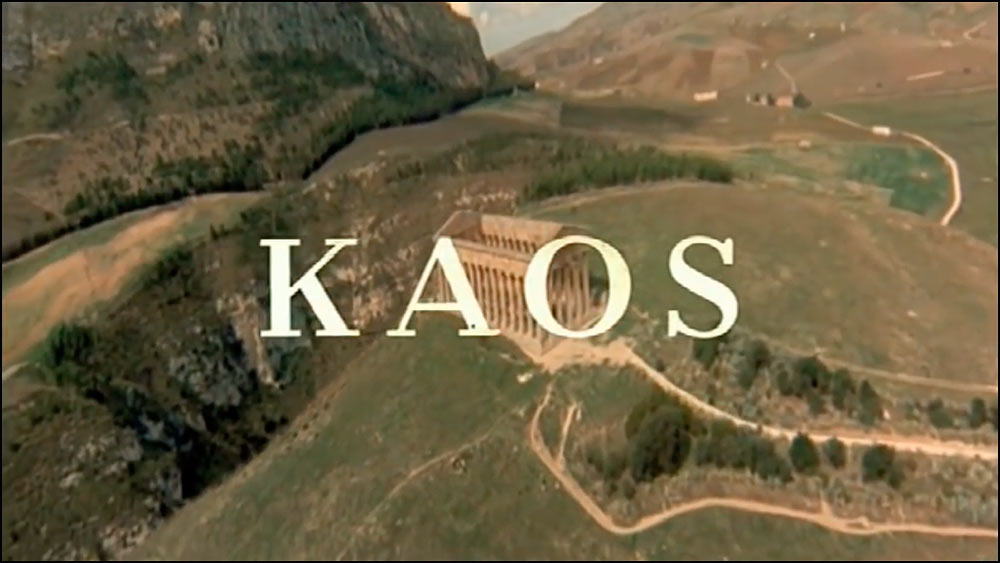 Segesta seen from the raven's point of view. Screenshot from the opening sequence of Kaos (directed by Paolo and Vittorio Taviani). The film depicts four Pirandello short stories.
Luigi Pirandello
The Late Mattia Pascal (Il fu Mattia Pascal)
The Late Mattia Pascal (Il fu Mattia Pascal)
A French silent movie from 1926, based on Luigi Pirandello's novel Il fu Mattia Pascal
Director: Marcel L'Herbier
Script: Marcel L'Herbier (based on the novel by Luigi Pirandello)
Photo: Jimmy Berliet, Paul Guichard, René Guichard
Mattia Pascal Ivan Mozzhukhin; Romilda Pescatore Marcelle Pradot; Pomino Michel Simon; Adriana Paleari Lois Moran; Pascal's mother Marthe Mellot: Batta Malagna Isaure Douvan
L'Herbier had discovered the work of the playwright and novelist Luigi Pirandello during 1923, according to Wikipedia, and was eager to introduce his ideas to the cinema. He chose the novel Il fu Mattia Pascal, and was delighted when Pirandello's mistrust of filmmakers was overcome and he agreed for the first time to the filming of one of his works,. The film Feu Mathias Pascal (1925) featured the expatriate Russian actor Ivan Mosjoukine in the leading role, and it became successful with critics and the public.