The Ancient Greeks in Sicily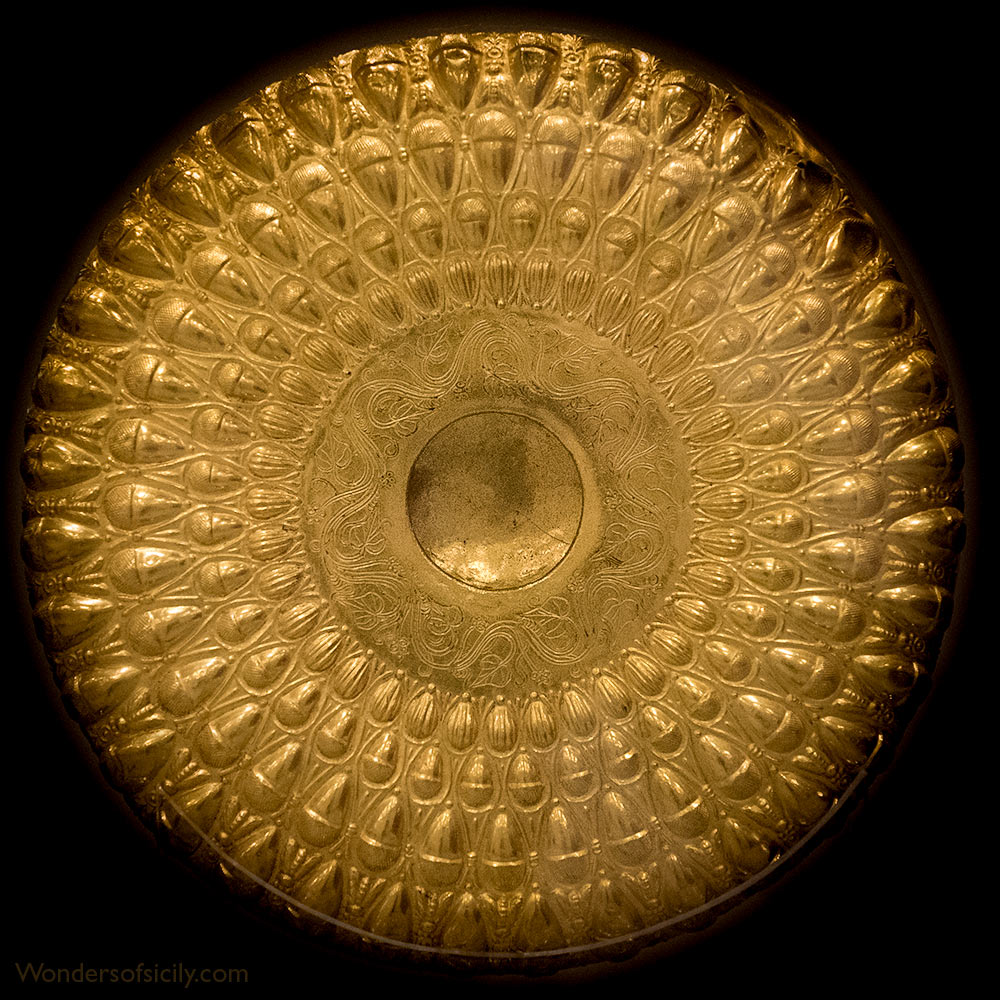 Phiale made of gold. Palermo Archeological Museum. A phiale is a libation bowl, used to pour wine onto an altar in sacrifice to the gods. Late 4th–early 3rd century b.c. Gold. Diameter 22.8 cm (9 in.); weight: 982.4 g (34.7 oz.). From near Caltavuturo. Himera. The rim is inscribed in stippled letters of the Greek alphabet with the words ΔΑΜΑΡΧΟΥ ΑΧΥΡΙΟΣ ΧΡΥΣΟΙΠΔΔ. Damarchos, son of Achyris.
The name phiale is known from Greek literary texts and from at least one inscription carved into an example of the form. ancient writers mention phialai decorated in various manners, both in gold and in silver. Very few gold phialai survive; we know of four other complete examples comparable in size, shape, and style to the one in the Palermo Archeological Museum. One of them is now at the Metropolitan Museum of Art in New York (see below). Information based on the article Ethnic Identity in Sicily: Greeks and Non-Greeks by Francesca Spatafora (in Sicily: Art and Invention between Greece and Rome). Photo: Per-Erik Skramstad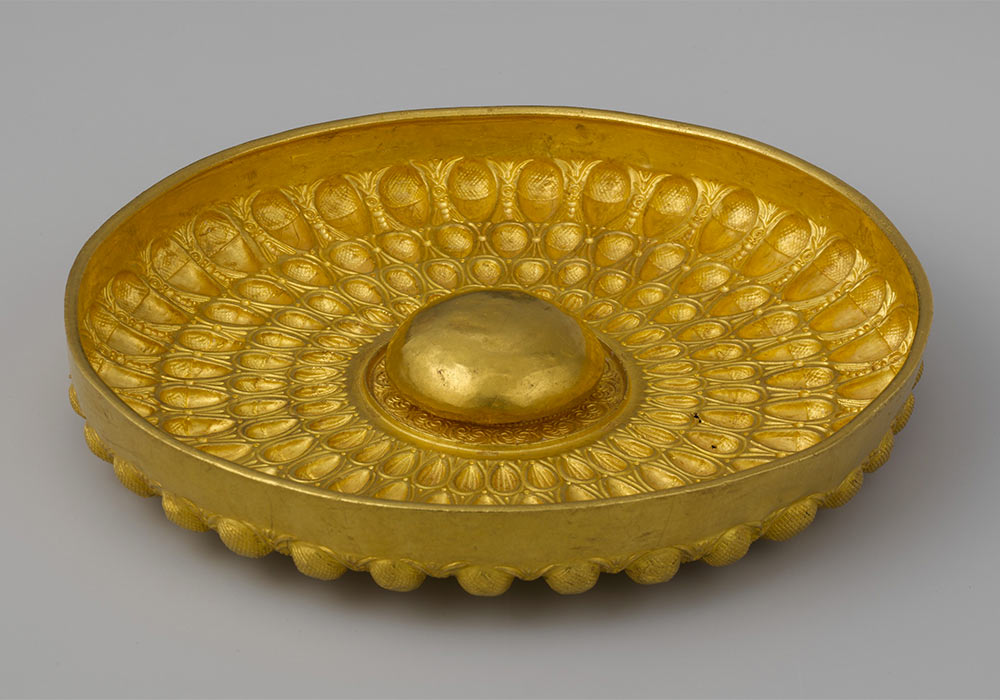 Phiale (not from Sicily, though) in Metropolitan Museum of Art in New York. It is very similar to the one in Palermo. This photo: Public Domain.
Once upon a time there were more Greeks in Sicily than in Greece …
"If you want to understand ancient Greece, come to Sicily." (Douglas Sladen, 1901)
Segesta Agrigento Siracusa Taormina Selinunte Solunto Halaesa Arconidea Gela Netum / Neeton Centuripe
Segesta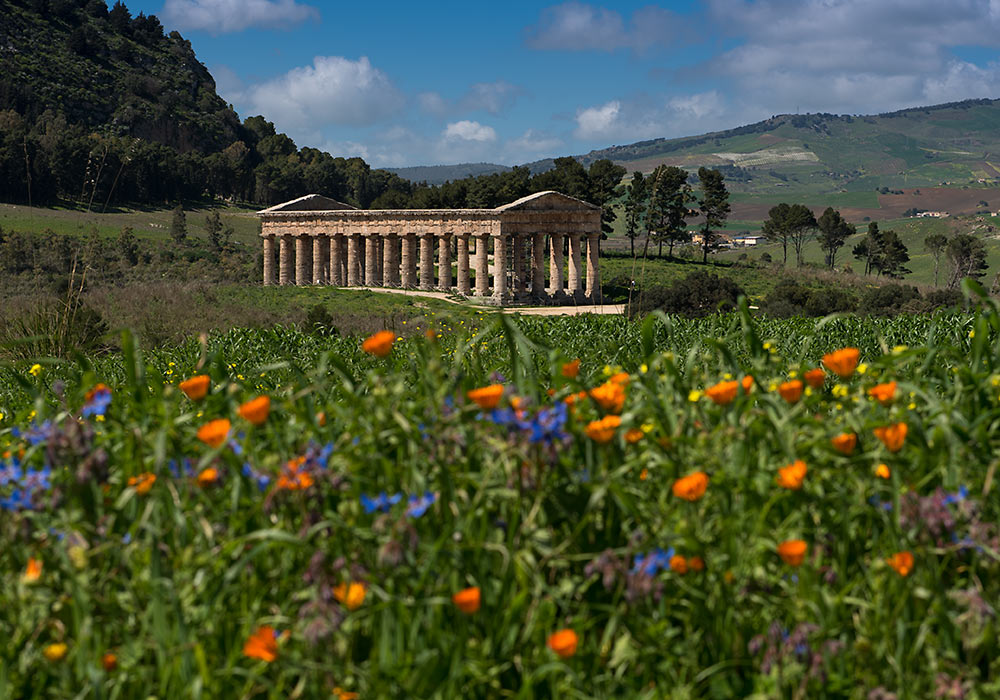 The temple at Segesta was probably never finished.
Decree (detail of a bronze tablet) by the Entellans in honour of the Segestans: «Under the archons Artemidoros, son of Eielos and Gnaios son of Oppios, in the first day of the month of Panamos. Since the Segestans have always been benevolent towards us, while we were in our land as well as after we were expelled from there, and when many of our people were captured, both men and women, they made their best endeavour to help them return safely to their city, it was decided by the council and the assembly that they shall enjoy forever the benevolence of the people of Entella as well as isopoliteia. The archons shall place this decree in the bouleterion after having it engraved on a bronze tablet.» (Archeological Museum, Palermo)
Agrigento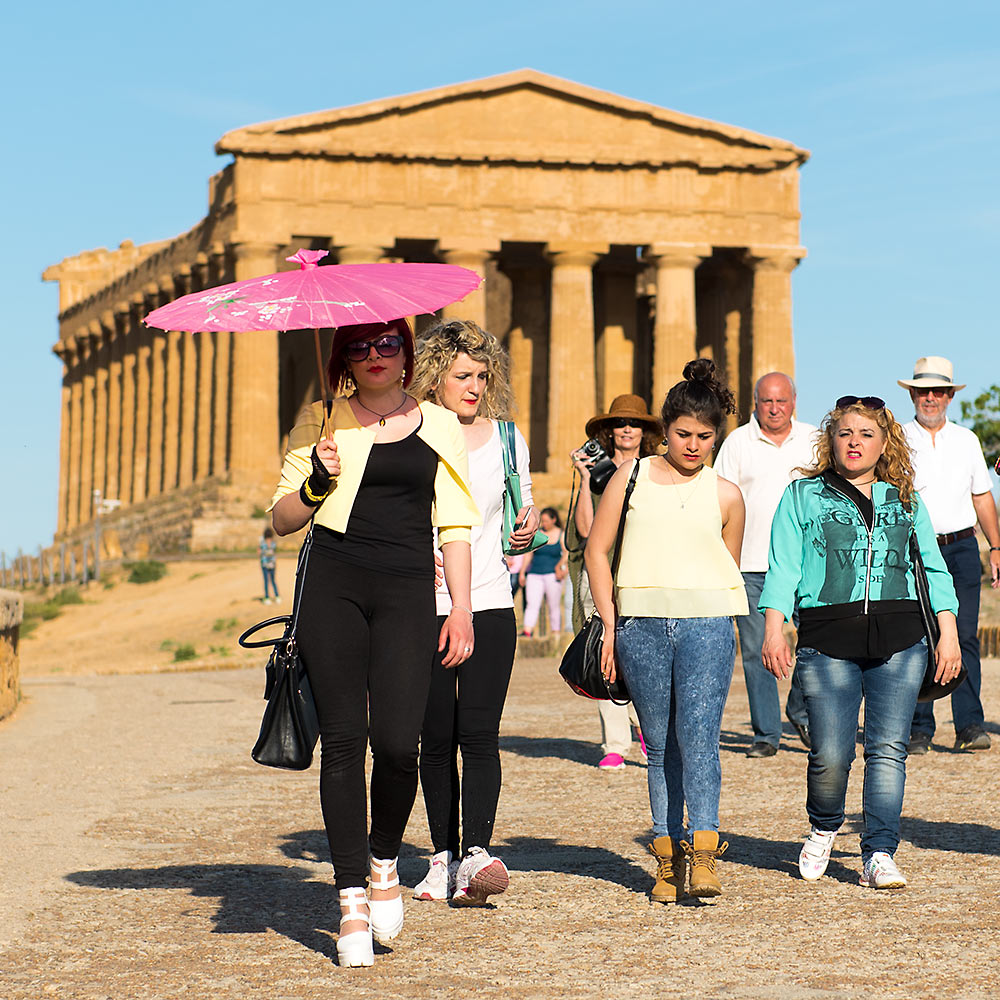 The Valley of the Temples, Agrigento.
Agrigento Timeline
580 BC: Agrigento is founded as a colony of Gela and came to prominence under the tyrants Phalaris and Theron
480 BC: The artificial lake Kolymbetra was dug by Theron's Carthaginian prisoners taken at Himera
406 BC: The Carthaginians capture the city after an eight-month siege and burn the city
340 BC: Agrigento was rebuilt by Timoleon, who defeated the Carthaginians
261 BC: The Romans take the city
255 BC: Carthaginians recapture the city
218-201 BC Agrigento suffered badly during the Second Punic War when both Rome and Carthage fought to control it.
210 BC: The Romans take the city again, this time Agrigentum remained in their possession until the fall of the empire. Agrigentum remained a largely Greek-speaking community for centuries after the Roman conquest.
After the fall of the Western Roman Empire, the city successively passed into the hands of the Vandalic Kingdom, the Ostrogothic Kingdom of Italy and then the Byzantine Empire. During this period the inhabitants of Agrigentum largely abandoned the lower parts of the city and moved to the former acropolis, at the top of the hill (this was probably related to the destructive coastal raids of the Saracens).
Late 6th century: The Temple of Concord is converted into a church by the bishop of Agrigento, San Gregorio delle Rape (St Gregory of the Turnips)
828 AD: The Arabs take the city and make the trade flourish by cultivating cotton, sugar-cane and mulberries for the silk industry (they even had to make a new harbour, at Porto Empedocles)
1087: The Normans take Agrigento after a 116 days siege
1867: Luigi Pirandello was born
1885: The author Guy de Maupassant travels in Italy, Sicily included. After returning to Paris, Maupassant began publishing his Sicilian travel memoirs in installments in Le Figaro and Gil Blas
1927: Mussolini orders that the city should be called Agrigento, not Girgenti
1936: Luigi Pirandello dies
Sources: Wikipedia, The Blue Guide Sicily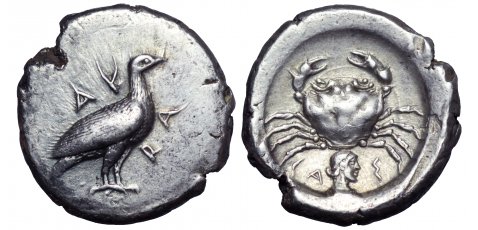 Coin from Agrigento (Akragas), circa 480-470 BC.
Description: Sicily, Akragas AR Didrachm. Circa 480-470 BC. Eagle with folded wings standing right, AKRA around / Crab, male head below, flanked by CΑ-Σ, all within shallow circular incuse. Jenkins group III-pl. 37, 18; SNG ANS-959. 8.37g, 21mm, 6h. Extremely Fine.
Source: Roma Numismatics Ltd (with permission)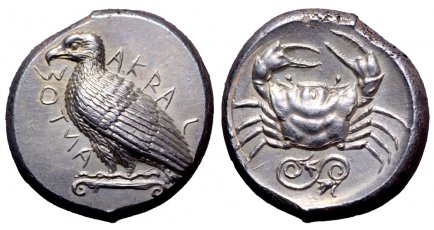 Coin from Agrigento (Akragas), circa 460-446 BC.
Description: Sicily, Akragas AR Tetradrachm. Circa 460-446 BC. Sea eagle standing left on Ionic capital, AKRACANTOΣ around / Crab; spiralled tendril ornament with floral terminals below; all within shallow incuse circle. SNG ANS 982 var; Lee Group II; cf. SNG Lockett 695 for same obverse die, 696 for reverse type but different die. 17.54g, 25mm, 6h. Fleur De Coin.
From the James Howard Collection. Published in Roma Numismatics VII was the first of the Howard collection's two truly spectacular Akragas tetradrachms (lot 85), which bore an inverted dolphin as the reverse adjunct symbol. A comparison between these two exemplars of Akragantine coinage is extremely difficult, for both are of a quality that collectors have seldom, if ever, been offered the chance to acquire. Although this coin's reverse symbol may be considered somewhat less exotic than that of its abovementioned brother, the eagle's head is undeniably more detailed, and its plumage sharper - indicative of an overall slightly greater state of preservation. Indeed, the freshness of the metal and the lightly toned, satin finish are quite remarkable; this coin should certainly be considered to be amongst the very finest of its type.
Source: Roma Numismatics Ltd (with permission)
Sicily: The Wonder of the Mediterranean (BBC documentary)
Making Greek Vases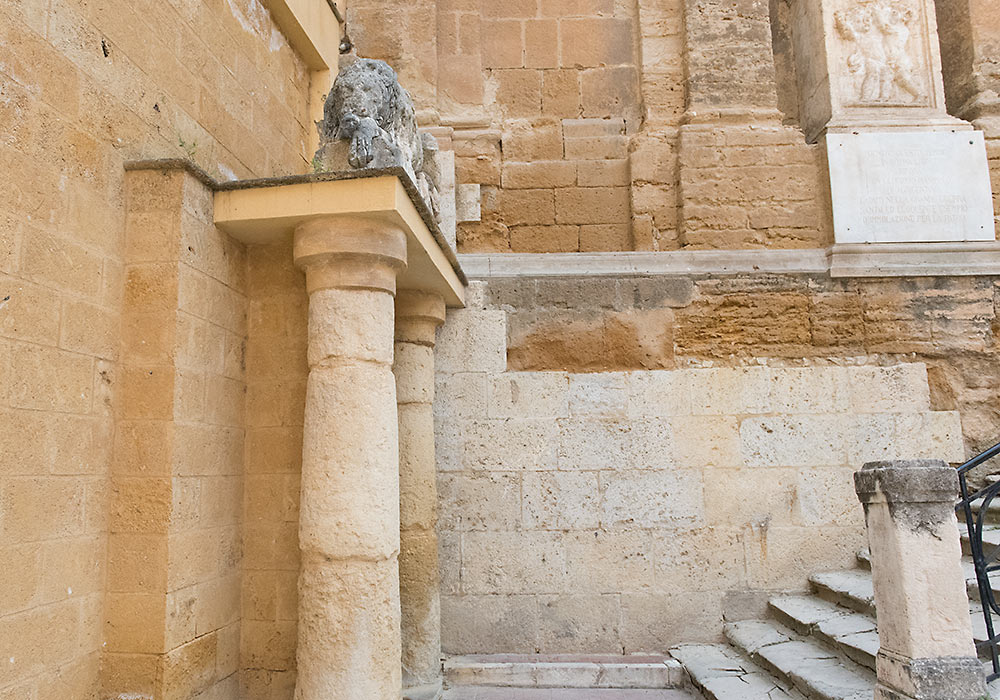 The lion to the left of the church of the Purgatorio in Agrigento town sleeps above the locked entrance to a huge labyrinth of underground water-channels and reservoirs, built by the Greek architect Phaiax in the 5th century BC.
Syracuse / Siracusa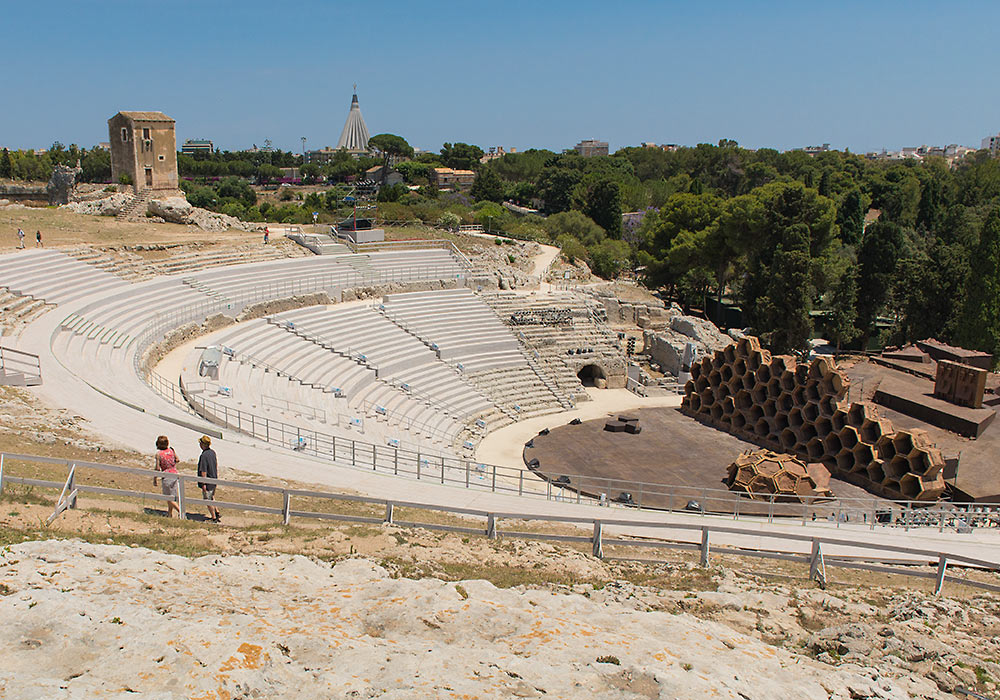 The Greek theatre in the Archeological Park, one of the most celebrated of all the ruins of Siracusa. With its 138 metre in diameter, it is the largest Greek theatre in Sicily. To the right you see preparations for the evening's performance of Verdi's Aida.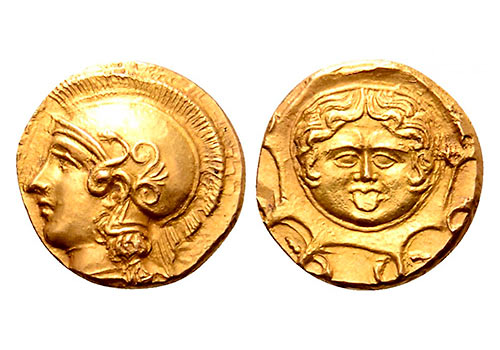 Description: Sicily, Syracuse AV Dilitron. Emergency issue of the Second Democracy, winter 406/5 BC. Obverse die signed by 'IM...'. Head of Athena left, wearing crested Attic helmet decorated with serpent, palmette and elaborate spiral tendrils, [ΣΥΡΑΚΟΣΙΩΝ before, IM below truncation of neck] / Aegis with gorgoneion at centre. Boehringer, Essays Thompson, pl. 38, 12 = Hess Leu Sale (27 March 1956), lot 210 (same obverse die); Manhattan Sale I, 28 (same dies). 1.76g, 10mm, 7h. Near Mint State. Extremely Rare; one of very few known specimens - only one other on CoinArchives. Ex Roma Numismatics XI, 7 April 2016, lot 114.
The year 406 marked a desperate time for the Greeks in Sicily. A great Carthaginian invasion of Sicily had commenced in the Spring to punish the Greeks for having raided the Punic territories of Motya and Panormos. 60,000 soldiers under Hannibal Mago in 1,000 transports along with 120 triremes sailed for Sicily, where despite a plague that ravaged the ranks of the Carthaginian army and felled its commander, they successfully besieged and sacked Akragas, the wealthiest of all the cities of Sicily. After razing the city to the ground, the Carthaginians under their new commander Himilco marched east to Gela. Despite a spirited defence of the city by the defenders and the arrival of a relief force of 34,000 men and 50 triremes under Dionysios of Syracuse, the city fell after a poorly coordinated and unsuccessful attack launched by the Greeks. As Dionysios retreated from Gela first to Kamarina and then back to Syracuse, both of these now indefensible cities were sacked and levelled by Himilco's forces. It was against this backdrop of a desperate fight for survival that many emergency coinages were issued in Sicily. Gold was scarce in the Greek world and tended to be used only for emergency coinages, as in that famous instance when Athens in the last decade of the fifth century resorted to melting the gold from the statues of Nike on the Akropolis when cut off from their silver mines at Laurion. Gela, Akragas, Kamarina and Syracuse all issued emergency gold coinage in 406/5 BC, without doubt to pay the mercenaries they had hired in their doomed resistance to Himilco. The master engraver 'IM...' responsible for this coin is also known to have engraved Syracusan tetradrachms around this period (see Tudeer 67). Thanks a lot to Roma Numismatics!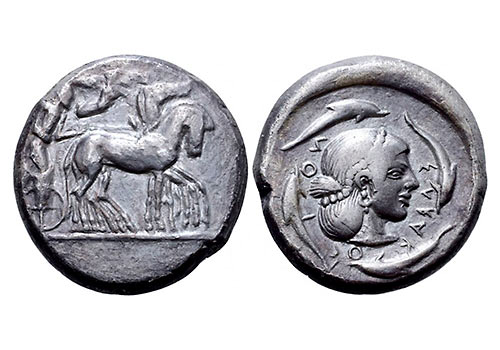 Description: Sicily, Syracuse AR Tetradrachm. Deinomenid Tyranny. Time of Hieron I, circa 480/78-475 BC. Charioteer driving walking quadriga right, holding kentron and reins; Nike above, flying right, crowning horses / Head of Arethusa right, wearing earring and necklace, hair tied with pearl headband; ΣVRΑΚΟΣΙΟΝ and four dolphins around. Boehringer 330 (V163/R229). 16.83g, 24mm, 11h. Good. Very Fine. Thanks a lot to Roma Numismatics!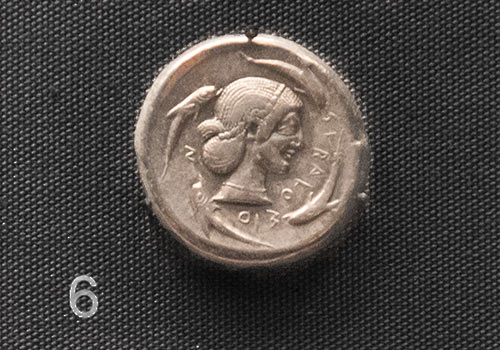 Silver tetradrachm coin, Siracusa, about 470 BC. British Museum.
Photo: Per-Erik Skramstad / Wonders of Sicily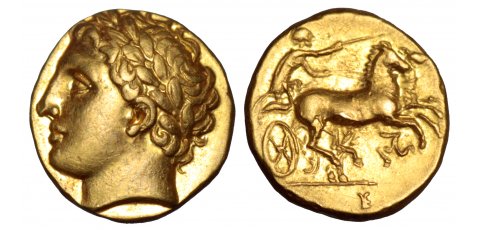 Coin from Syracuse, circa 305-289 BC.
Description: Sicily, Syracuse AV 40 Litrai. Circa 305-289 BC. Head of Apollo left, wearing laurel wreath / Charioteer, holding kentron in right hand, reins in left, driving galloping biga right; triskeles below horses, monogram in exergue. Jameson 859 var. (Q in exergue); Bérend, l'or pl. 9, 11; BAR Issue 30; SNG ANS 706 var. (Q in exergue); SNG Lloyd 1474 var. (T in exergue); Gulbenkian 337; cf. Triton VII, January 2004, lot 110. 2.83g, 12mm, 1h. Very Rare. Extremely Fine.
Source: Roma Numismatics Ltd (with permission)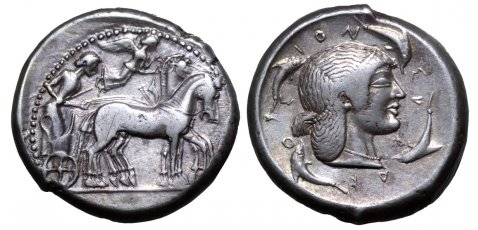 Coin from Syracuse from the time of Hieron I, circa 485-480 BC
Description: Sicily, Syracuse AR Tetradrachm. Deinomenid Tyranny. Time of Hieron I, circa 485-480 BC. Charioteer, holding kentron and reins, driving walking quadriga right; above, Nike flying to right, crowning horses / Head of Arethusa right, wearing earring, necklace and headband, her hair tied in a krobylos; ?VR?K????? and four dolphins around. Boehringer 69 (V33/R45); Randazzo 244; SNG ANS -. 17.36g, 25mm, 5h. Near Very Fine.
Source: Roma Numismatics Ltd (with permission)
The Italian chef Giorgio Locatelli tells of his soft spot for Sicily: "The island has so many magical places: the ancient amphitheatres of Syracuse; the little town of Erice, where there are more churches than houses; the Norman cathedral of Monreale. The Villa Romana del Casale, just outside the town of Piazza Armerina, has an incredible collection of Roman mosaics. They include beautiful mosaics of girls in bikinis. Romans! In bikinis! My kids thought that was so funny; they loved it."
Read more in The Guardian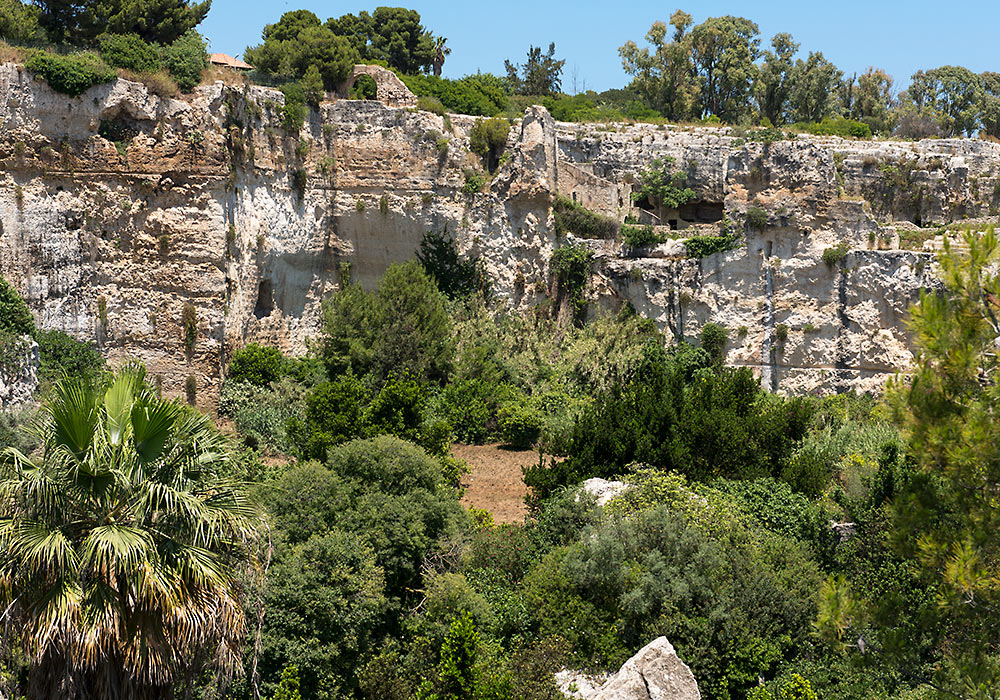 The Latomie of Syracuse is the limestone quarries later used for prisons. Now it is a tropical garden full of local and exotic plant species. The main attractions are the grottos Ear of Dionysos (Orecchio di Dionisio) and Grotta dei Cordari (now closed for security reasons).
Fonte Aretusa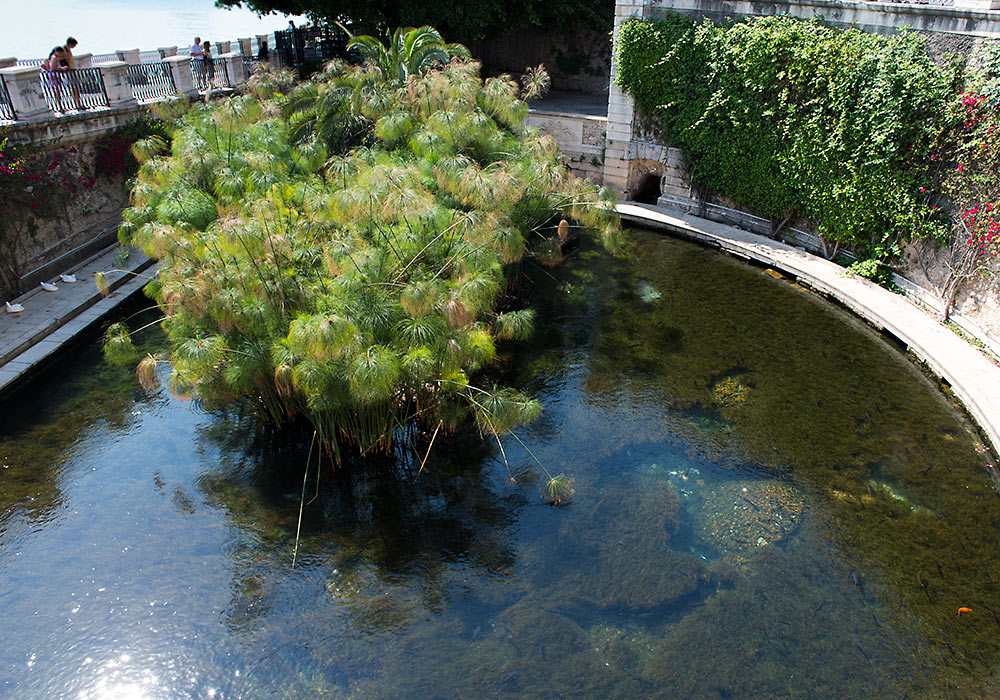 Fonte Aretusa, one of the most famous fresh-water sources of the Greek world. The pond was built in 1843.
Photo: Per-Erik Skramstad / Wonders of Sicily
The story of Arethusa (Ovid: The Metamorphoses V:572-641
Calliope sings: Arethusa's story "Ceres, kindly now, happy in the return of her daughter, asks what the cause of your flight was, Arethusa, and why you are now a sacred fountain. The waters fall silent while their goddess lifts her head from the deep pool, and wringing the water from her sea-green tresses, she tells of the former love of that river of Elis. 'I was one of the nymphs, that lived in Achaia,' she said 'none of them keener to travel the woodland, none of them keener to set out the nets. But, though I never sought fame for my beauty, though I was wiry, my name was, the beautiful. Nor did my looks, praised too often, give me delight. I blushed like a simpleton at the gifts of my body, those things that other girls used to rejoice in. I thought it was sinful to please. Tired (I remember), I was returning, from the Stymphalian woods. It was hot, and my efforts had doubled the heat. I came to a river, without a ripple, hurrying on without a murmur, clear to its bed, in whose depths you could count every pebble: you would scarce think it moving. Silvery willows and poplars, fed by the waters, gave a natural shade to the sloping banks. Approaching I dipped my toes in, then as far as my knees, and not content with that I undressed, and draped my light clothes on a hanging willow, and plunged, naked, into the stream. While I gathered the water to me and splashed, gliding around in a thousand ways, and stretching out my arms to shake the water from them, I thought I heard a murmur under the surface, and, in fear, I leapt for the nearest bank of the flood. 'What are you rushing for, Arethusa?' Alpheus called from the waves. 'Why are you rushing?' He called again to me, in a strident voice. Just as I was, I fled, without my clothes (I had left my clothes on the other bank): so much the more fiercely he pursued and burned, and being naked, I seemed readier for him. So I ran, and so he wildly followed, as doves fly from a hawk on flickering wings, as a hawk is used to chasing frightened doves. Even beyond Orchemenus, I still ran, by Psophis, and Cyllene, and the ridges of Maenalus, by chill Erymanthus, Elis, he no quicker than I. But I could not stay the course, being unequal in strength: he was fitted for unremitting effort. Still, across the plains, over tree-covered mountains, through rocks and crags, and where there was no path, I ran. The sun was at my back. I saw a long shadow stretching before my feet, unless it was my fear that saw it, but certainly I feared the sound of feet, and the deep breaths from his mouth stirred the ribbons in my hair. Weary with the effort to escape him, I cried out 'Help me: I will be taken. Diana, help the one who bore your weapons for you, whom you often gave your bow to carry, and your quiver with all its arrows!' The goddess was moved, and raising an impenetrable cloud, threw it over me. The river-god circled the concealing fog, and in ignorance searched about the hollow mist. Twice, without understanding, he rounded the place, where the goddess had concealed me, and twice called out 'Arethusa, O Arethusa!' What wretched feelings were mine, then? Perhaps those the lamb has when it hears the wolves, howling round the high fold, or the hare, that, hidden in the briars, sees the dogs hostile muzzles, and does not dare to make a movement of its body? He did not go far: he could see no signs of my tracks further on: he observed the cloud and the place. Cold sweat poured down my imprisoned limbs, and dark drops trickled from my whole body. Wherever I moved my foot, a pool gathered, and moisture dripped from my hair, and faster than I can now tell the tale I turned to liquid. And indeed the river-god saw his love in the water, and putting off the shape of a man he had assumed, he changed back to his own watery form, and mingled with mine. The Delian goddess split the earth, and plunging down into secret caverns, I was brought here to Ortygia, dear to me, because it has the same name as my goddess, the ancient name, for Delos, where she was born, and this was the first place to receive me, into the clear air.' " (Translated by A. S. Kline © 2000 All Rights Reserved This work may be freely reproduced, stored, and transmitted, electronically or otherwise, for any non-commercial purpose.)
Taormina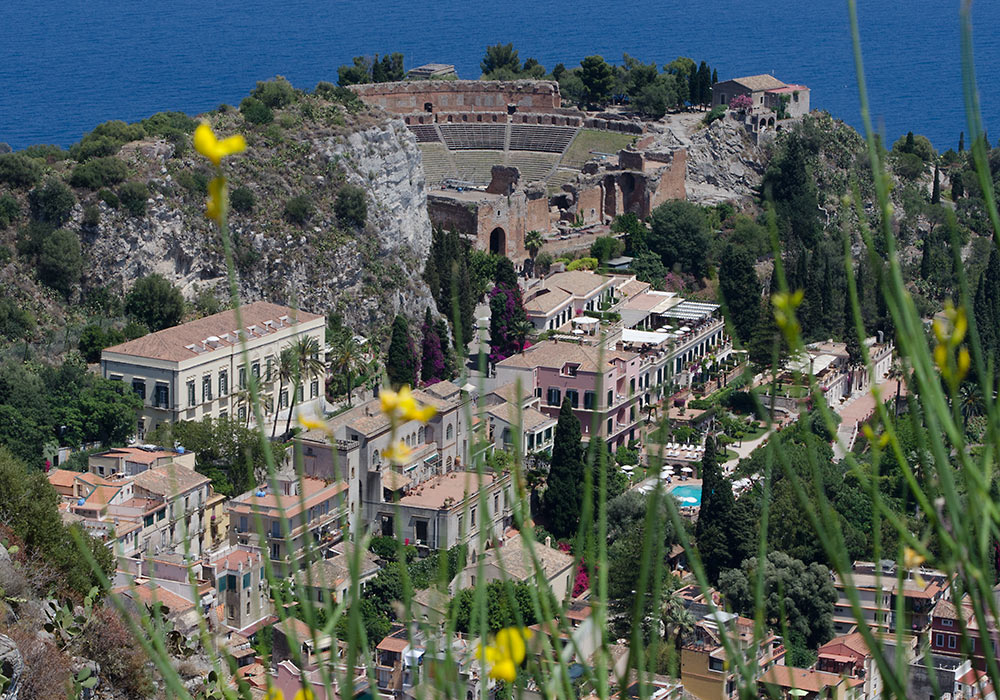 The Ancient theatre in Taormina was built by the Romans on the site of an earlier Greek one. It is the largest theatre in Sicily after that of Siracusa. Below the mountain to the left is Hotel Timeo, the first hotel to be opened in Taormina, in 1864.
Photo: Per-Erik Skramstad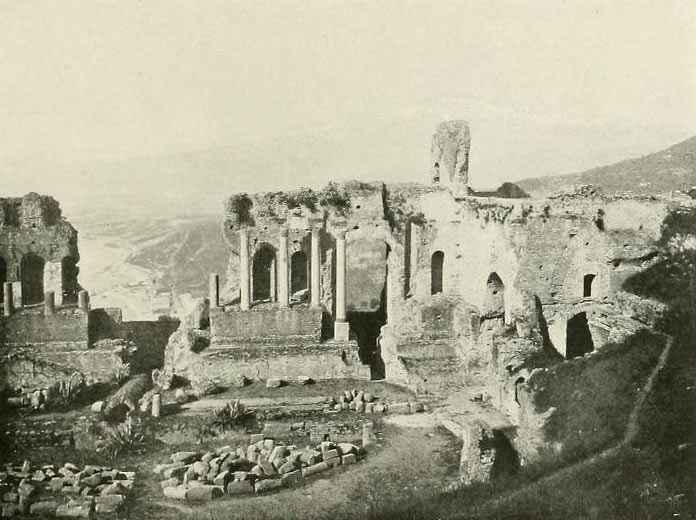 The Greek Theatre in Taormina anno c. 1907.
Photo from Charles Diehl: Palerme & Syracuse (1907)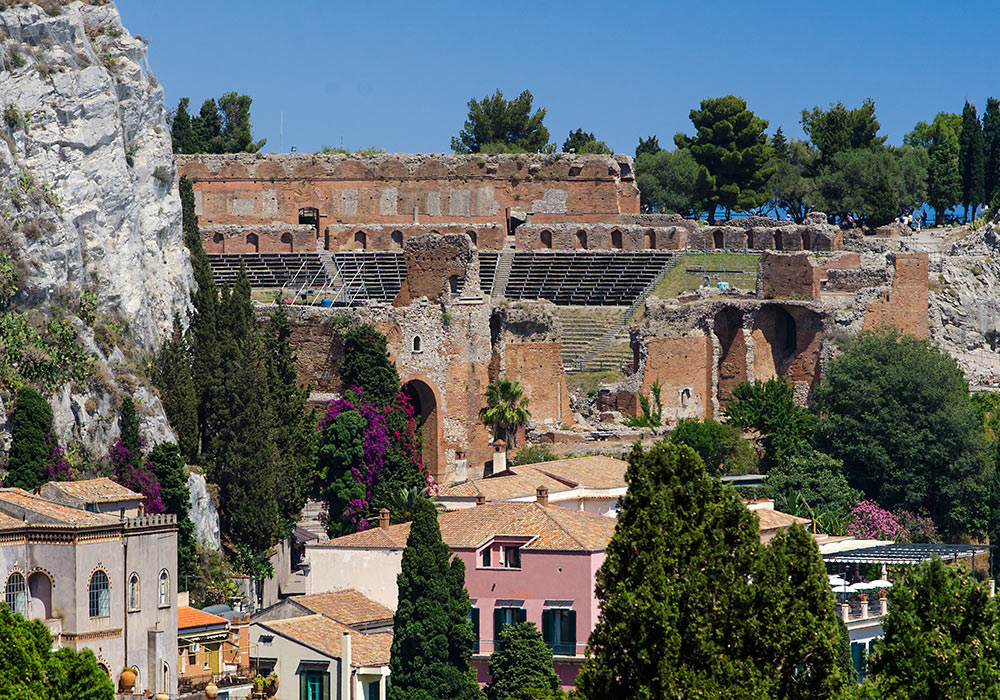 The Greek Theatre in Taormina.
Tauromenion for the Greeks - Tauromenium for the Romans.
The first presence of Greeks in Sicily came with the foundation of Naxos in c. 734 B.C. The settlers were Chalcidians of Euboea, Greece, under the leadership of Theocles. The Greek "invasion" of Sicily went on the next 150 years. In 403 BC Naxos was destroyed by the tyrant Dionysius of Syracuse.
Taormina was founded by the Carthaginian Himilco (after 398 BC); he populated the place with Sicels who lived in Naxos (granted them in 404 by Dionysius). In 392 BC, Taormina was captured and repopulated by Dionysius of Syracuse, who began the process of turning it into a Greek city. (Carratelli p 171)
Taormina was enlarged in 358 under Andromachus, father of the historian Timaeus, who gathered together the survivors of the destruction of Naxos (in 403 BC). It was favoured by Rome during the early days of occupation, and suffered in the Servile War (135–132 BC) when the city was held by slaves for several months. The Syrian slave rebel Eunus in Enna organised a rebellion in 135 BC which led to the First Servile War. After taking over Enna, he was joined by Cleon from Agrigento to form an army some sources says consisted of 200,000 men. They took Taormina, but in 132 BC the revolt was suppressed by the Roman consul Publius Rupilius. The 15,000 slaves were thrown off the cliffs of Taormina, according to some sources; other sources say crucified.
After Ceasar's death, the entire population of Taormina (Tauromenium), was deported and others lost their Latin rights.
The Arabs took Taormina in 903 (or 902), 72 years after Palermo and Messina fell in 831.
In 965 Taormina was attacked by the Tunisian Caliph al-Muez, and the theatre was destroyed. The caliph, who later founded modern Cairo, rebuilt the town, modestly renaming it Almoezia, as it was known until Count Roger conquered it in August 1079. Here the Sicilian Parliament assembled in 1410 to choose a king on the extinction of the line of Peter of Aragon.
Famous visitors to Taormina include
Johann Wolfgang von Goethe
(7-9 May, 1787),
Guy de Maupassant
,
Richard Wagner
(1882),
John Dryden
(1701),
Kaiser Wilhelm II
(1896, 1904, 1905),
Edward VII
(1906),
George V
(1924).
King Gustav of Sweden
regularly visited Taormina in the winter season in the '50s and '60s. Other famous visitors include
Truman Capote
,
Cecil Beaton
,
Jean Cocteau
,
Osbert Sitwell
,
Salvador Dalí
,
Winston Churchill
,
Sibelius
,
Orson Welles
,
John Steinbeck
,
Tennessee Williams
,
Rita Hayworth
,
Marlene Dietrich
,
Greta Garbo
, Cary Grant, Elizabeth Taylor and Richard Burton.
The photographer Baron Wilhelm von Gloeden lived and worked in Taormina from 1896 to 1931. His speciality was homo-erotic photos. D.H. Lawrence and his wife Frieda lived here from 1920–23.
The last part of Antonioni's classic movie L'Avventura takes place in Taormina.
Sources: The Greek World (ed. G.P. Carratelli); J.F. Privitera. Sicily: An Illustrated History; The Blue Guide Sicily, Goethe: Italian Journey, Wagneropera.net
Naxos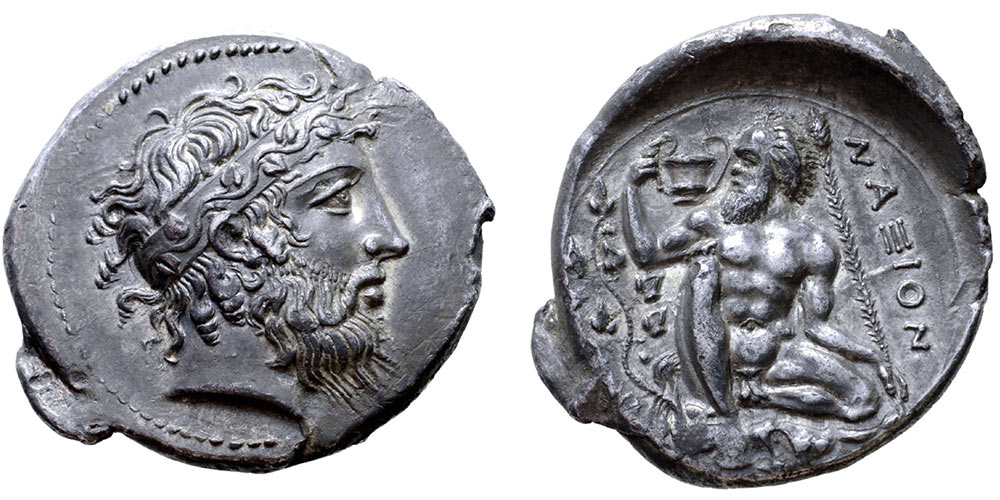 Roma Numismatics auction October 2020: (Estimate: £75,000 $97,841 €82,480): Sicily, Naxos AR Tetradrachm. Circa 430-420 BC. Bearded head of Dionysos to right, wearing stephanos ornamented with ivy wreath, hair hanging in loose curly locks / Nude, bearded Silenos kneeling facing on ground, head left, holding kantharos in raised right hand which he contemplates, holding thyrsos upright in left, his tail curled behind him; an ivy branch springs upward from the ground in left field; NAΞION downwards in right field. Cahn 100 (V66/R82); SNG ANS 524 (same obv. die); SNG Lloyd 1156 (same obv. die); Rizzo pl. XXVIII, 16 (same obv. die); Basel 386 (same obv. die); Gulbenkian 232 (same dies); SNG München 761 (same dies); SNG Fitzwilliam 1113 (same dies); Jameson 677 (same dies); de Hirsch 513 (same dies); Ward 225 (same dies); Giesecke pl. V, 14 (same dies); Kraay & Hirmer 8-9 (same obv. die); HGC 2, 984. 16.75g, 30mm, 8h. Extremely Fine; attractive cabinet tone. Very Rare; no other example of this obverse die is known in such a high grade.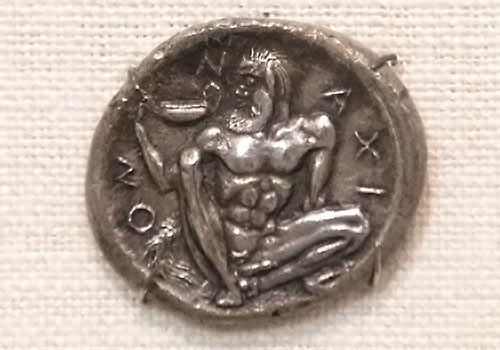 Silver tetradrachm: Head of Dionysos / Silenos squatting. Naxos 461-450 BC
Metropolitan Museum of Art, New York
Greek cities / Ancient settlements in Sicily
Akragas (founded 580)
Camarina (founded 589)
Cozzo d'Apollo, near Comiso: ruins of a currently unidentified Greek settlement (see Blue Guide Sicily p 303)
Egesta (Segesta)
Gela (founded 689)
Halaesa (founded 403 BC by Archonides, dynastic ruler of Herbita). Also known as Halaesa Arconidea (Alesa Arconidea)
Himera (founded 650)
Katane (founded 729)
Leontinoi (founded 730)
Lipari (aka Aeolia)
Megara Hyblea
Mozia
Mylae (Milazzo, founded 716)
Naxos (founded 734)
Panormus (aka Ziz, present day Palermo)
Selinus (Selinunte) (founded c. 640)
Siracusa (founded 734)
Zancle (aka Messena, present day Messina)
Ziz (aka Panormus, present day Palermo)
Selinunte
In 414 BC hostilities flared up between Selinus (Selinunte) and Segesta. Since Segesta didn't get any help from Akragas (Agrigento), they went to to Athens during the winter 416/415 to beg for help. The Athenian expedition in Sicily (415-413 BC), however, was a complete disaster for Greece. Later Segesta asked Carthage for help, leading to the total destruction of Selinus by the hands of Carthage.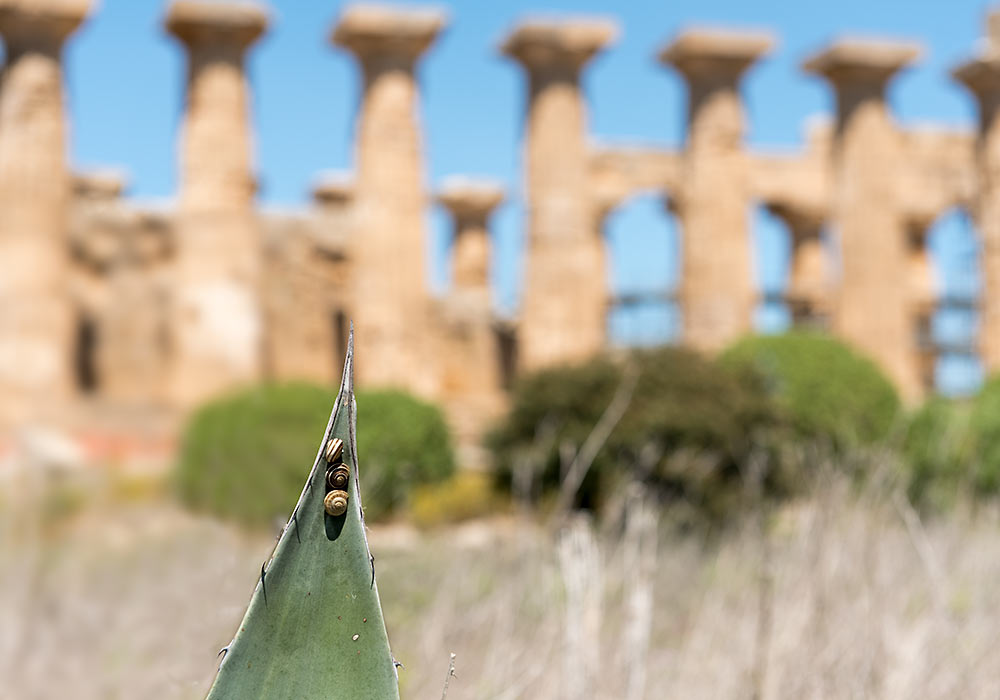 Snails at Selinunte. Following the Carthiginian siege of 409 BC, Selinunte was systematically destroyed.
Solunto
Solunto may have replaced a Phoenician settlement in the vicinity, destroyed by Dionysos of Syracuse in 397 BC. Solus was built in the 4th Century, and fell to the Romans in 254 BC. By the 3rd Century BC it was abandoned. The city was discovered in 1825.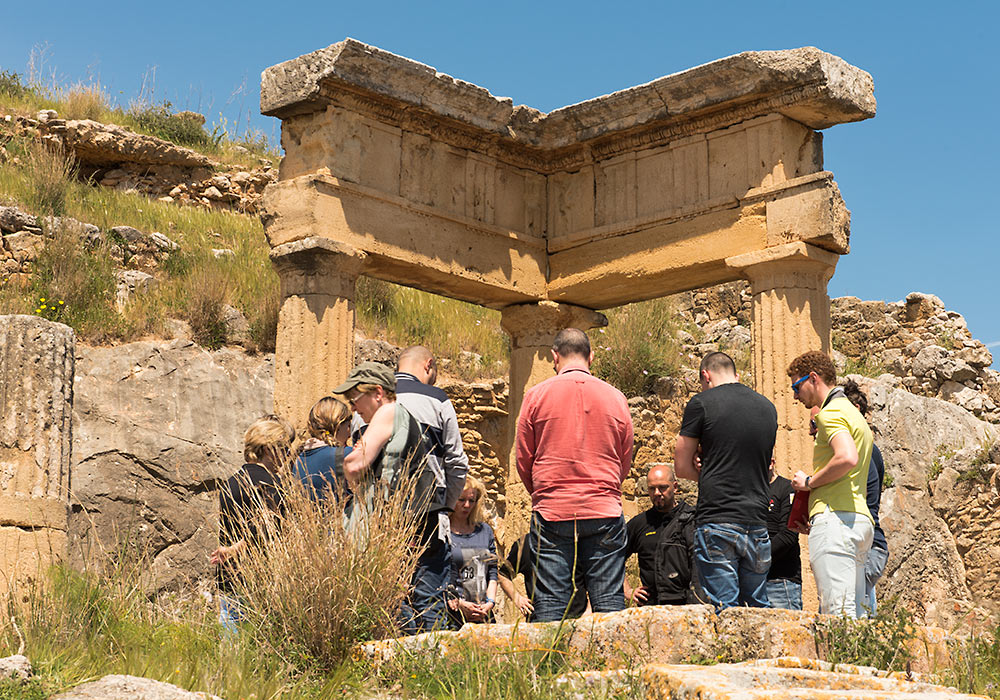 Tourists at the so-called Gymnasium at Solunto.
Halaesa Arconidea (Alesa Arconidea)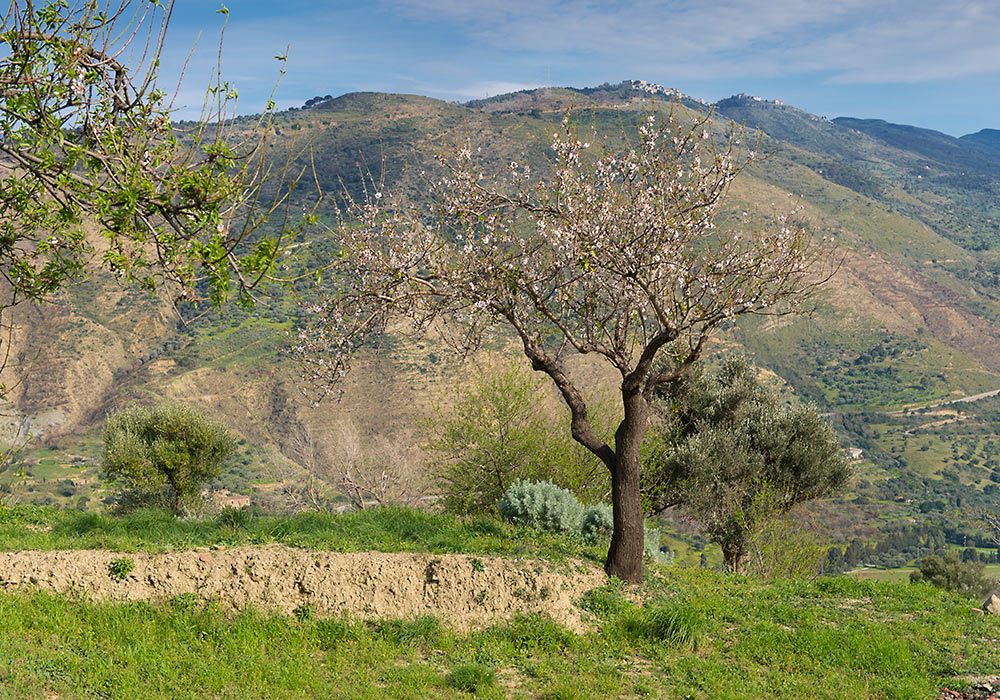 Beautiful views of the valley at Halaesa Arconidea (Alesa Arconidea).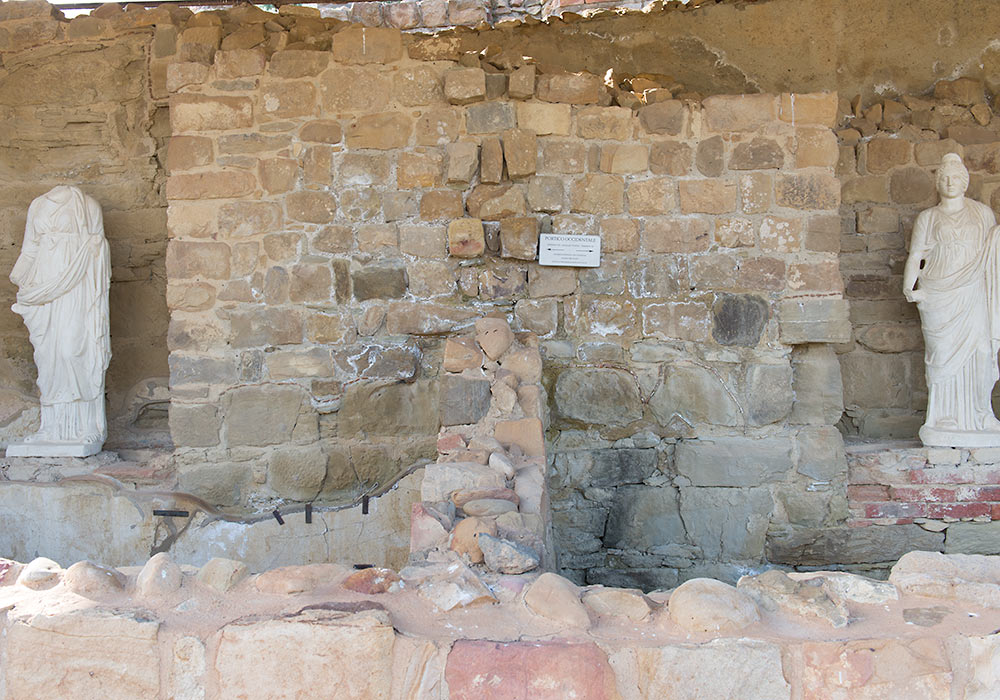 In July 2018 archeologists announced that they had found the theatre.
Gela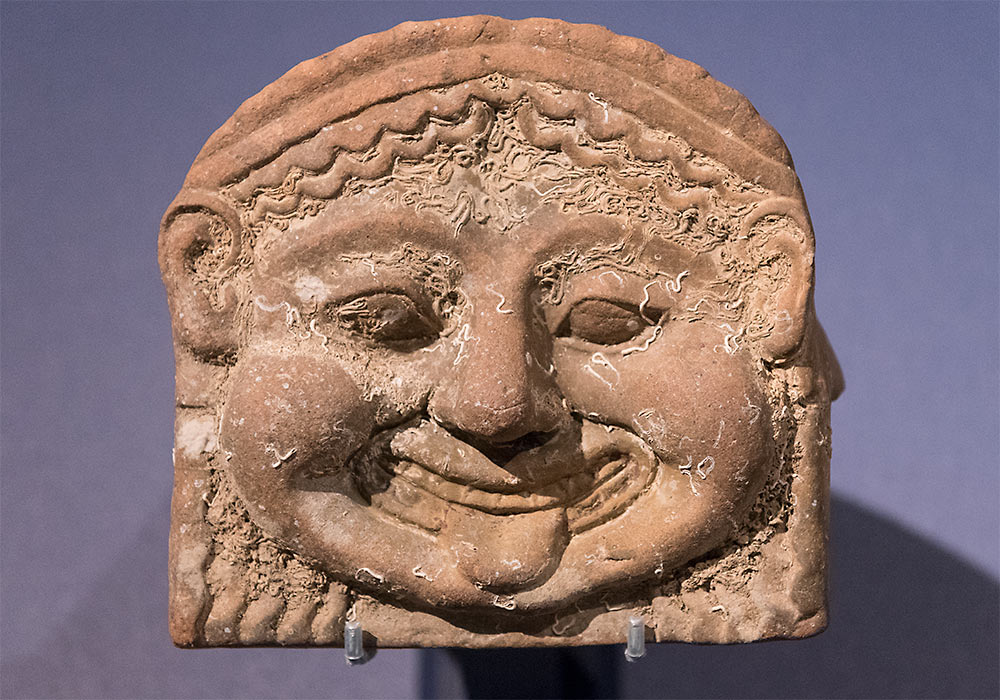 Gorgon roof ornament, 500-450 BC. Found off the coast of Gela. Soprintendenza per i Beni culturali e ambientali del Mare, Palermo, inv. 4237. Part of the exhibition Storms, War & Shipwrecks - Treasures from the Sicilian Seas at Ashmolean Museum of Art and Archeology.
Netum / Neeton (Greek: Νέητον)
Netum or Neetum (Greek: Νέητον), was a town in the south of Sicily, near the river Asinarus (modern Falconara). It was located where Noto Antica is today.
It was probably subject to Syracuse; a treaty was concluded in 263 BCE between the Romans and King Hieron II of Syracuse, Netum was noticed as one of the cities left in subjection to that monarch.
Ptolemy is the last ancient writer that mentions the name; but there is no doubt that it continued to exist throughout the Middle Ages; and under the Norman kings rose to be a place of great importance, and the capital of the southern province of Sicily, to which it gave the name of Val di Noto. Some remains of the ancient amphitheatre, and of a building called a gymnasium, are still visible, and a Greek inscription, which belongs to the time of Hieron II. (From Wikipedia)
Diodorus XXIII:
Both consuls went to Sicily [263 BC??], and laying siege to the city of Hadranum took it by storm. Then, while they were besieging the city of Centuripa and were encamped by the Brazen Gates, envoys arrived, first from the people of Halaesa; then, as fear fell upon the other cities as well, they too sent ambassadors to treat for peace and to deliver their cities to the Romans. These cities numbered sixty-seven. The Romans, after adding the forces of these cities to their own, advanced upon Syracuse, intending to besiege Hiero. But Hiero, perceiving the discontent of the Syracusans, sent envoys to the consuls to discuss a settlement, and inasmuch as the Romans were eager to have as their foe the Carthaginians alone, they readily consented and concluded a fifteen-year peace; the Romans received one hundred and fifty thousand drachmas; Hiero, on condition of returning the captives of war, was to continue as ruler of the Syracusans and of the cities subject to him, Acrae, Leontini, Megara, Helorum, Neetum, and Tauromenium. While these things were taking place Hannibal arrived with a naval force at Xiphonia, intending p89 to bring aid to the king, but when he learned what had been done, he departed.
The Library of History of Diodorus Siculus published in Vol. XI of the Loeb Classical Library edition, 1957
Centuripe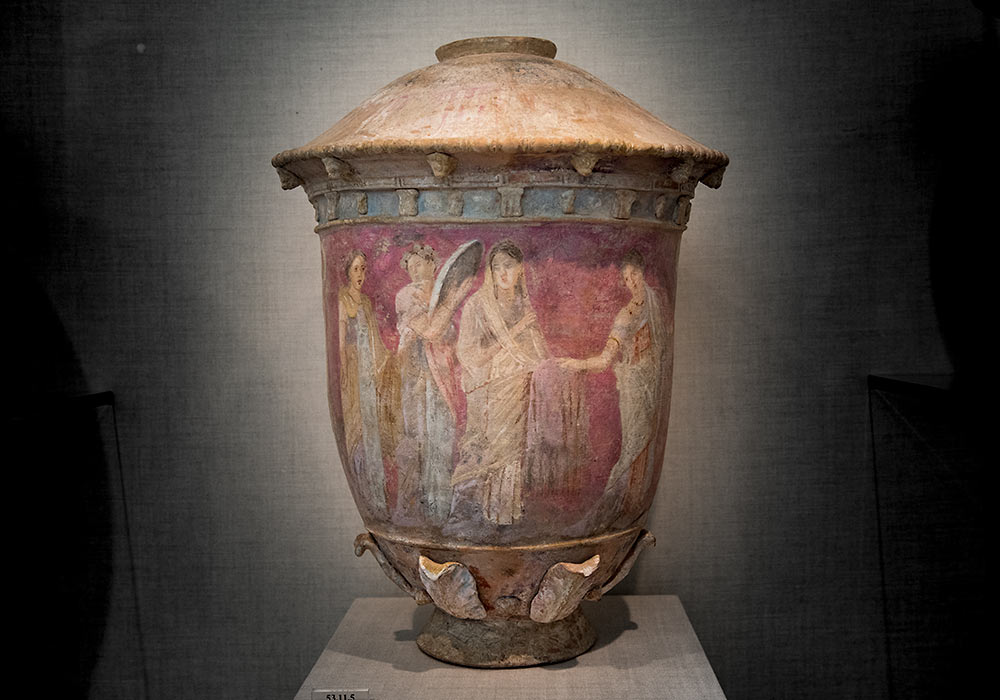 Terracotta vase from Centuripe, Hellenistic period, 3rd–2nd century B.C.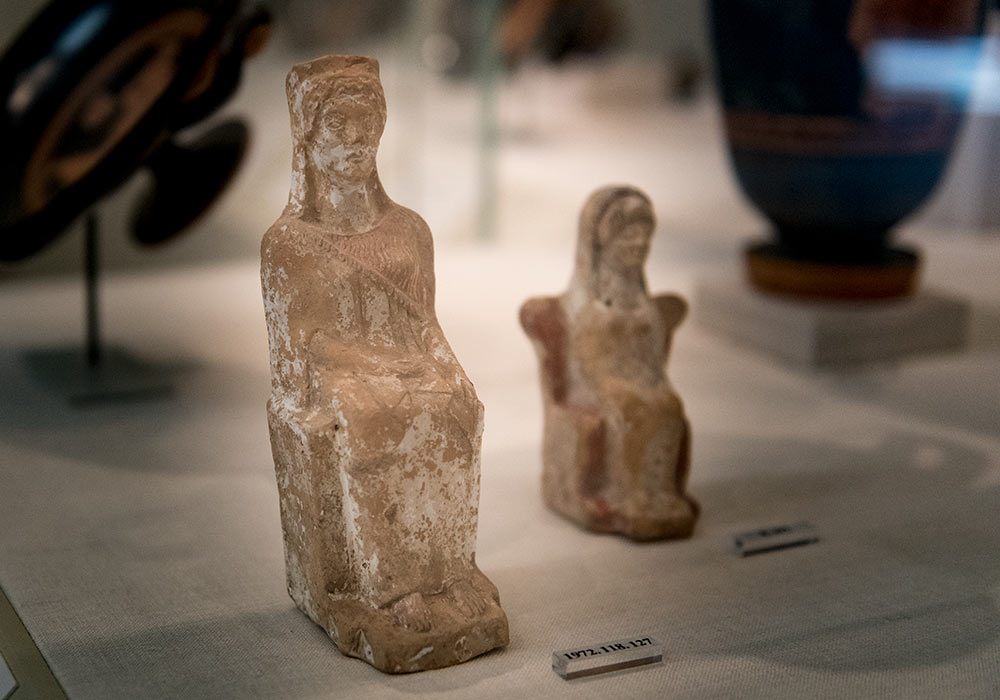 Terracotta statuette of a seated goddess, 5th century B.C., made in Sicily. This goddess wears a low polos (headdress) over a veil. She is dressed in the manner of an Archaic kore (statue of a young woman) of the sixth century B.C. in a fine linen chiton and a short himation (cloak) that crosses the chest at a diagonal. Her serious expression, however, is typical of later works, created in the fifth century B.C. (Accession 1972.118.127, The Metropolitan Museum of Art, New York)
Sicily: Some geographical names in Italian, Sicilian, English, Latin and Greek
Agrigento (Sicilian: Girgenti, Ancient Greek: Akragas (Ἀκράγας), Latin: Agrigentum, Arabic: Kirkent or Jirjent)
Agrigentum, Latin for Agrigento
Akragas (Ἀκράγας), Ancient Greek for Agrigento
Àsaru, Sicilian for Assoro
Assorus, Latin for Assoro
Assoros, Greek for Assoro
Baarìa, Sicilian for Bagheria (also the title of a film by Giuseppe Tornatore)
Balarm, Arabic for Palermo
Butirah, Arabic for Butera (one of the largest cities in Arab Sicily)
Càccamu Sicilian for Caccamo
Castrogiovanni (until 1926 Enna was known as Castrogiovanni)
Castrugiuvanni, Sicilian for Enna
Cefalù (Sicilian: Cifalù, Greek: Κεφαλοίδιον, Diod., Strabo, or Κεφαλοιδὶς, Ptol.; Latin: Cephaloedium, or Cephaloedis)
Cephaloedium or Cephaloedis, Latin for Cefalù
Cifalù, Sicilian for Cefalù
Egesta, Greek for Segesta
Enna (Sicilian: Castrugiuvanni; Greek: Ἔννα; Latin: Henna and less frequently Haenna). Until 1926 the town was known as Castrogiovanni.
Girgenti, Sicilian for Agrigento
Henna / Haenna, Latin for Enna
Hyspicae Fundus, Latin for Ispica
Ispica (Sicilian: Spaccafurnu, Latin: Hyspicae Fundus)
Jirjent, Arabic for Agrigento (also: Kirkent)
Kefaloidion or Kefaloidis (Κεφαλοίδιον / Κεφαλοιδὶς), Greek for Cefalù
Kentoripa, ancient Greek for Centuripe
Kirkent, Arabic for Agrigento (also: Jirjent)
Noto (Sicilian: Notu; Latin: Netum)
Notu, Sicilian for Noto
Netum, Latin for Noto
Palermo (Sicilian: Palermu, Latin: Panormus, from Greek: Πάνορμος, Panormos, Arabic: Balarm, Phoenician: Ziz)
Palermu, Sicilian for Palermo
Panormos (Πάνορμος), Greek for Palermo
Panormus, Latin for Palermo (from Greek: Πάνορμος, Panormos)
Sarausa, Sicilian for Siracusa
Selinous, Greek for Selinunte
Selinus, Latin for Selinunte
Siggésta, Sicilian for Segesta
Siracusa (English: Syracuse, Latin: Syracusæ, Ancient Greek: Syrakousai (Συράκουσαι), Medieval Greek: Συρακοῦσαι, Sicilian: Sarausa)
Spaccafurnu, Sicilian for Ispica
Syracuse, English for Siracusa
Syracusæ, Latin for Siracusa
Syrakousai (Συράκουσαι), Ancient Greek for Siracusa
Syrakousai (Συρακοῦσαι), Medieval Greek for Siracusa
Taormina (Sicilian: Taurmina, Greek: Ταυρομένιον Tauromenion, Latin: Tauromenium)
Taurmina, Sicilian for Taormina
Tauromenion (Ταυρομένιον), Greek for Taormina
Tauromenium, Latin for Taormina
Terranova is the old name for Gela (the fifth largest town in Sicily)
Ziz, Phoenician for Palermo
Sources
Joseph F. Privitera: "Sicily: An Illustrated History"
Sandra Benjamin: Sicily: Three Thousand Years of Human History
Jeremy Dummett: Syracuse, City of Legends: A Glory of Sicily
Jeremy Dummett: Palermo, City of Kings: The Heart of Sicily
The Greek World (ed. G.P. Carratelli)
The Blue Guide Sicily
Goethe: Italian Journey
Wagneropera.net
Wikipedia