The Roman Amphitheatre in Siracusa / Syracuse
The Romans conquered Sicily definitely in 212 BC and ruled over the island until the Vandals led by their chief Genseric conquered it in AD 440.

The Roman amphitheatre in Siracusa (140m by 119m). It was used for gladiator fights. The rectangular depression was probably for the machinery used in the spectacles.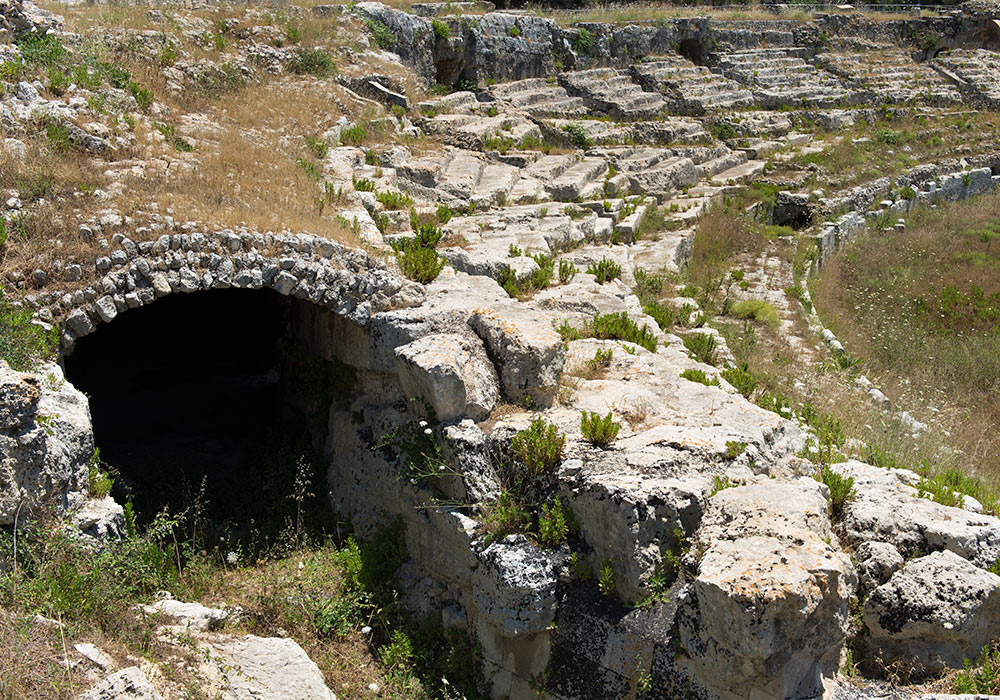 The Roman Amphitheatre (detail).
Sicilian Sites on UNESCO's World Heritage List
Agrigento: Archaeological Area of Agrigento (UNESCO)
Aeolian Islands: Isole Eolie. The group consists of seven islands (Lipari, Vulcano, Salina, Stromboli, Filicudi, Alicudi and Panarea) and five small islets (Basiluzzo, Dattilo, Lisca Nera, Bottaro and Lisca Bianca) in the vicinity of Panarea. (UNESCO)
Caltagirone (UNESCO)
Catania (UNESCO)
Militello Val di Catania (UNESCO)
Modica (UNESCO)
Mount Etna (UNESCO)
Noto (UNESCO)
Palermo: Palazzo dei Normanni (The Norman Palace)
Palermo: Cappella Palatina (The Palatine Chapel in the Norman Palace)
Palermo: Church of San Giovanni degli Eremiti
Palermo: Church of Santa Maria dell'Ammiraglio (also known as the Martorana)
Palermo: Church of San Cataldo
Palermo: Cathedral of Palermo
Palermo: The Zisa Palace (La Zisa)
Palermo: The Cuba Palace (La Cuba)
Palazzolo Acreide (UNESCO)
Ragusa (UNESCO)
Scicli (UNESCO)
Syracuse and the Rocky Necropolis of Pantalica (UNESCO)
Thirsty for more? Here you'll find more photos from Sicily:
Sicily: Some geographical names in Italian, Sicilian, English, Latin and Greek
Agrigento (Sicilian: Girgenti, Ancient Greek: Akragas (Ἀκράγας), Latin: Agrigentum, Arabic: Kirkent or Jirjent)
Agrigentum, Latin for Agrigento
Akragas (Ἀκράγας), Ancient Greek for Agrigento
Àsaru, Sicilian for Assoro
Assorus, Latin for Assoro
Assoros, Greek for Assoro
Baarìa, Sicilian for Bagheria (also the title of a film by Giuseppe Tornatore)
Balarm, Arabic for Palermo
Butirah, Arabic for Butera (one of the largest cities in Arab Sicily)
Càccamu Sicilian for Caccamo
Castrogiovanni (until 1926 Enna was known as Castrogiovanni)
Castrugiuvanni, Sicilian for Enna
Cefalù (Sicilian: Cifalù, Greek: Κεφαλοίδιον, Diod., Strabo, or Κεφαλοιδὶς, Ptol.; Latin: Cephaloedium, or Cephaloedis)
Cephaloedium or Cephaloedis, Latin for Cefalù
Cifalù, Sicilian for Cefalù
Egesta, Greek for Segesta
Enna (Sicilian: Castrugiuvanni; Greek: Ἔννα; Latin: Henna and less frequently Haenna). Until 1926 the town was known as Castrogiovanni.
Girgenti, Sicilian for Agrigento
Henna / Haenna, Latin for Enna
Hyspicae Fundus, Latin for Ispica
Ispica (Sicilian: Spaccafurnu, Latin: Hyspicae Fundus)
Jirjent, Arabic for Agrigento (also: Kirkent)
Kefaloidion or Kefaloidis (Κεφαλοίδιον / Κεφαλοιδὶς), Greek for Cefalù
Kentoripa, ancient Greek for Centuripe
Kirkent, Arabic for Agrigento (also: Jirjent)
Noto (Sicilian: Notu; Latin: Netum)
Notu, Sicilian for Noto
Netum, Latin for Noto
Palermo (Sicilian: Palermu, Latin: Panormus, from Greek: Πάνορμος, Panormos, Arabic: Balarm, Phoenician: Ziz)
Palermu, Sicilian for Palermo
Panormos (Πάνορμος), Greek for Palermo
Panormus, Latin for Palermo (from Greek: Πάνορμος, Panormos)
Sarausa, Sicilian for Siracusa
Selinous, Greek for Selinunte
Selinus, Latin for Selinunte
Siggésta, Sicilian for Segesta
Siracusa (English: Syracuse, Latin: Syracusæ, Ancient Greek: Syrakousai (Συράκουσαι), Medieval Greek: Συρακοῦσαι, Sicilian: Sarausa)
Spaccafurnu, Sicilian for Ispica
Syracuse, English for Siracusa
Syracusæ, Latin for Siracusa
Syrakousai (Συράκουσαι), Ancient Greek for Siracusa
Syrakousai (Συρακοῦσαι), Medieval Greek for Siracusa
Taormina (Sicilian: Taurmina, Greek: Ταυρομένιον Tauromenion, Latin: Tauromenium)
Taurmina, Sicilian for Taormina
Tauromenion (Ταυρομένιον), Greek for Taormina
Tauromenium, Latin for Taormina
Terranova is the old name for Gela (the fifth largest town in Sicily)
Ziz, Phoenician for Palermo
The distance between Siracusa and some other cities in Sicily
Siracusa-Agrigento 217 km
Siracusa-Catania 66 km
Siracusa-Cefalù 249 km
Siracusa-Modica 72 km
Siracusa-Noto 38 km
Siracusa-Palermo 277 km
Siracusa-Ragusa 90 km
Siracusa-Taormina 118 km
Siracusa-Trapani 375 km