The Beautiful Greek Theatre in Taormina!
Were a man to spend only one day in Sicily and ask, "What must one see?" I would answer him without hesitation, "Taormina." (Guy de Maupassant)
Tauromenion for the Greeks - Tauromenium for the Romans.
The first presence of Greeks in Sicily came with the foundation of Naxos in c. 734 B.C. The settlers were Chalcidians of Euboea, Greece, under the leadership of Theocles. The Greek "invasion" of Sicily went on the next 150 years. In 403 BC Naxos was destroyed by the tyrant Dionysius of Syracuse.
Taormina was founded by the Carthaginian Himilco (after 398 BC); he populated the place with Sicels who lived in Naxos (granted them in 404 by Dionysius). In 392 BC, Taormina was captured and repopulated by Dionysius of Syracuse, who began the process of turning it into a Greek city. (Carratelli p 171)
Taormina was enlarged in 358 under Andromachus, father of the historian Timaeus, who gathered together the survivors of the destruction of Naxos (in 403 BC). It was favoured by Rome during the early days of occupation, and suffered in the Servile War (135–132 BC) when the city was held by slaves for several months. The Syrian slave rebel Eunus in Enna organised a rebellion in 135 BC which led to the First Servile War. After taking over Enna, he was joined by Cleon from Agrigento to form an army some sources says consisted of 200,000 men. They took Taormina, but in 132 BC the revolt was suppressed by the Roman consul Publius Rupilius. The 15,000 slaves were thrown off the cliffs of Taormina, according to some sources; other sources say crucified.
After Ceasar's death, the entire population of Taormina (Tauromenium), was deported and others lost their Latin rights.
The Arabs took Taormina in 903 (or 902), 72 years after Palermo and Messina fell in 831.
In 965 Taormina was attacked by the Tunisian Caliph al-Muez, and the theatre was destroyed. The caliph, who later founded modern Cairo, rebuilt the town, modestly renaming it Almoezia, as it was known until Count Roger conquered it in August 1079. Here the Sicilian Parliament assembled in 1410 to choose a king on the extinction of the line of Peter of Aragon.
Famous visitors to Taormina include
Johann Wolfgang von Goethe
(7-9 May, 1787),
Guy de Maupassant
,
Richard Wagner
(1882),
John Dryden
(1701),
Kaiser Wilhelm II
(1896, 1904, 1905),
Edward VII
(1906),
George V
(1924).
King Gustav of Sweden
regularly visited Taormina in the winter season in the '50s and '60s. Other famous visitors include
Truman Capote
,
Cecil Beaton
,
Jean Cocteau
,
Osbert Sitwell
,
Salvador Dalí
,
Winston Churchill
,
Sibelius
,
Orson Welles
,
John Steinbeck
,
Tennessee Williams
,
Rita Hayworth
,
Marlene Dietrich
,
Greta Garbo
, Cary Grant, Elizabeth Taylor and Richard Burton.
The photographer Baron Wilhelm von Gloeden lived and worked in Taormina from 1896 to 1931. His speciality was homo-erotic photos. D.H. Lawrence and his wife Frieda lived here from 1920–23.
The last part of Antonioni's classic movie L'Avventura takes place in Taormina.
Sources: The Greek World (ed. G.P. Carratelli); J.F. Privitera. Sicily: An Illustrated History; The Blue Guide Sicily, Goethe: Italian Journey, Wagneropera.net
Opening Hours: Teatro Antico, Museo Archeologica, Isola Bella, Antiquarium Francavilla di Sicilia, Villa Caronia – but always check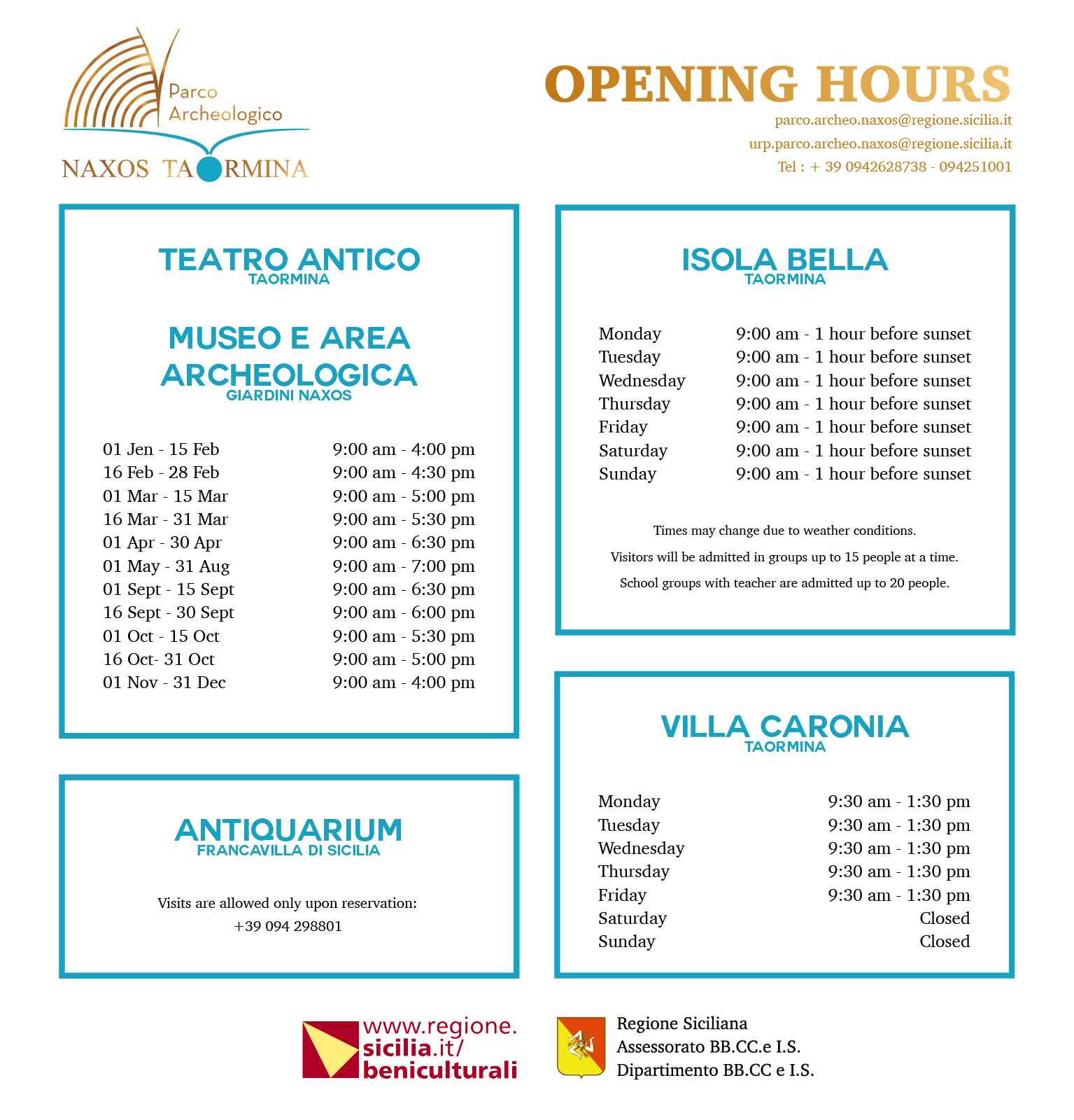 Sicily (1961) - British Paté
Taormina (archive footage from 1961)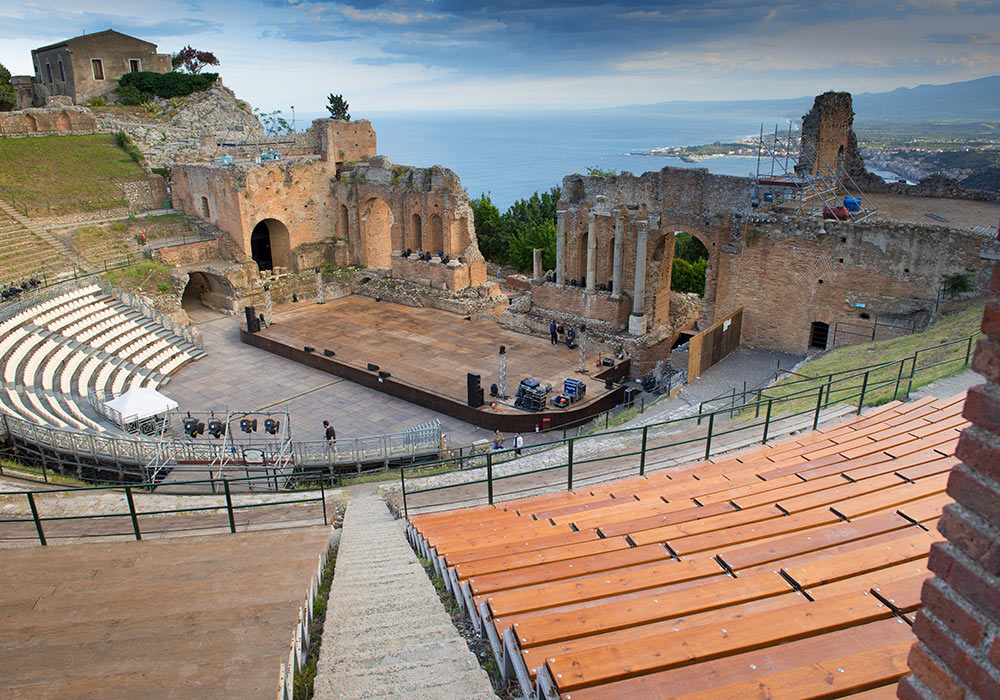 Preparing for a concert at the ancient theatre.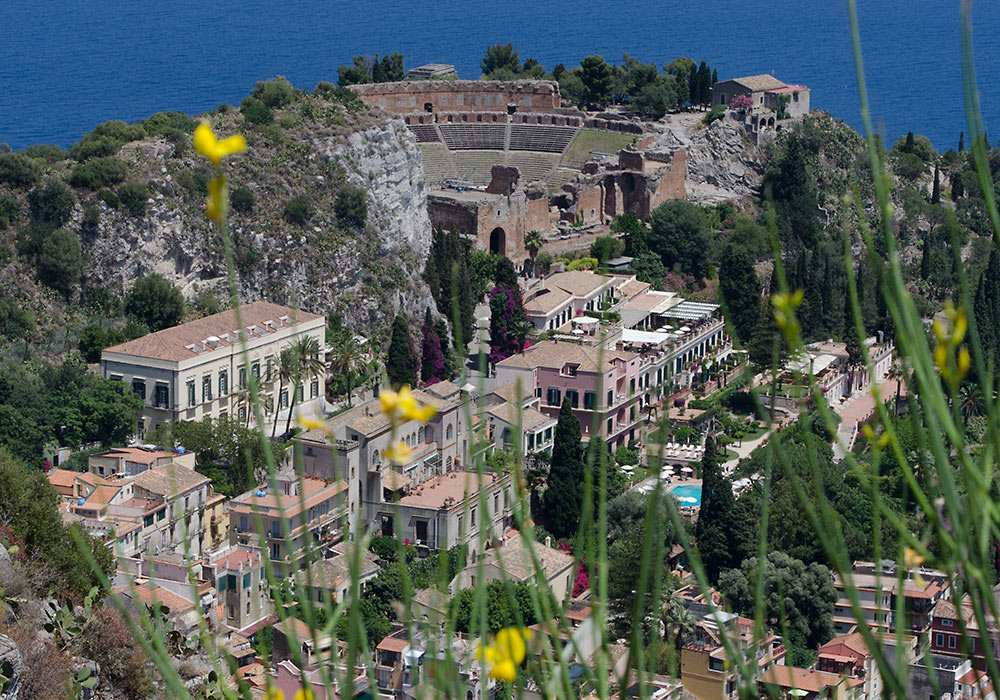 The Greek theatre in Taormina is the largest ancient theatre in Sicily after that of Syracuse. Below the mountain to the left is Hotel Timeo, the first hotel to be opened in Taormina, in 1864.
Photo: Per-Erik Skramstad / Wonders of Sicily
"Were a man to spend only one day in Sicily and ask, "What must one see?" I would answer him without hesitation, "
Taormina
." It is only a landscape, but a landscape where you find everything on earth that seems made to seduce the eyes, the mind and the imagination. […] I have said, in speaking of the theater of Segesta, that the Greeks — those incomparable scenic designers — knew how to select the unique site where the theater should be built, that site made for satisfying the artistic senses. The one in Taormina is so marvellously placed that there cannot be another comparable site in the whole world."
Guy de Maupassant: Sicily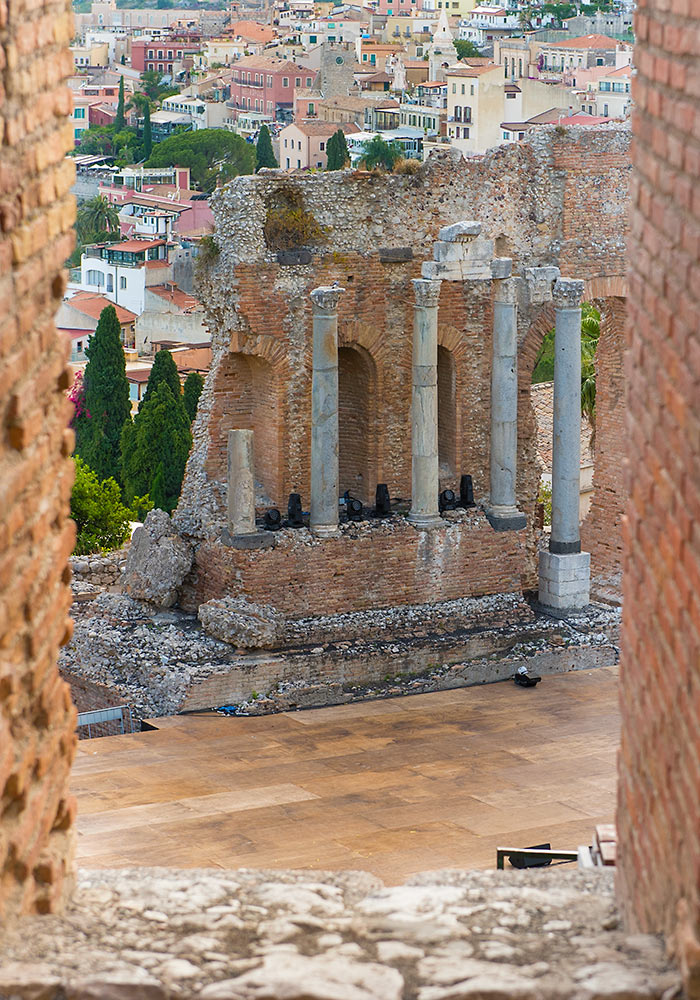 The ancient Greek theatre in Taormina, one of the most celebrated ruins in Sicily. Explore more of the Greeks in Sicily here!
Photo: Per-Erik Skramstad / Wonders of Sicily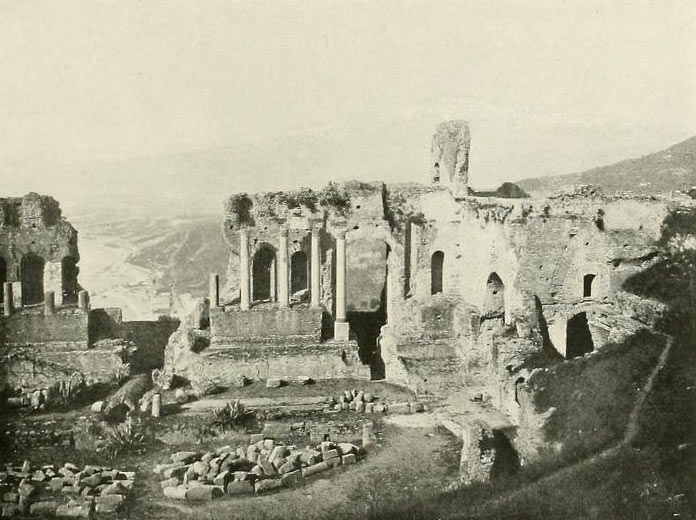 The Greek Theatre in Taormina anno c. 1907.
Photo from Charles Diehl: Palerme & Syracuse (1907)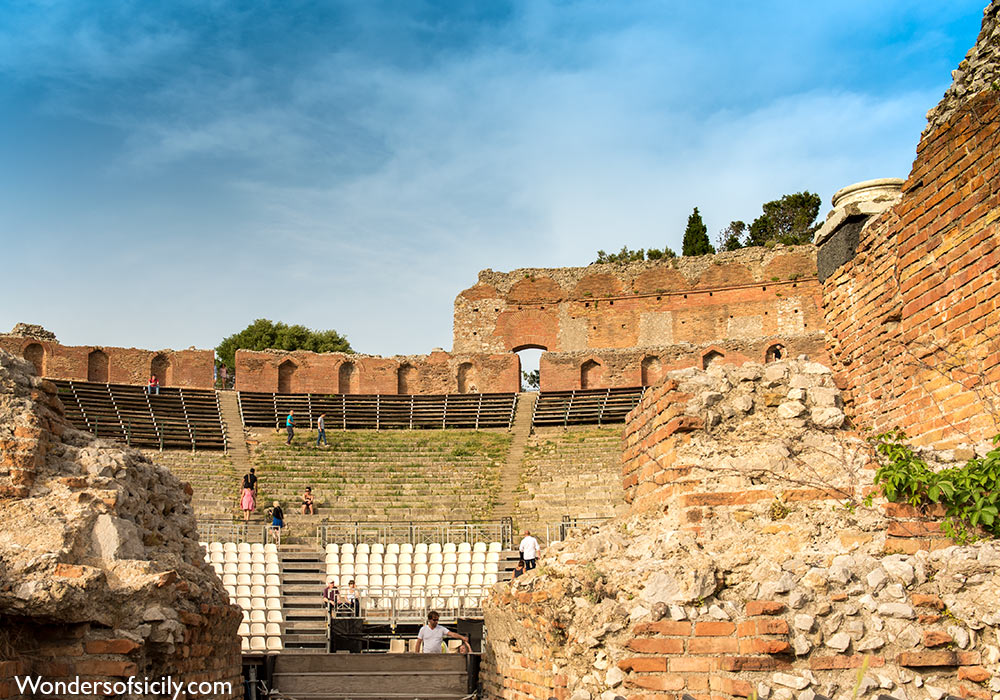 The Greek Theatre in Taormina, as seen from backstage.
Photo: Per-Erik Skramstad / Wonders of Sicily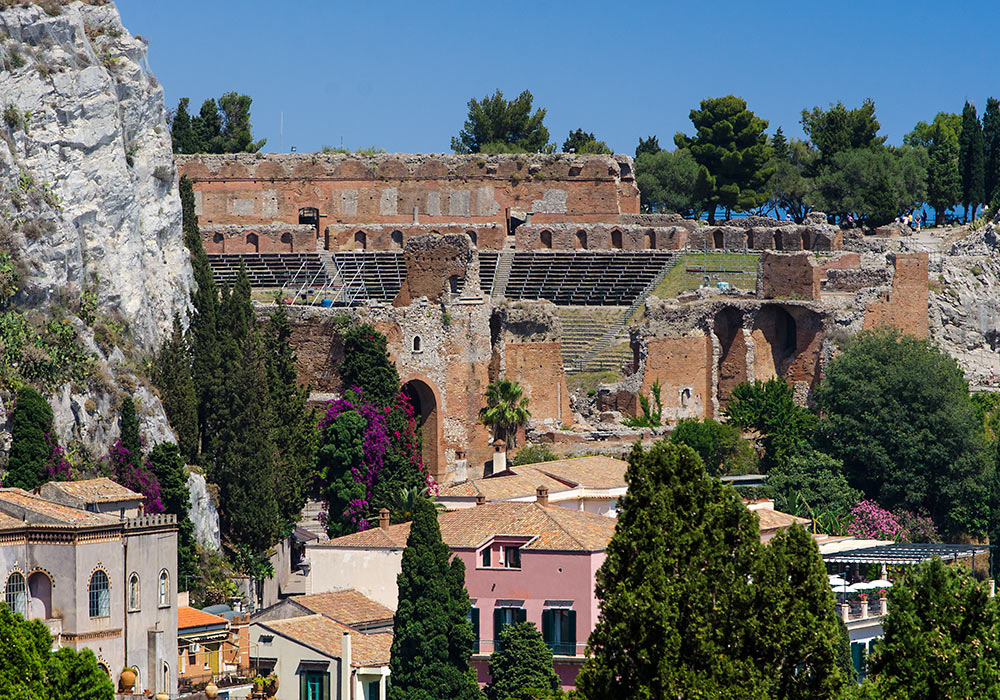 The Greek Theatre in Taormina.
Photo: Per-Erik Skramstad / Wonders of Sicily
The distance between Taormina and some other cities in Sicily
Taormina-Palermo 272 km
Taormina-Cefalù 207 km
Taormina-Siracusa 118 km
Taormina-Agrigento 219 km
Taormina-Noto 145 km
Taormina-Catania 53 km
Taormina-Trapani 370 km
Taormina-Corleone 298 km
Agricultural products introduced in Sicily by the Saracens (Arabs)
The Saracens introduced a variety of agricultural products superior to any they found on Sicily or elsewhere in Europe:
Mosaic on pavement from the Roman period, 2nd century BC. Information from Parco Archeologico di Naxos: "The pavement combines polychrome (yellow, pink, red, grey and black) cut and polished pebbles and relatively large polygonal black and white tesserae; the central geometric panes features a diamond shape inside a large square on which there is a six petaled flower om a black background. Four darting dolphins occupy the triangular shaped corners. The technique and the style date from 2nd century BC with parallels in Athens, Delos and Eretria."
Photo: Per-Erik Skramstad / Wonders of Sicily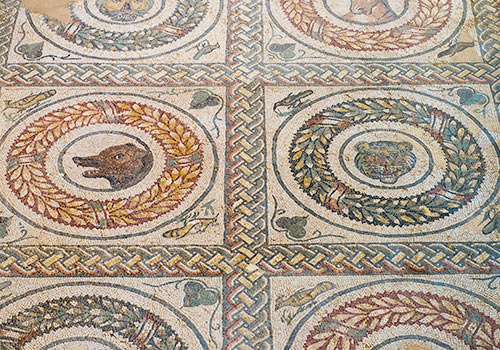 If you are interested in Roman mosaics, the fantastic museum at Villa Romana del Casale, near Piazza Armerina, is the place to go.
Photo: Per-Erik Skramstad / Wonders of Sicily
Read more
Sicily: Some geographical names in Italian, Sicilian, English, Latin and Greek
Sources