Collesano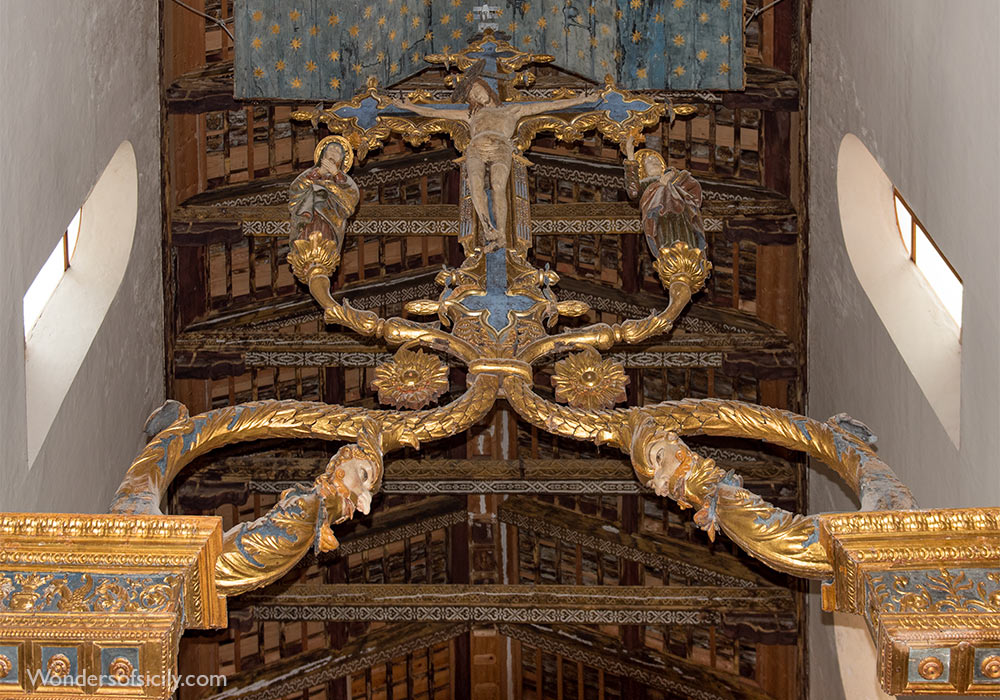 A spectacular crucifix from 1555 is hanging from the roof in the church Chiesa Madre (Basilica San Pietro).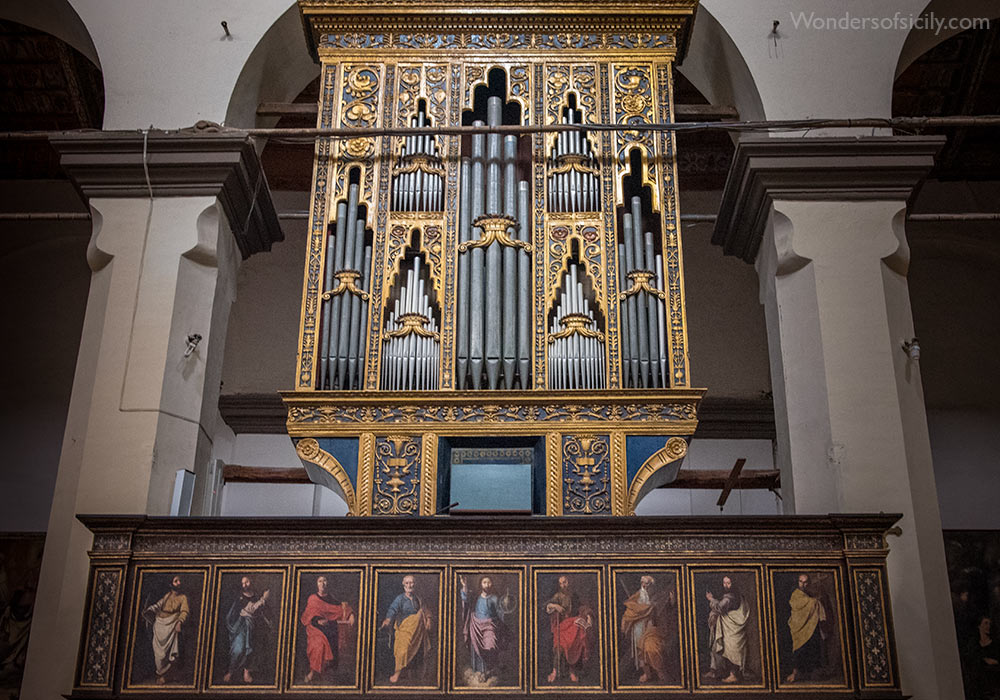 The organ by Antonino La Valle is dated 1627.
Targa Florio Race and the Museum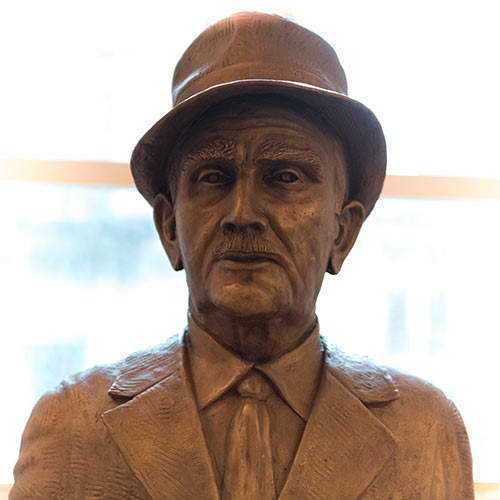 Vincenzo Florio.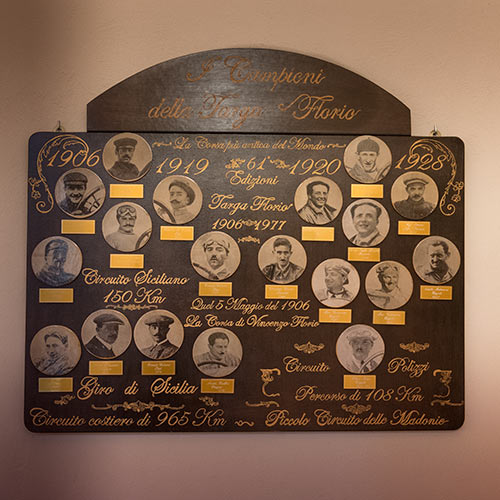 Early champions of the Targa Florio rally.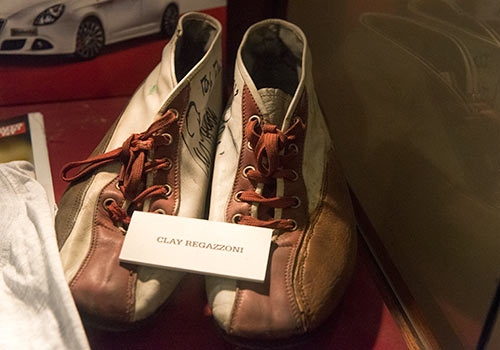 Clay Regazzoni (1939-2006).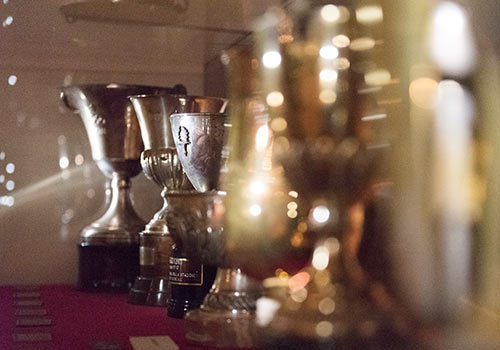 Trophies.
Targa Florio 1972 Alfa Romeo Tipo 33
Parking in Sicily
The tips below are just suggestions. Many find it better to have a specific place to go to, but if you're comfortable with driving around and just see where you end up, please do. You may find better parking than these recommendations, or you may get trapped in a one-way labyrith. If you really want to prepare for your arrival in a Sicilian town, we found it very helpful to use Google Maps and choose Street View.
Agrigento: There are several parking lots close to the Valley of the Temples.
Bagheria: Very close to Villa Palagonia, you'll probably find parking. Start looking at Via Don Luigi Sturzo, 7
Caccamo: Parking in the street when you arrive, just before the castle. Or in the Piazza Duomo.
Castelbuono: Parking near the castle is the most obvious choice but it can be full.
Castelmola: In Via Cuculunazzo there is a small parking garage. It is not possible to park in the village itself.
Catania: There is a large (and cheap) parking lot in front of Hotel Mercure Catania Excelsior, Piazza Giovanni Verga 39
Cefalù: The street along the beach (Lungomare Giuseppe Giardina) has lots of parking spaces, but you'll have to pay. There's also parking near the railway station. If you really want to park for free, and you don't mind walking for 10-15 minutes, you could try the cemetary.
Gibilmanna: Usually no problems parking near the church.
Linguaglossa: Park in the street near the 18th century Church Chiesa Madre.
Modica: We found lots of parking spaces in Viale Medaglie D'Oro, but you'll (probably) have to pay at a nearby bar(!). We paid, but no one else seemed to bother …
Monreale: Make it easy and use the parking garage in Via Palermo 102. 150 m to the cathedral. You can even stay here and take a taxi down to Palermo centre if you want to choose the easiest solution.
Noto: If you don't mind walking 5-7 minutes, we recommend going for the free parking in Via Napoli as you approach the centre. Look for parking after you have passes the petrol station on the right. Close to the city gate, you can park (and pay) in Corso Vittorio Emanuele. Unemployed, criminal looking men may want to protect the car for you.
Palermo: Avoid car if you can. It is easier to park during the riposo (siesta). See under Monreale.
Ragusa superiore: Parking opposite the Best Western Hotel Mediterraneo Palace (aka Mediterraneo Palace) in Via Roma 185 (Montalbano location!). Parking marked with blue lines, meaning you have to pay. Also: At Piazza Matteotti (by the Post office from the Mussolini period), there is an underground parking house. Entrance via Corso Italia, next to number 53.
Ragusa Ibla: There are parking lots in Via Avvocato Giovanni Ottaviano, near the Q8 petrol station. Here is a link to the place in Google Street View.
Segesta: Big parking lot near the entrance.
Selinunte: Big parking lot near the entrance of the archeological site.
Termini Imerese: Parking near the cathedral.
If you see any errors or have any tips, please inform us via email, Twitter or Facebook.