Serpotta Stuccoes in the Oratorio del Rosario di Santa Cita, Palermo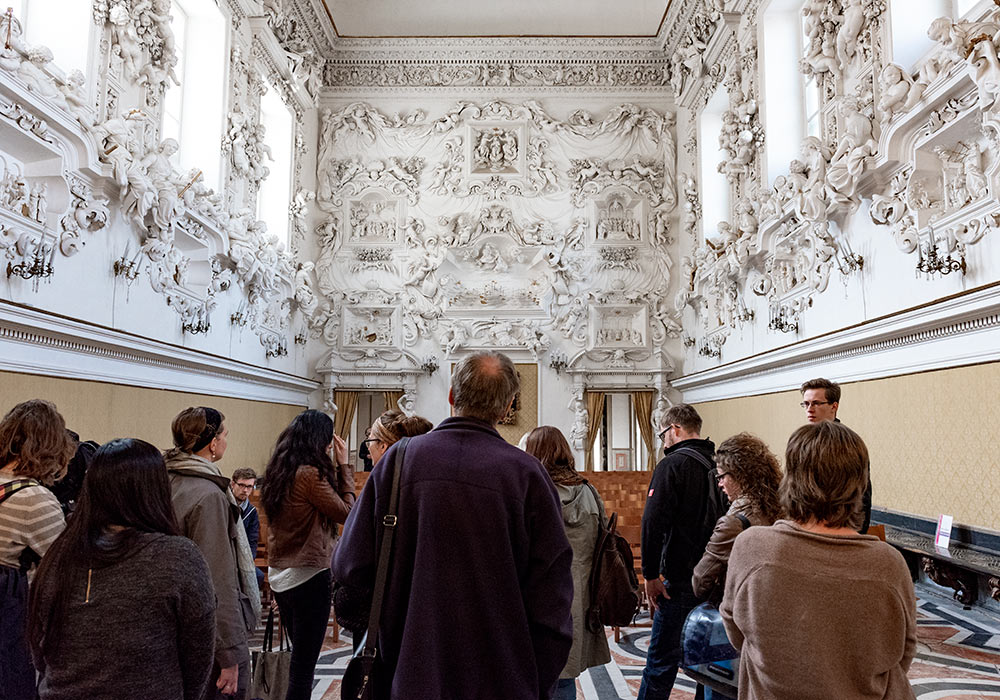 Oratorio del Rosario di Santa Cita, Palermo.
The Compagnia del SS. Rosario in S. Cita was founded in 1570 by Father Maiano Lo Vecchio to take part in the annual processions in honour of the Madonna of the Rosary. The building of the present Oratory was probably finished around 1680, but Garstang suggests that building must have been protracted over most the seventeenth century.
Stylistic differences between the various parts led some critics to believe that many of the stuccoes were not made by Serpotta, but when finally Monsignor Meli was admitted to the archive, he found that the decoration indeed was by Serpotta but executed at different times; actually thirty years separated the work in the nave from that in the chancel.
Serpotta started working on the stuccoes in 1685. In 1707-08 Serpotta was paid for 'constatura di stucco', which Garstang believes means restoration, repair or the last touches diven to a decoration. In 1707 Michele Rosciano was paid for having guilded the devices of the allegorical figures.
In 1695 Maratti's painting The Madonna of the Rosary was sent from Rome.
The small oval cupola was frescoed with The Coronation of the Virgin by Vincenzo Bongiovanni in 1719.
Source: Donald Garstang: Giacomo Serpotta and the Stuccatori of Palermo 1560-1790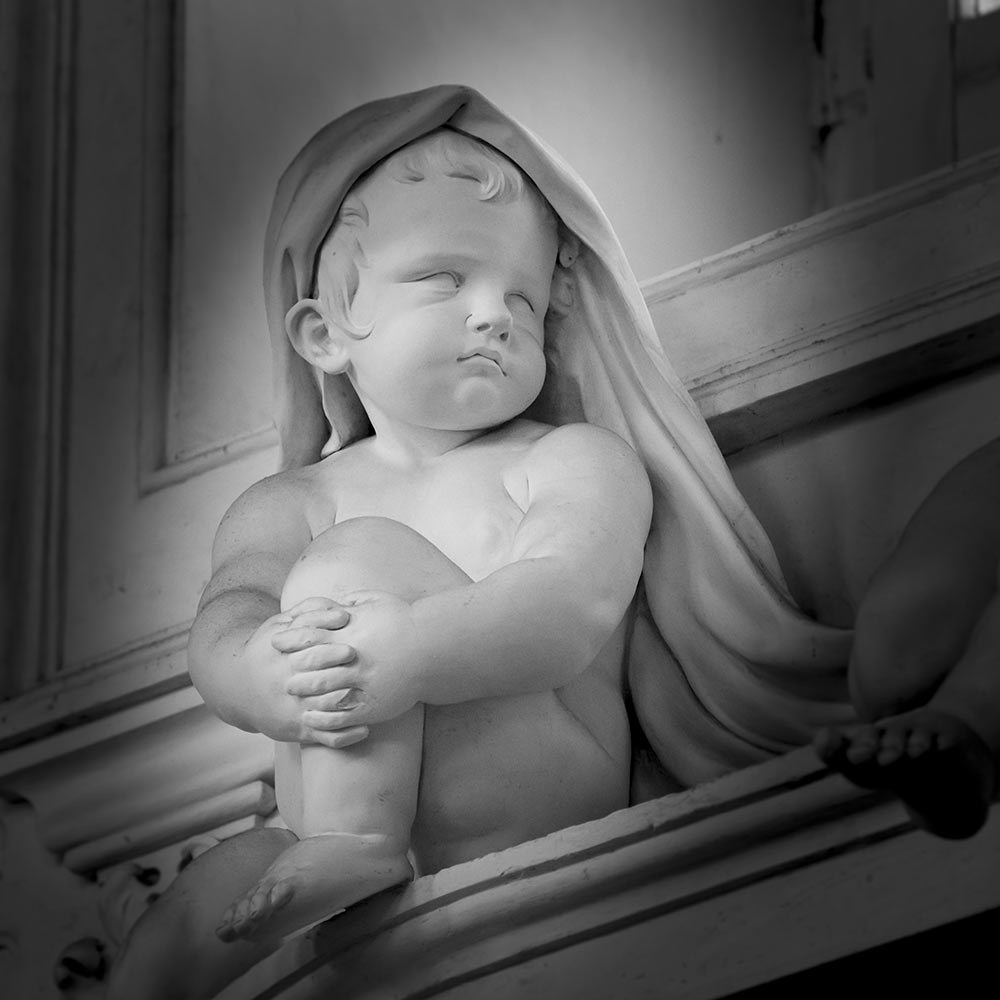 Serpotta putto in Oratorio del Rosario di Santa Cita, Palermo.
The Battle of Lepanto (7 October 1571). A fleet of the Holy League, a coalition of European Catholic maritime states arranged by Pope Pius V, inflicted a major defeat on the fleet of the Ottoman Empire in the Gulf of Patras. In the history of naval warfare, Lepanto marks the last major engagement in the Western world to be fought entirely or almost entirely between rowing vessels, the galleys and galeasses which were still the direct descendants of the ancient trireme warships. The battle was in essence an "infantry battle on floating platforms". It was the largest naval battle in Western history since classical antiquity, involving more than 400 warships. The victory of the Holy League is of great importance in the history of Europe and of the Ottoman Empire, marking the turning-point of Ottoman military expansion into the Mediterranean. It was also of great symbolic importance in a period when Europe was torn by its own wars of religion following the Protestant Reformation, strengthening the position of Philip II of Spain as the "Most Catholic King" and defender of Christendom against Muslim incursion. (Wikipedia)
Giacomo Serpotta (10 March 1652 – 27 February 1732): Child with helmet in a anti-war stucco detail in Oratorio del Rosario di Santa Cita.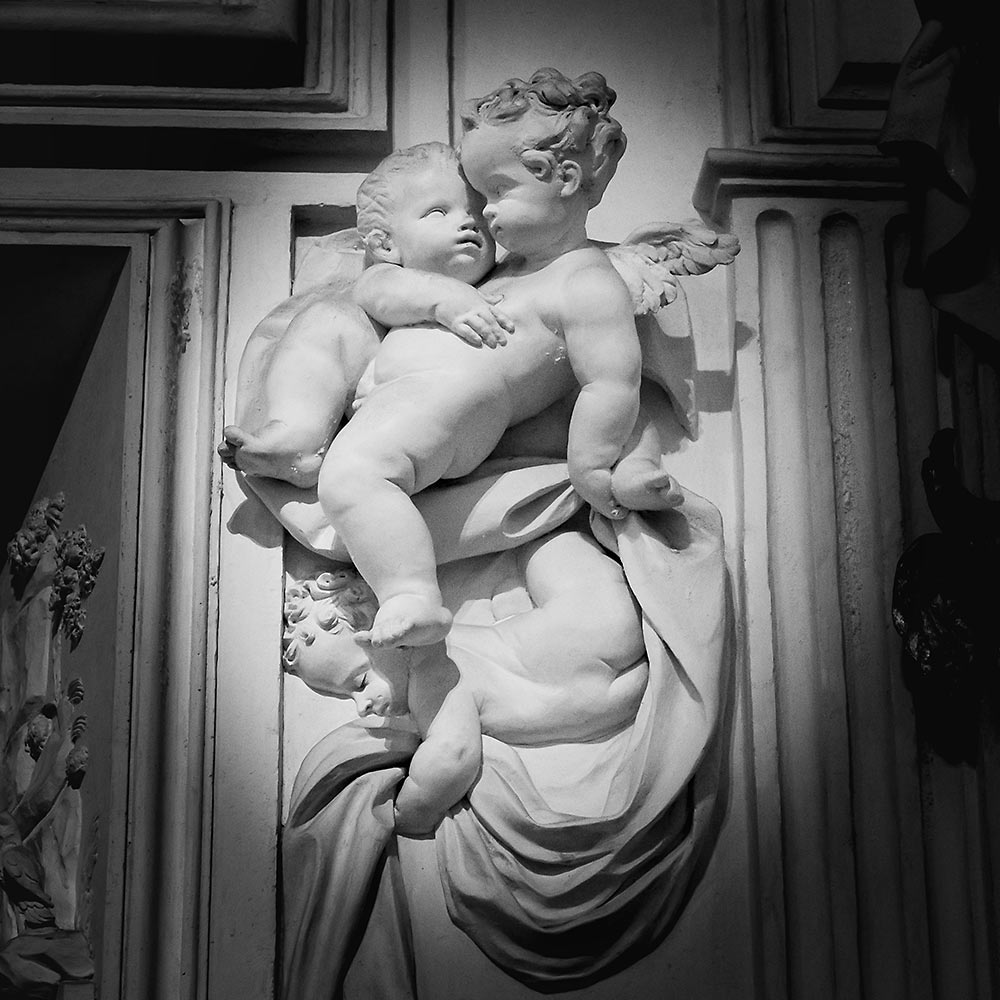 The Serpotta Oratories in Palermo
Oratorio of Santa Cita (1668–1718)
Oratorio of San Lorenzo (1690/98–1706)
Oratorio di San Domenico (1710–17)
Oratorio di Santa Caterina D'Alessandria
Oratorio di San Mercurio
Source
Donald Garstang: Giacomo Serpotta and the Stuccatori of Palermo 1560-1790
Where to Find the Most Important Serpotta Oratorios in Palermo