Syracuse (Siracusa)
Syracuse - a historic city, the capital of the province of Syracuse. Together with seven other cities in the Val di Noto, Syracuse (Siracusa) is listed among the UNESCO World Heritage Sites.
The Magnificent Cathedral (Duomo) in Syracuse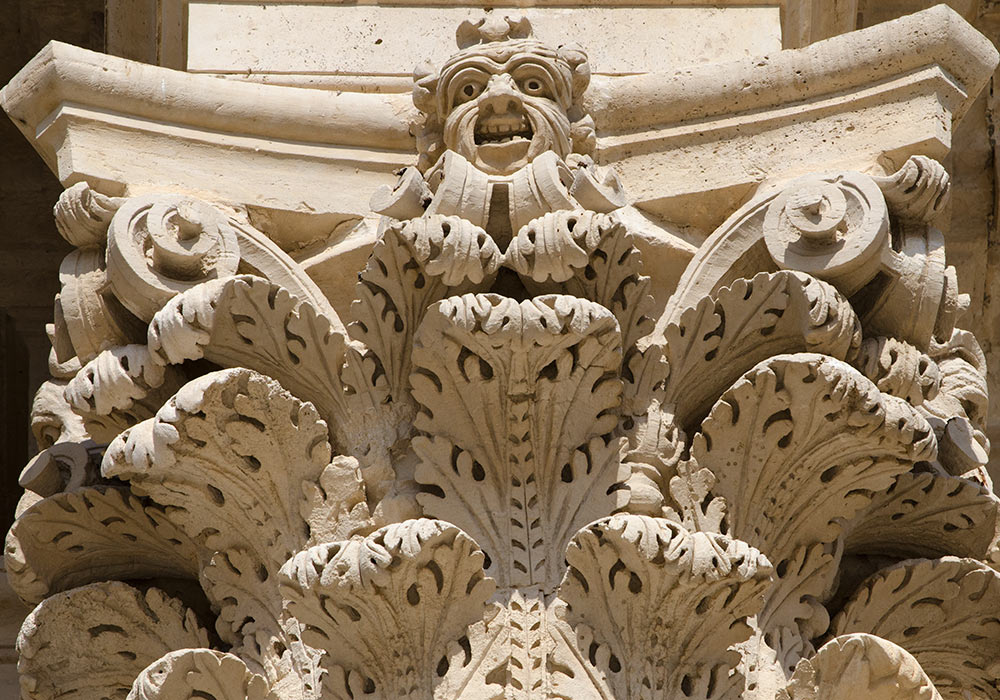 Detail of the decorative ornaments of the baroque cathedral in Syracuse.
Photo: Per-Erik Skramstad / Wonders of Sicily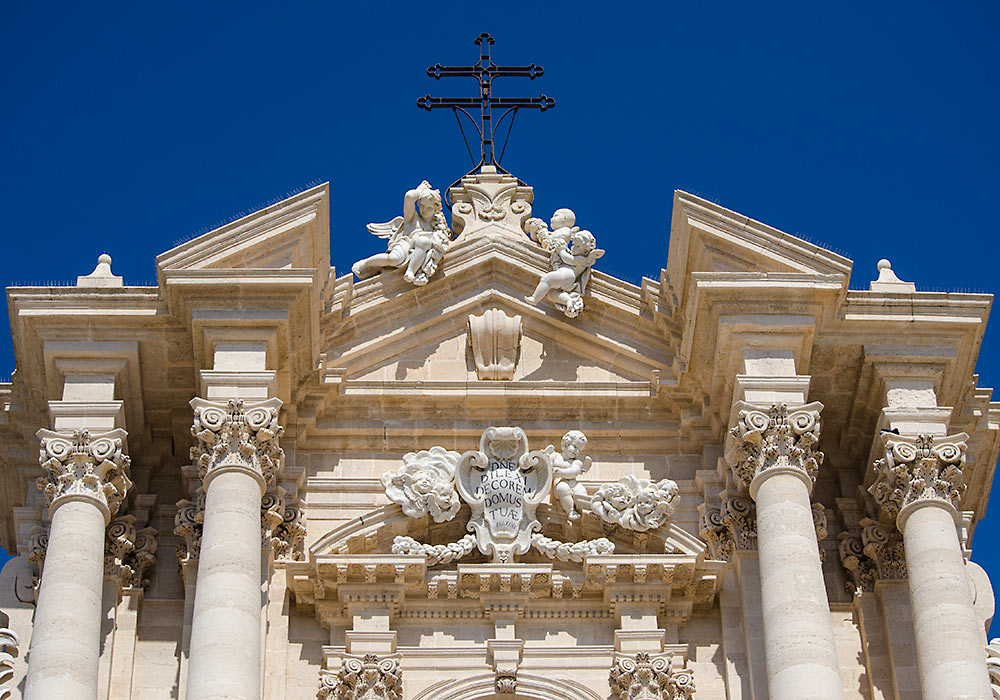 The facade of the Cathedral in Syracuse, a powerful Sicilian-Baroque composition erected in 1728-54. It was designed by Andrea Palma.
Photo: Per-Erik Skramstad / Wonders of Sicily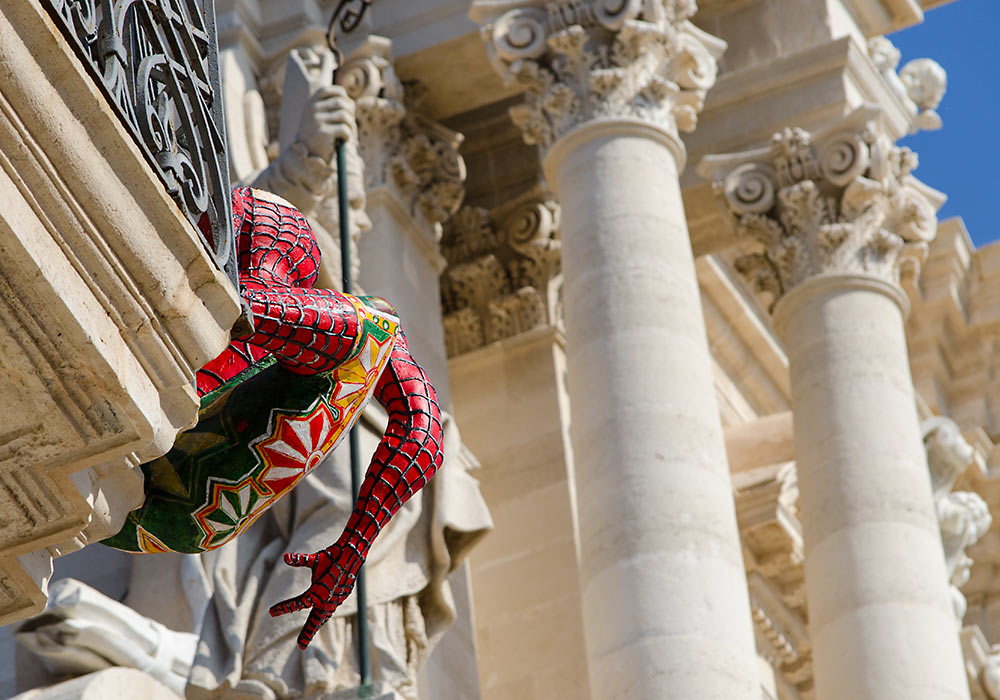 New and old: Spiderman and the cathedral in Syracuse behind him.
Photo: Per-Erik Skramstad / Wonders of Sicily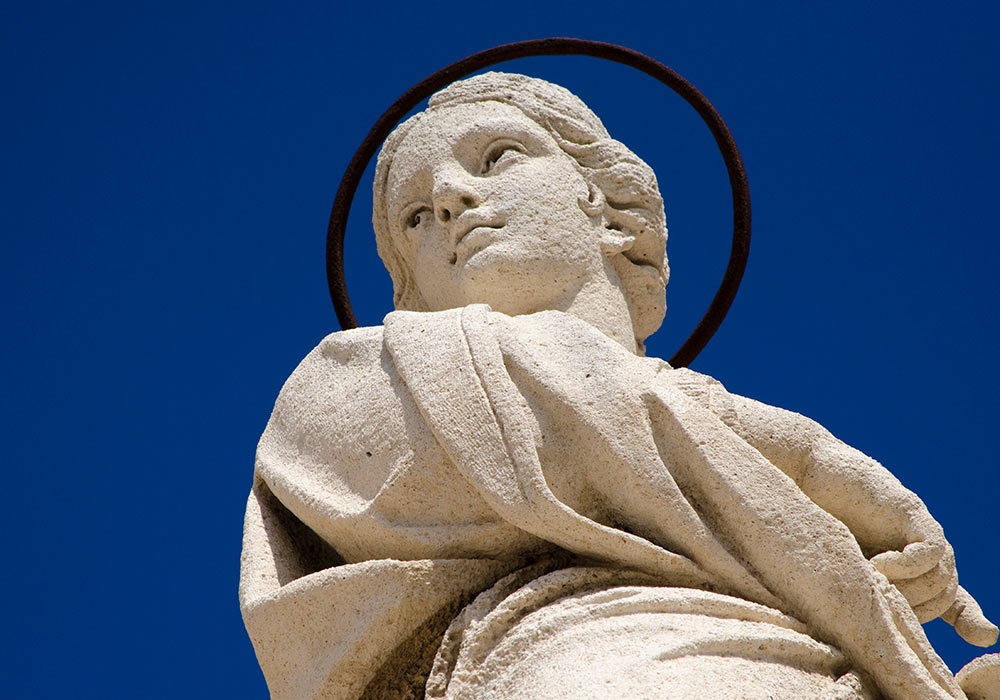 The statue of Santa Lucia (Saint Lucy).
Photo: Per-Erik Skramstad / Wonders of Sicily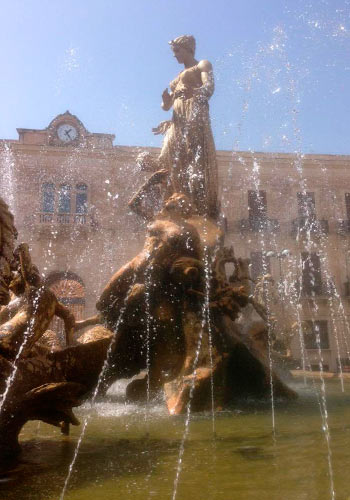 Artemide fountain.
Photo: Mark Elderton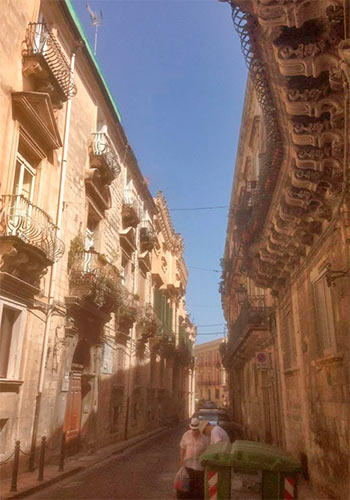 Baroque balconies in Syracuse.
Photo: Mark Elderton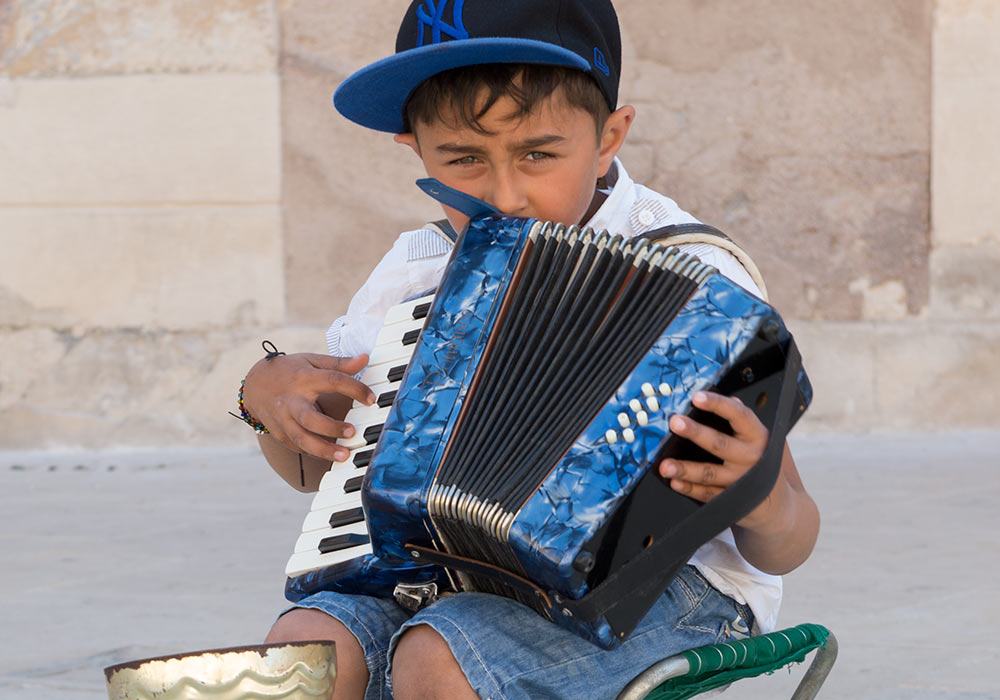 A boy playing melodies from The Godfather near the church Santa Lucia alla Badia (La chiesa di Santa Lucia alla Badia) on the south side of Piazza Duomo. Is it the missing Holy Grail he is collecting his money in?
Photo: Per-Erik Skramstad / Wonders of Sicily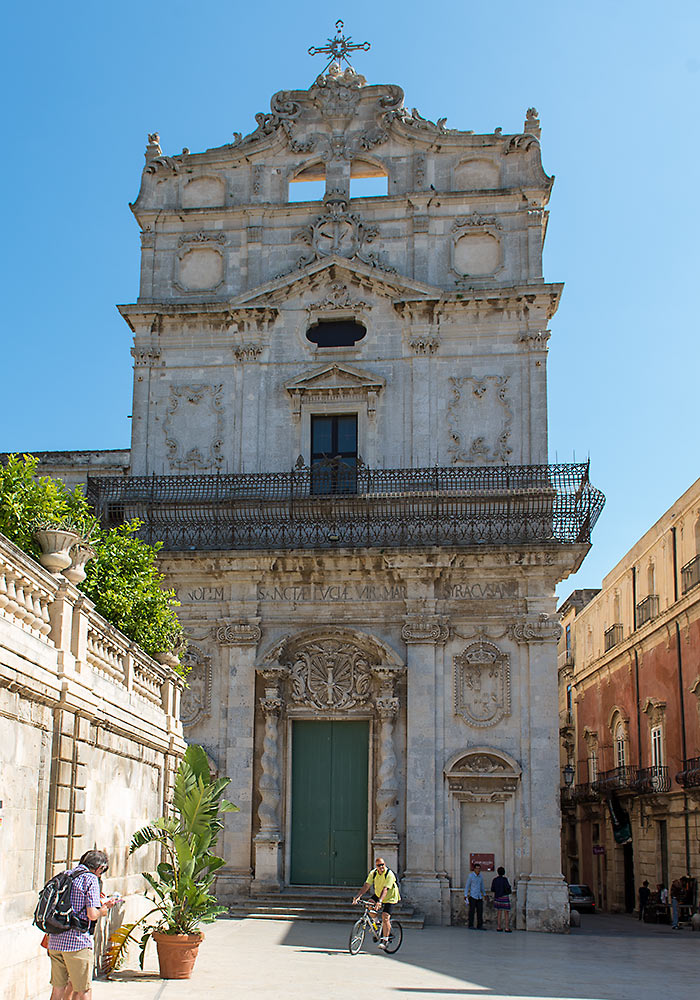 The church of Santa Lucia alla Badia (La chiesa di Santa Lucia alla Badia) is located on the south side of Piazza Duomo. The Bavarian-baroque facade from 1695 is made by Luciano Caracciolo. Inside the church there is a very famous painting by Caravaggio (St. Lucia's funeral).
Photo: Per-Erik Skramstad / Wonders of Sicily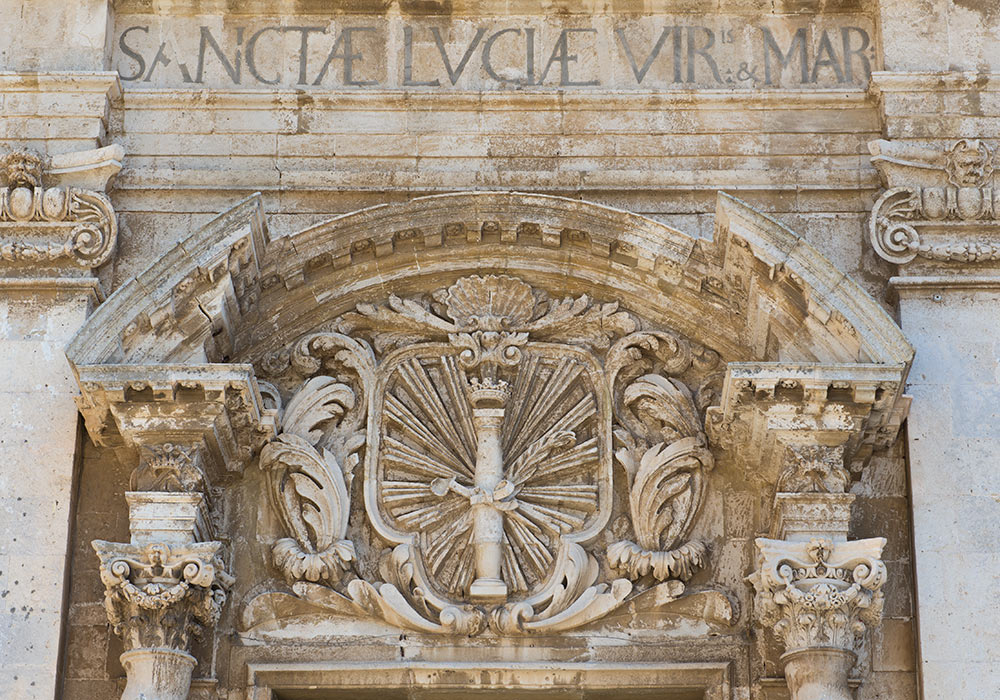 Detail of the ornaments above the entrance of Santa Lucia alla Badia (La chiesa di Santa Lucia alla Badia), Syracuse.
Photo: Per-Erik Skramstad / Wonders of Sicily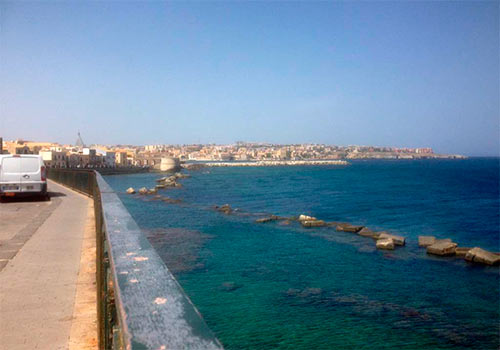 Photo: Mark Elderton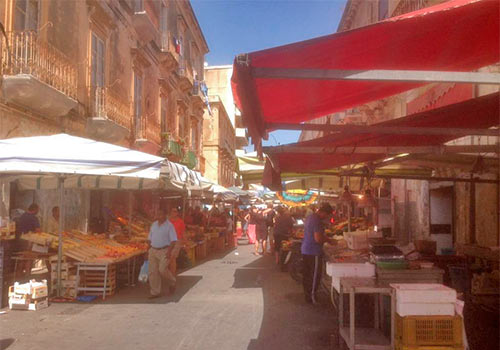 Photo: Mark Elderton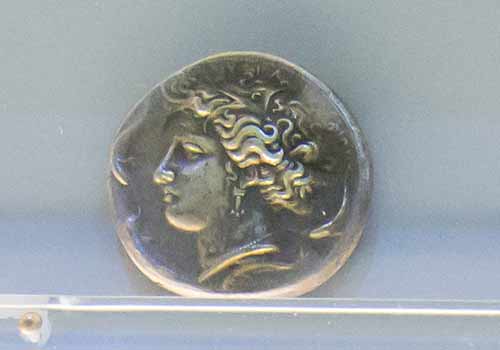 Coin from Siracusa (
Museo Mandralisca, Cefalù
)
Photo: Wonders of Sicily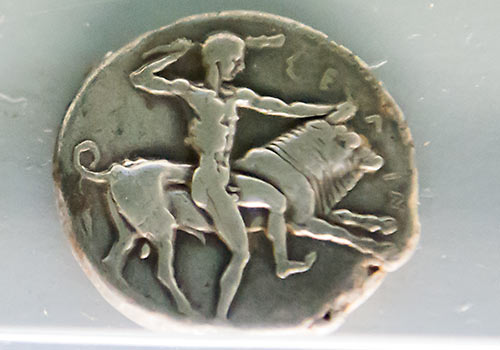 Coin from Selinunte (Museo Mandralisca, Cefalù)
Photo: Wonders of Sicily
The Archeological Park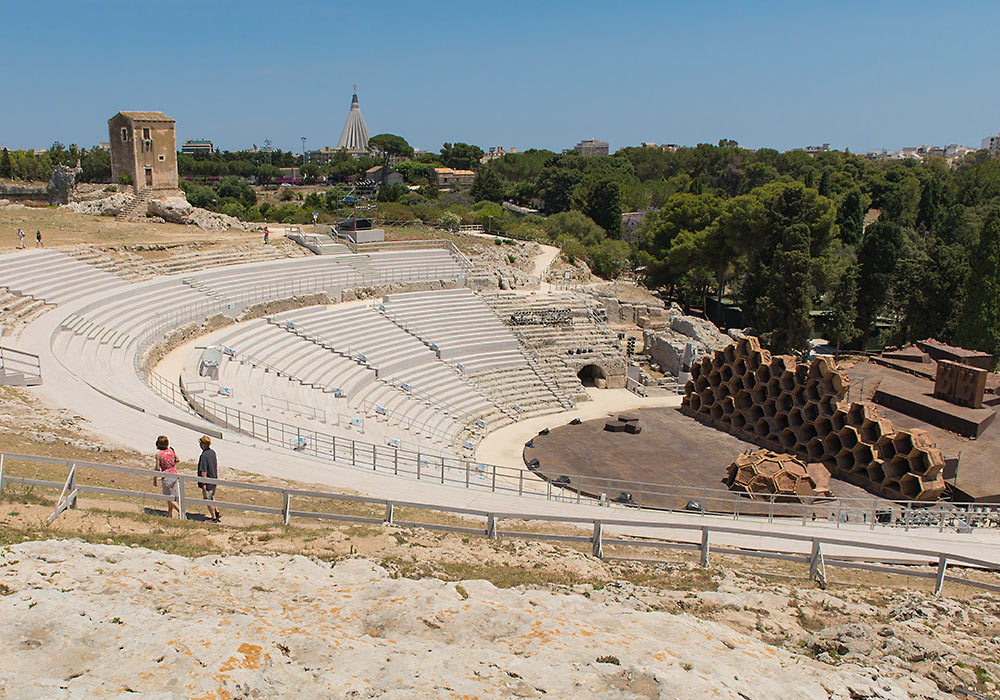 The Greek theatre in the Archeological Park, one of the most celebrated of all the ruins of Syracuse. With its 138 metre in diameter, it is the largest Greek theatre in Sicily. To the right you see preparations for the evening's performance of Verdi's Aida.
Photo: Per-Erik Skramstad / Wonders of Sicily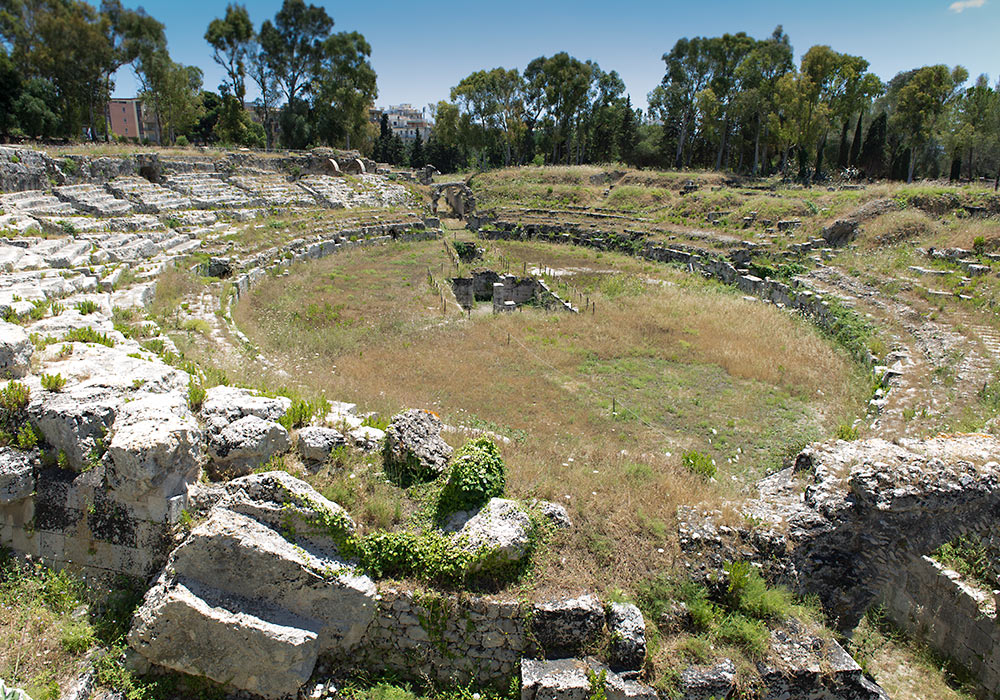 The Roman amphitheatre in Syracuse (140m by 119m). It was used for gladiator fights. The rectangular depression was probably for the machinery used in the spectacles.
Photo: Per-Erik Skramstad / Wonders of Sicily
Fonte Aretusa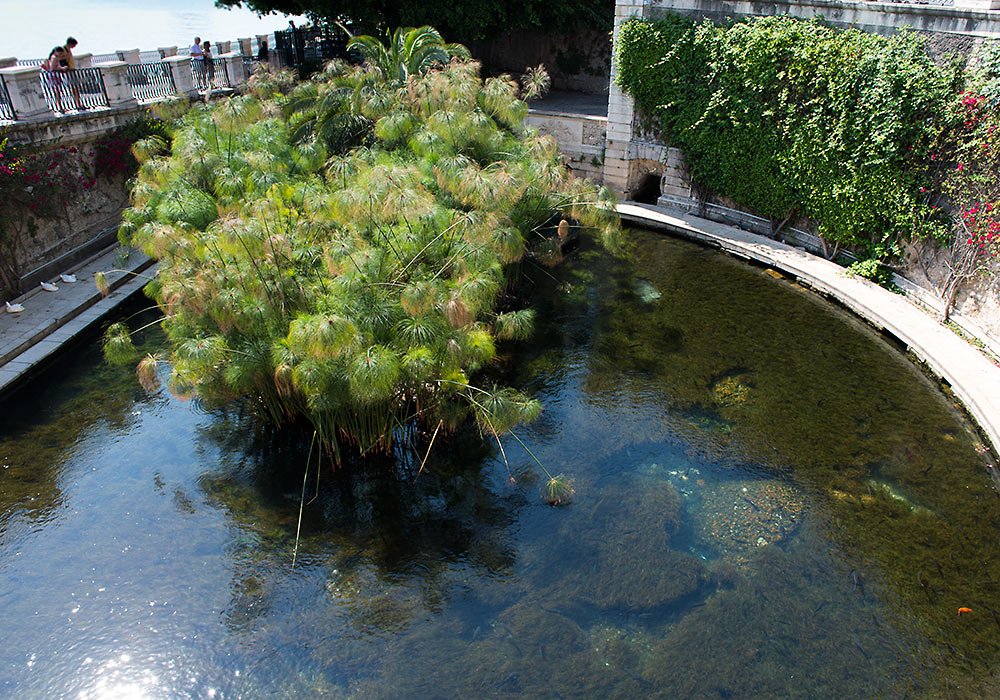 Fonte Aretusa, one of the most famous fresh-water sources of the Greek world. The pond was built in 1843.
Photo: Per-Erik Skramstad / Wonders of Sicily
The story of Arethusa (Ovid: The Metamorphoses V:572-641
Calliope sings: Arethusa's story "Ceres, kindly now, happy in the return of her daughter, asks what the cause of your flight was, Arethusa, and why you are now a sacred fountain. The waters fall silent while their goddess lifts her head from the deep pool, and wringing the water from her sea-green tresses, she tells of the former love of that river of Elis. 'I was one of the nymphs, that lived in Achaia,' she said 'none of them keener to travel the woodland, none of them keener to set out the nets. But, though I never sought fame for my beauty, though I was wiry, my name was, the beautiful. Nor did my looks, praised too often, give me delight. I blushed like a simpleton at the gifts of my body, those things that other girls used to rejoice in. I thought it was sinful to please. Tired (I remember), I was returning, from the Stymphalian woods. It was hot, and my efforts had doubled the heat. I came to a river, without a ripple, hurrying on without a murmur, clear to its bed, in whose depths you could count every pebble: you would scarce think it moving. Silvery willows and poplars, fed by the waters, gave a natural shade to the sloping banks. Approaching I dipped my toes in, then as far as my knees, and not content with that I undressed, and draped my light clothes on a hanging willow, and plunged, naked, into the stream. While I gathered the water to me and splashed, gliding around in a thousand ways, and stretching out my arms to shake the water from them, I thought I heard a murmur under the surface, and, in fear, I leapt for the nearest bank of the flood. 'What are you rushing for, Arethusa?' Alpheus called from the waves. 'Why are you rushing?' He called again to me, in a strident voice. Just as I was, I fled, without my clothes (I had left my clothes on the other bank): so much the more fiercely he pursued and burned, and being naked, I seemed readier for him. So I ran, and so he wildly followed, as doves fly from a hawk on flickering wings, as a hawk is used to chasing frightened doves. Even beyond Orchemenus, I still ran, by Psophis, and Cyllene, and the ridges of Maenalus, by chill Erymanthus, Elis, he no quicker than I. But I could not stay the course, being unequal in strength: he was fitted for unremitting effort. Still, across the plains, over tree-covered mountains, through rocks and crags, and where there was no path, I ran. The sun was at my back. I saw a long shadow stretching before my feet, unless it was my fear that saw it, but certainly I feared the sound of feet, and the deep breaths from his mouth stirred the ribbons in my hair. Weary with the effort to escape him, I cried out 'Help me: I will be taken. Diana, help the one who bore your weapons for you, whom you often gave your bow to carry, and your quiver with all its arrows!' The goddess was moved, and raising an impenetrable cloud, threw it over me. The river-god circled the concealing fog, and in ignorance searched about the hollow mist. Twice, without understanding, he rounded the place, where the goddess had concealed me, and twice called out 'Arethusa, O Arethusa!' What wretched feelings were mine, then? Perhaps those the lamb has when it hears the wolves, howling round the high fold, or the hare, that, hidden in the briars, sees the dogs hostile muzzles, and does not dare to make a movement of its body? He did not go far: he could see no signs of my tracks further on: he observed the cloud and the place. Cold sweat poured down my imprisoned limbs, and dark drops trickled from my whole body. Wherever I moved my foot, a pool gathered, and moisture dripped from my hair, and faster than I can now tell the tale I turned to liquid. And indeed the river-god saw his love in the water, and putting off the shape of a man he had assumed, he changed back to his own watery form, and mingled with mine. The Delian goddess split the earth, and plunging down into secret caverns, I was brought here to Ortygia, dear to me, because it has the same name as my goddess, the ancient name, for Delos, where she was born, and this was the first place to receive me, into the clear air.' " (Translated by A. S. Kline © 2000 All Rights Reserved This work may be freely reproduced, stored, and transmitted, electronically or otherwise, for any non-commercial purpose.)
Siracusa and Ortigia: Greek Sicily "You, Me & Sicily" Episode 23
In this episode Eszter Vajda and Alfred Zappala will take you to Siracusa - one of the most important cities in ancient antiquity. Watch all the episodes of "You, Me & Sicily!" on their great website.
Giorgio Locatelli's soft spot for Sicily
The Italian chef Giorgio Locatelli tells of his soft spot for Sicily: "The island has so many magical places: the ancient amphitheatres of Syracuse; the little town of Erice, where there are more churches than houses; the Norman cathedral of Monreale. The Villa Romana del Casale, just outside the town of Piazza Armerina, has an incredible collection of Roman mosaics. They include beautiful mosaics of girls in bikinis. Romans! In bikinis! My kids thought that was so funny; they loved it."
Read more in The Guardian
The distance between Siracusa and some other cities in Sicily
Siracusa-Agrigento 217 km
Siracusa-Catania 66 km
Siracusa-Cefalù 249 km
Siracusa-Modica 72 km
Siracusa-Noto 38 km
Siracusa-Palermo 277 km
Siracusa-Ragusa 90 km
Siracusa-Taormina 118 km
Siracusa-Trapani 375 km
Sicilian Sites on UNESCO's World Heritage List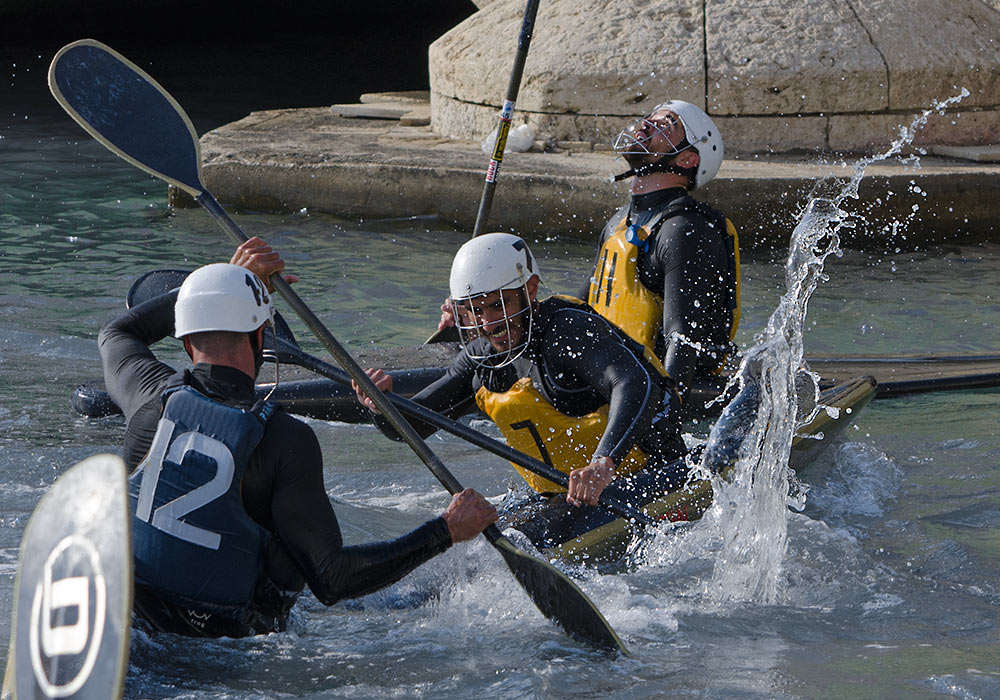 Kayak Polo (also known as Canoe Polo) in Syracuse.
Photo: Per-Erik Skramstad / Wonders of Sicily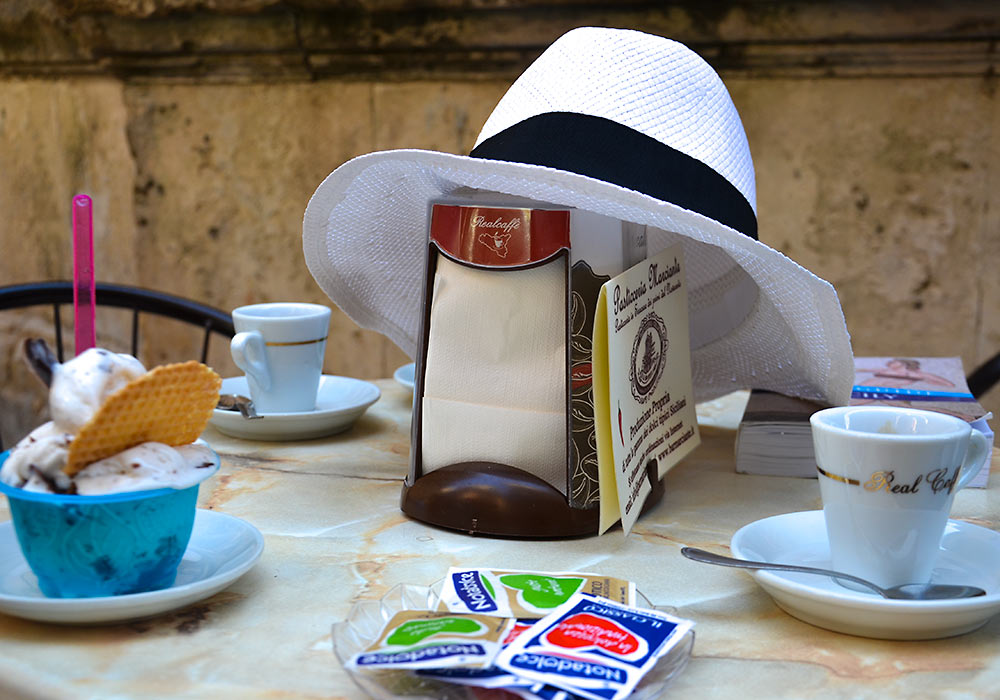 And finally an espresso.
Photo: Torild Egge
Winston Churchill visits Syracuse in 1955
Sir Winston Churchill On Holiday (1955)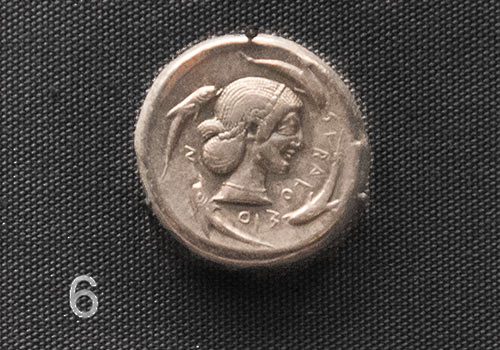 Silver tetradrachm coin, Siracusa, about 470 BC. British Museum.
Photo: Per-Erik Skramstad / Wonders of Sicily
Not fed up yet? Here you'll find more photos from Sicily:
Sicily: Some geographical names in Italian, Sicilian, English, Latin and Greek