Trinacria Poems and A Sicilian Mosaic by Rochelle Del Borrello
Trinacria Poems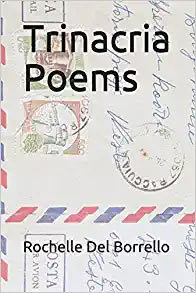 Poetry is and will always be my first love. My poems come from my dreams, imagination and emotions. They appear in my mind unexpectedly. An idea comes in a phrase or an image that keeps repeating itself. Something will pester me to the point I cannot ignore. I write it down and it leaves my mind and becomes something else.
My process of putting a poem together is rather basic. I bash things together to make them fit, hammering together the letters and sounds.
I discard most of my work through editing. Then my poems are left to ferment and bubble over many years. Those that survive the process and the passing of time usually turns out to become something worthwhile.
I share these poems inspired by Sicily because they represent an intimate connection to the island, through my maternal grandparents. They are the fruits of two decades of experience living on an ancient Mediterranean island.
Each poem is a personal reflection on the nature of Sicily, Sicilian heritage and life in those small picturesque villages that everyone so easily falls in love with while visiting the island.
The accompanying artwork is compiled with objects found in Sicily, historical photographs and personal family artefacts.
Available as paperback on Amazon.com
Rochelle Del Borrello's blog Sicily Inside & Out
A Sicilian Mosaic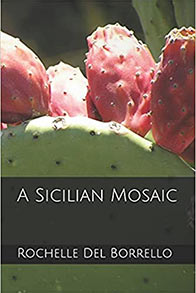 All Sicilian villages, towns and cities have their own personality, like characters on a stage they proudly act out their daily dramas as faithfully as any well-rehearsed actor.
Their stories, colours and unspoken history are equally fascinating as they are enticing. It's easy to become bewitched by this place as it is immersed in a certain magic, an ancient spell woven by the Greek gods, who chose to spend most of their time on earth on the island of Sicily.
The gods left behind something of their eternal greatness, which still shimmers to this day.
Every place is like an individual tile of precious stone in a golden Sicilian mosaic each piece shines as bright as the entire masterpiece.
The details of the mosaic reveal a certain shade of light, landscape and character that can only be found in Sicily.
After nearly twenty years of living and photographing Sicily, I've gone through my archive and picked out the most shining examples of my images to create a very personal journey through Sicily.
Available as paperback on Amazon.com
Rochelle Del Borrello's blog Sicily Inside & Out